5 flabbergasting faux-pas moments of Italia '90
Say what?! Oh no they didn't (they did)...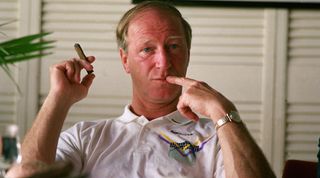 You could still get away with a bit of old-fashioned, moronic racism back in 1990. "I'll only get into trouble if his mother's back home watching the game sitting up a tree," blabbered enlightenment beacon Ron Atkinson (off-air) after calling a Cameroon player "absolutely brainless" while commentating on their match against England. Big-but-not-clever Ron ran out of luck 14 years later for a similar clueless outburst.
 
Ireland gaffer Jack Charlton also sailed close to the racial wind when he was asked which of the Egyptian players had caught his eye. "I couldn't tell you – I don't know any of their names," he said. "There was the guy with the beard, the dark lad in midfield, the little dark lad who played centre midfield, the very coloured boy, and the boy who played up front." Stick that in your Panini album.
 
At the opening ceremony, FIFA President Joao Havelange and the President of the Italia 90 Organising Committee both thought that the other official was meant to make the first speech. As a result, no oratory took place, saving everyone 20 minutes of tedium.
Clanger-prone England manager Bobby Robson dropped a classic in the tunnel before his side's quarter-final against Cameroon. "Come on lads, this lot don't look up to it," he said, eyeing the opposition. "We speak English, Mr Robson," came the amused African response. After the game, Robson said of the opposition: "We didn't underestimate them. They were a lot better than we thought."
 
The Italian FA saw the World Cup as a way of bridging the country's sharp north-south divide, but they hadn't taken Maradona into account. Before the semi-final between Argentina and Italy in Naples, the Argentine agitator appealed to the home crowd to support his side. "For 364 days a year you are treated like dirt and then they ask you to support them," said the Napoli star. It didn't work: his every touch during the game was jeered by the Italians.​​ 
Quizzes, features and footballing fun
Get the best features, fun and footballing frolics straight to your inbox every week.
Thank you for signing up to Four Four Two. You will receive a verification email shortly.
There was a problem. Please refresh the page and try again.