Analysed: How Chris Smalling finally fulfilled his potential under Louis van Gaal
United's centre-back has begun to repay the club for their faith in him with some superb performances this season, says Edward Stratmann...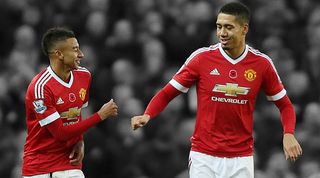 Rewinding back to as recently as Manchester United's pre-season tour of America, it's remarkable to look back and remember Chris Smalling's struggles. With Louis van Gaal's preference to operate with a central defensive pairing that features one right- and one left-footed player, Van Gaal appeared to have selected Phil Jones as his right-footer and Daley Blind to fill the other spot.
Smalling, being a right footer, found himself behind Jones in the pecking order and subsequently started none of the Red Devils' four pre-season encounters. Instead he had to be content with substitute appearances. Needless to say, the signs weren't promising for the out-of-favour stopper.
Smalling was handed a lifeline, though, when Jones unfortunately feel ill, succumbing to a blood clot in his calf that kept him out for around a month.
Showing class
Smalling has been imperious ever since, and emphatically nailed down a starting berth at the heart of United's defence. There's been plentiful tinkering of the defensive line by United's Dutch manager, but the ex-Fulham man has remained the one constant, underlining just how magnificent he's been this season.
It's been an unbelievable turnaround from the 25-year-old, who, after five years in Manchester, is finally fulfilling his potential.
In fairness to him, Smalling has been faced with many obstacles throughout his time at United. When he first joined, being behind the outstanding pairing of Rio Ferdinand and Nemanja Vidic made it extremely difficult for him to break through.
Moreover, he's been ravaged by injury, suffering a staggering 20 separate ailments since his arrival from Fulham. When he did play, many felt he lacked focus and was prone to lapses in concentration, despite his talent.
These days, however, all those years of learning, hard work, persistence and dedication are handsomely paying off, with Smalling now arguably having been the finest defender in the Premier League this season. Wayne Rooney even says he's among "the top three centre-halves in the world". Some praise indeed.
"I do think it (everything) is clicking," said the player himself. "I knew when I did get a consistent run and I could build on something that I could go from height to height," he explained. "At the moment I'm getting confident and am just looking forward to the next game, to putting down a marker and keep building."
Strong and quick
Upon analysing Smalling's impressive set of attributes, it's not to hard to see why he's such an excellent defender. The main surprise is how long it's taken him to get to the top.
Physically, he's a powerhouse. The England international can jump, he's agile, strong, and blessed with exceptional pace. In aerial duels he's a handful for any forward to come up against. Standing at 6ft 3in that already makes him an imposing figure, and his athletic qualities mean he can soar above his marker and beat them. In jostling matches he holds his own, and is rarely outmuscled.
The speed shown above has saved his team many times this season, and it comes especially handy when he's stationed alongside Daley Blind. United's recent clash with West Brom supplied us with many examples of where the 25-year-old's exemplary covering meant he cut out potentially dangerous passages. Salomon Rondon, in particular, would regularly attempt to make runs in behind the sluggish Blind, only for Smalling to rapidly dash across and kill the play.
While these sorts of moments were terrific to watch in a purely athletic sense, they were also testament to Smalling's improved focus, concentration and reading of play. Put simply, without the above he wouldn't have been able to swiftly pick up on danger and duly deal with it.
In a positional sense, Smalling has been nigh on flawless to date, as he's persistently shown exceptional judgement in knowing where best to situate himself. Playing within Van Gaal's high possession system, it's imperative that's he's been astute in this regard. Any lapse can prove costly, especially when you factor in that he regularly goes through large periods without having much defending to do.
Communication the key
Being charged with the responsibility of leading and organising United's backline by Van Gaal has unquestionably given Smalling extra incentive to undertake his duties with an added layer of precision.
It must be said that he's thrived under these conditions and set the tone beautifully for his side, which is perfectly depicted by the fact United have the best defensive record in the league (only eight goals against), have kept the most clean sheets (seven) and gone 555 minutes without conceding.
"It's about how we defend as a team," insisted Van Gaal. "Smalling is a part of that and I wanted him to speak. He also has the talent to speak. That makes him easy to coach. Because of that I made him a leader of the team. He has made steps and also in a tactical way.
"When you give instruction in terms of organisation, you need someone to understand that. He is a structured person. He accepted it more quickly. David de Gea [the goalkeeper] has the best view and then the central defenders, so I demand of my defenders that they speak. They need also an overview. I put him in that situation and then he can develop or not. It is his choice."
It's obvious when analysing Smalling's exertions that he has definitely chosen to speak. He can be seen tirelessly gesturing and communicating with his team-mates during matches, ensuring his colleagues are all pulling their weight and adhering to their assigned tasks.
Future captain? 
Combine the way he selflessly covers for his full-back and his diligence to track midfield runners from deep, and it's clear what an essential component of Van Gaal's defensive setup he's become.
On the attacking end, meanwhile, his vital forward forays have been useful in drawing out deep opponents to create space for the likes of Rooney, Ander Herrera, Anthony Martial and Juan Mata. Then there's his accomplished passing ability, which has allowed him to be a strong contributor on this front too.
It's easy to see why he's been touted as a future captain of the club, for he's exuded huge amounts of authority, conviction and enthusiasm in his work this season.
Although United have had to be patient with Smalling, they'll be pleased that they afforded him the chance to develop into the player he is today. The England man can challenge tremendously on the ground and in the air, is physically imposing, and the owner of fine footballing intellect, which means he can sufficiently match up against a wide variety of opponents and deal with different situations accordingly.
By the numbers, he's been winning 2.8 aerial duels per game, completing two tackles, making 2.3 interceptions and chipping in with 6.3 clearances. The fact he's played 1,080 Premier League minutes for United this season, roughly 100 more than anyone at the club, indicates what a colossus he's been at the back for Van Gaal's men.
The days of him sitting on the bench in pre-season are now most definitely a thing of a past.
Quizzes, features and footballing fun
Get the best features, fun and footballing frolics straight to your inbox every week.
Thank you for signing up to Four Four Two. You will receive a verification email shortly.
There was a problem. Please refresh the page and try again.