Walcott at crucial crossroads for himself, Arsenal and England
With Aaron Ramsey currently preferred in his position and a year left on his current deal, the 26-year-old has some big decisions to make this summer, writes Aanu Adeoye...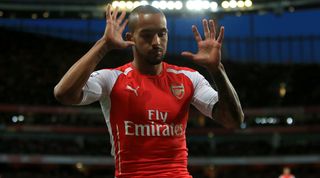 For Arsenal, the summer of 2012 was no different to many of the ones that preceded it. An important member of the squad was frustrated by the club's continued lack of silverware and decided it was time to seek pastures new, with club captain Robin van Persie (and midfielder Alex Song) going the way of Samir Nasri and Cesc Fabregas to leave north London.
Arsene Wenger moved proactively to replace the departing Dutchman who'd scored 37 goals in 48 appearances in 2011/12, bringing in Olivier Giroud and Lukas Podolski to plug a gaping hole in attack and spread responsibility around the team. It was in this arrangement that Theo Walcott, aged 23, shone. The England man scored 21 times in all competitions that season, including breathtaking hat-tricks against Newcastle in the league and Reading in that 7-5 League Cup thriller. Walcott's performance at the Madejski Stadium had Wenger gushing about his forward's prowess as a finisher. "He was superb," said the Frenchman. "I've always said that he will be a striker, so we are on the same wavelength there."
CONNECT WITH US...
Fighting form
It's therefore surprising that three years on from that magnificent season, Walcott's Arsenal career is in limbo, reduced to insignificant cameo appearances from the bench.
At 26, he is still being talked about in terms of the player he might become – one of frightening talent but unfulfilled potential. One minute he's burying a half-chance with the cold-hearted precision of a high-grade marksman, the next he's shanking a gilt-edged opportunity way off target. Walcott is a walking and talking embodiment of frustrating inconsistency. 
As ever there have been lots of mitigating factors, with injuries playing a large part. Persistent shoulder problems curtailed his development in his early years at the club, and it's no coincidence that his most productive campaign was and still remains his only injury-free season. A ruptured anterior cruciate ligament ended his season last January and also ruled him out of the World Cup in Brazil. Subsequent thigh and muscle injuries meant 2014 was a non-event for the England man, derailing hopes of tangible progress.
In Walcott's absence, headline summer signing Alexis Sanchez raised the bar of what is expected from the club's forward players, a top-class mixture of guile and graft, leading from the front and chipping in with his fair share of defensive duties. Alex Oxlade-Chamberlain (a similarly injury-hampered team-mate) and Danny Welbeck competed for the other spot on the right side of attack, and while neither are realistically expected to deliver Sanchez's high-octane performances, Wenger's insistence on them not neglecting the defensive aspects of their game has been clear to see. Walcott returned in January facing a battle to regain his place, and it's one he's currently losing. For all his qualities, the forward doesn't excel at tracking runners down his flank, and his propensity to drift inside as a pseudo centre-forward sometimes leaves his right-back brutally exposed. Walcott's last start in all competitions was against West Ham on March 14, when Welbeck was rested for the crunch Champions League last-16 clash at Monaco.
In the cold
Perhaps the greatest indictment of Walcott's season is his inability to get into the Arsenal side in the run-in when Welbeck and Oxlade-Chamberlain succumbed to knee and groin injuries respectively. Instead, Wenger has played Aaron Ramsey out wide, leaving Walcott a frustrated onlooker scrapping for minutes from the bench. Although Arsenal aren't getting much joy from shunting Ramsey into an unfamiliar role – indeed, at Old Trafford last weekend they didn't improve until he moved into central midfield and Walcott went to the right side of attack – it remains a sore point for the ex-Southampton graduate. Not only is he out of favour, an out-of-position midfielder is preferred in his stead. 
Playing out in the background of all of this is the small matter of Walcott's contract situation, the latest instalment in the drama of club and player trying to find the best possible solution to the impasse. Arsenal and Walcott have been here before – in his most prolific season, he didn't put pen to paper until January 2013, winning a three-and-a-half year deal worth £100,000 per week.
Then, Walcott held all the bargaining chips as the only player with a modicum of pace in a startlingly slow-burn attack and was, most importantly, the club's top scorer.
Now it's Arsenal that hold all the aces and Walcott is only one of many duking it out for a starting berth on the right side of attack. He isn't even the fastest player at the club anymore, behind Hector Bellerin.
The question now is if Walcott is worth the investment of a new contract. Negotiations have been put on hold until the end of the season, although Wenger made a thinly-veiled dig at the player's representatives in March. "He is very quick on the pitch, but off the pitch, not always."
The Frenchman has already insisted that he doesn't want Walcott to leave. "He is only young and I believe he will have a great goalscoring record in the future because of the quality and intelligence of his game," said the Gunners chief. "Therefore I want him to stay with our club."
Striking ambition
ALSO ON FFT.COM
Given Wenger has invested time and the club's money in him, it's understandable he wants to keep Walcott for what is hoped will be the best years of his career. The player's ambitions of being a striker are well known and Wenger is also making positive noises about the possibility of him leading the line. "It's not too late for him," he said. "I think his position will be as a striker. I have worked with him in both situations, as a striker and as a wide player. The quality of his runs is so fantastic with the pace he has, and he is a good finisher now. When he was younger, he rushed in front of goal but he has improved now. He can be transformed. He is naturally gifted and can play in this position. Olivier Giroud has different qualities: he can head a ball and he plays with his back to goal. Theo is a runner who is capable of going in behind." With Wenger's stance clear, Walcott's future rests on the decision taken by the player himself. Does he stick or twist? Amid reported interest from Liverpool, will he move to Merseyside and replace the frustrated Raheem Sterling in Brendan Rodgers' side, or will he accept a bit-part role at Arsenal and claw his way back into Wenger's plans? Walcott has enough talent to succeed in either side but the lack of Champions League football for the foreseeable future at Anfield means he's likely to stay put in London for now.
The next few months are crucial for the next phase of Walcott's career, and with Euro 2016 to come next summer, England manager Roy Hodgson has called on him to silence the doubters. "It's an important few months for him," said the Three Lions boss. "He's got to satisfy a few of his critics and, if you like, make certain that a) he stays fit and b) gets his place back as one of the first names on the Arsenal teamsheet." 
When he does that, he might be pushing to become a first name among Hodgson's England XI. With Oxlade-Chamberlain, Sterling, Welbeck and the resurgent Ashley Young all competing with him for the two spots either side of Wayne Rooney, the Arsenal man has it all to do. Walcott has proved his doubters wrong before, and now he has to do it all over again.
Quizzes, features and footballing fun
Get the best features, fun and footballing frolics straight to your inbox every week.
Thank you for signing up to Four Four Two. You will receive a verification email shortly.
There was a problem. Please refresh the page and try again.