10 major World Cup injustices that VAR would have changed
By Amit Katwala published
From the yellow card of God to straight red cards, Amit Katwala on how World Cup history would be different if VAR had been available in the past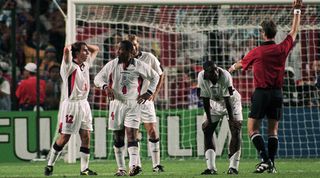 In January 2018, FIFA announced that it will be using video assistant replays during this summer's World Cup in Russia. The history of the tournament would be very different if VAR had always been an option – maybe England would have even won it a few more times. Or perhaps not...
The yellow card of God
Argentina vs England, 1986
Diego Maradona's little punch past Peter Shilton to put Argentina ahead in the 1986 quarter-finals is a prime example of the kind of injustice that VAR is designed to stop. As England players harangue the referee, a match official in the bowels of the Azteca stadium signals to the man in the middle that a review is worthy. The goal is ruled out, El Diego gets booked and maybe – just maybe – England's defenders have their heads in a better place to stop that slaloming, swaying run four minutes later.
Fifty-two years of hurt
England vs West Germany, 1966
In 1996, after 30 years of hurt, football scientists at the University of Oxford and Imperial College London calculated that England's third goal in the 1966 World Cup final did not cross the line.
England had been applying the pressure in extra time after Germany's late equaliser, with Bobby Charlton hitting the post five minutes into the added period. But if Geoff Hurst's controversial strike had been ruled, the whole momentum of the match in extra time may have shifted. But that's a ridiculous argument.
Home bias
Italy/Spain vs South Korea, 2002
Fans expecting VAR to fix every single decision are going to be disappointed. But it might help mitigate some of the pressure referees feel when they're in a stadium where pretty much everyone wants the home side to win.
That's one explanation for a series of baffling decisions that helped South Korea reach the World Cup semi-finals in 2002, when they co-hosted the tournament and knocked out Italy and then Spain in dubious circumstances. The referee of the Italy game, Ecuadorian Byron Moreno, was later given two domestic bans for crooked refereeing – so maybe VAR won't solve everything.
Nige gets the chop
Hollandvs Spain, 2010
The usually flawless Howard Webb cites not sending off Nigel de Jong for his karate kick on Xabi Alonso in the 2010 World Cup final as his biggest regret. Getting extra angles on the incident would have certainly livened up what was a painfully dull showpiece occasion (is the VAR allowed to add comic book-style sound effects)?
Of course, Spain won in the end anyway, so a red card for the Dutchman probably wouldn't have affected the result too much – although it would have saved us all a lot of time.
Sol scores the winner
Argentina vs England, 1998
That mad night in Saint-Etienne had enough VAR-worthy incidents to fill its own list feature. Perhaps David Beckham's petulant flick at Diego Simeone would have been deemed a yellow rather than a red on a repeat viewing. Then there's Sol Campbell's disallowed goal – when what should have been a late winner was chalked off for reasons that remain clear only to Danish referee Kim Milton Nielsen.
Schumacher sent off
France vs West Germany, 1982
There are certain decisions in football history that should have been so obvious that you wonder whether chucking technology at the problem would even help. Patrick Battiston's teeth were literally on the pitch after his collision with Harald Schumacher during the 1982 World Cup, and yet the referee awarded a goal-kick.
A slow-motion replay would have made for pretty gruesome viewing – but perhaps a small measure of justice would have been done.
Owen takes a tumble
Argentina vs England, 2002
In 1998, Michael Owen terrorised Argentina's defence with his fearsome direct running. In 2002, it was a different skill entirely that helped England out, as he went down in the box under a challenge from a hirsute Mauricio Pochettino (let's get the VAR out on that haircut).
David Beckham's redemptive penalty gave England a 1-0 win in the group stages, but would VAR have changed that? Of course not. The video evidence would have revealed that brave, lion-hearted English players would never dive to win a penalty. (And in reality, this perhaps wasn't clear cut enough for Little Mo to be punished by.)
Look at the screen!
Argentina vs Mexico, 2010
In one of the more ridiculous moments from recent World Cup history, Carlos Tevez nodded in from a clearly offside position against Mexico in a 2010 last-16 game. Now, this would have been your average botched linesman call except for one thing: the big-screen replays clearly showed that Tevez was offside.
Despite the players remonstrating with the referee, pointing at the replays above their heads, there was nothing to be done and the goal counted – despite everyone in the world knowing it was wrong.
Lampard levels
England vs Germany, 2010
Or is it? This one still hurts. Frank Lampard's strike is cited by Sepp Blatter as the incident that really kick-started the drive to bring video evidence into football. Germany had taken an early two-goal lead in Bloemfontein in the last 16 of the 2010 World Cup, and things looked grim.
Yet Matthew Upson pulled one back for England on 37 minutes and, two minutes later, Lampard's brilliant lofted effort crashed off the bar, then bounced about 18 miles over the line. It's tempting to dream that at 2-2, England might have gone on to win the game, but the truth that Germany were just much better. Perhaps in this case, VAR would have just subjected the Three Lions to another agonising penalty defeat.
Henry's hand
France vsRepublicof Ireland, 2010 qualifying
OK, so not strictly during the tournament, but this was so blatant and so important that it bears mentioning. Everything about this stinks – FIFA had a clear vested interest in France qualifying for the tournament over plucky Ireland, and although we're not suggesting deliberate foul play, they did smooth the way for Les Bleus.
It started with a seeded draw for the play-offs – a decision made late on in the qualifying process once the teams involved had already been decided. Then, in extra-time in the second leg, Thierry Henry clearly controlled the ball with his hand before squaring for William Gallas to bundle home and send France to South Africa.
France being France, obviously took their slice of good fortune and absolutely messed it up, finishing bottom of their group with one point, and losing to hosts South Africa. VAR may have seen the Republic of Ireland through instead, although judging by the Boys in Green's performance when they qualified for the Euros two years later (played three, lost three, scored one), they wouldn't have done much better. Maybe FIFA were right.
Thank you for reading 5 articles this month* Join now for unlimited access
Enjoy your first month for just £1 / $1 / €1
*Read 5 free articles per month without a subscription
Join now for unlimited access
Try first month for just £1 / $1 / €1
Quizzes, features and footballing fun
Get the best features, fun and footballing frolics straight to your inbox every week.
Thank you for signing up to Four Four Two. You will receive a verification email shortly.
There was a problem. Please refresh the page and try again.