6 reasons why Cristiano Ronaldo's form has slumped for Real Madrid
The Madrid kingpin has suffered in an unfamiliar role and with some key team-mates injured, explains Kiyan Sobhani...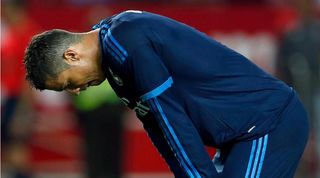 On September 12, 2015, Real Madrid entered Cornellà to face Espanyol with four league points to their name. It was their third match of the season, and everybody was talking about Cristiano Ronaldo's scoring 'drought' – the first two games of the season, and six straight if you were harsh enough to count pre-season matches.
On that night in Estadi Cornellà-El Prat, Real Madrid won 6-0 with Ronaldo scoring five of the goals. His hat-trick inside 20 minutes was the fastest in La Liga since 1960, and any questions about the Portuguese's potential decline were effaced. Until now.
Ronaldo has eight goals in 11 games – solid numbers for any striker on the planet. But once you break down those stats, you'll realise that five of them came against a team currently 13th in the table, and that he's failed to score in seven La Liga games this season.
Numbers aside, Ronaldo has struggled in Rafa Benitez's scheme, to the point where he's now doing more harm than good – as was the case in a 3-2 loss to Sevilla last time out, which will be broken down below...
1. He's uninvolved
Ronaldo created just one chance and completed 26 passes – the fewest amount in both categories of all starting attackers. Even James Rodriguez, who came on as a substitute in the 63rd minute, was far more conducive overall, creating four chances and scoring a goal.
RECOMMENDED How James Rodriguez highlights Rafa's balance act predicament
2. His selfishness
Ronaldo's lack of involvement with the flow of attacks means he wants to take full advantage of the limited time he gets with the ball – and not in a good way. Below is the perfect example. Real Madrid were down 2-1 in Sevilla when Ronaldo received the ball on the edge of the box. To his right was a completely unmarked Luka Modric who, had he received the ball with a quick pass, would have had a perfect opportunity to level the score.
Instead, having his decision-making hampered by his lack of involvement, Ronaldo decided to shoot – a decision with the lowest probability of a goal as his shooting angle was blocked by two defenders already. The reactions of Modric, Kroos and James said it all.
Needless to say, Sevilla buried the game after that chance, and Ronaldo's decision could haunt Real Madrid if La Liga comes down to a point or two in May.
There were some positives to take from Seville for los Blancos. Bale and James looked good in their respective returns from injury, and Sergio Ramos scored one of the goals of the season. But none of that comes close to trumping the real story of the night – Real Madrid suffered a bad loss with a scoreline that flattered them, and Ronaldo was the worst player on the pitch.
3. He's out of position
Ronaldo relies on his athletic ability. He is, in a sense, the anti-Xabi Alonso. The latter was always a rather immobile but incredibly efficient player who could create from deep and organise the midfield. It's a key reason why he can play late into his career – because even when he ages, his game doesn't change much.
Ronaldo needs to adapt to his inevitable regression, and Rafa's solution for this was to slowly transition him to a central striker role. It's a decision which you can easily rationalise. Ronaldo is a monster in the air, a perfect targetman, and is incredibly efficient at latching onto through-balls and getting in behind defenders.
But the positional change has destroyed his campaign so far. Clearly none of those attributes can mask the main problem – that Ronaldo becomes a liability if he's not involved in play constantly, something that happens when he plays in an advanced role.
4. A lack of service
Part of the reason Ronaldo, for the most part, disappears when he plays as striker is that he only becomes involved if he's getting a steady supply of the ball – something that hasn't happened due to injuries.
In an ideal world, the 30-year-old would be surrounded by Bale, James, and Karim Benzema – all three of whom are blessed with creativity and playmaking abilities. But the FIFA virus has been incredibly unkind to Real Madrid, dishing out long-term injuries to Benzema, James, Bale and others.
In turn, Ronaldo is relying on players further down the pecking order; the likes of Lucas Vasquez and Jese Rodriguez. The former is a diligent youngster who plays within his role, and the latter has been good, but inconsistent. Nevertheless, both – even at their best – are not starting material for Real Madrid, and are several levels below the ideal starters.
5. He's missing Benzema
One of the most underrated players in Real Madrid's scheme is Benzema. Ronaldo thrives playing next to the French striker, who takes a massive load off the Portuguese in the scoring and assist department. Benzema is a player who suits Real Madrid's system perfectly, as he can hold up the ball, play in tight spaces in and around the box, set up goals and finish chances.
Benzema's been missing for over a month due to a hamstring injury, and it's affected Ronaldo greatly. De facto, there is no player on the planet who has laid on as many assists (31) to Ronaldo than the Frenchman. Mesut Ozil – another player that Ronaldo thrived alongside – comes second with 27.
6. There's tension with Rafa
There is a conspiracy theory gaining momentum that Ronaldo is fed up with Benitez's defensive tactics, which he feels are adverse to Real Madrid's image – one that should be designed for free-flowing and attacking football.
Real Madrid legend and former sporting director Jorge Valdano chimed in on the issue. "Ronaldo would prefer to play coming in from the left, as he has always done," said the Argentine. "We have to say that Cristiano could be one of the best centre-forwards in the world, but he's playing under protest. I've been told something [from inside the club], but it's not scientific. We don't know if that's because he isn't scoring goals, but what you can see is that he isn't enjoying the games."
It's a side of Ronaldo that isn't a secret, but it's a problematic one. Ronaldo clashed with Jose Mourinho towards the end of the latter's stint at the Bernabeu, for reasons if true, that demonstrate the player's destructive temperament. But these attitude problems go relatively ignored in a world where Ronaldo is breaking records and dominating football (statistically, anyway).
Now that he's grossly underperforming, Real Madrid president Florentino Perez might not be so forgiving. At this point, the rumours that Real might sell to PSG are not that far-fetched. James Rodriguez is emerging as a leader who could take the reigns of the team, and with Ronaldo now 30, it might be the most timely moment to cash in before his slump becomes official.
But much of this is a conspiracy theory. The old Ronaldo would step up to the plate, bring down Barcelona this weekend or respond with a few hat-tricks elsewhere, and all would be forgotten. But it remains to be seen if that version of him is ready to resurface, and if it does, how long can he maintain his form?
The true measuring stick will be at the end of the season, when Ronaldo will have assumingly been surrounded by a healthy squad. Real Madrid will count their trophies and Ronaldo will count his goals, and at that time, a sound pulse of his situation at Real Madrid can be taken.
RECOMMENDED
Thank you for reading 5 articles this month* Join now for unlimited access
Enjoy your first month for just £1 / $1 / €1
*Read 5 free articles per month without a subscription
Join now for unlimited access
Try first month for just £1 / $1 / €1