8 reasons why everyone hates... Tottenham
Bill Nicholson this, Push and Run that, Jimmy Greaves the other. Professional Spurs hater Tim Stillman outlines some of the reasons that all right-thinking people can't stand the team from N17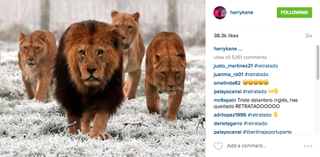 Please note: Arsenal have had the return treatment too, so no, we aren't just picking on you. Oh, and the below doesn't necessarily represent the views of FourFourTwo. Enjoy... 
1. They always get ahead of themselves
Spurs have a philosophy of dreaming big and failing hilariously. They haven't won the league title since the Bronze Age, but that small fact doesn't seem to dissuade players and fans alike from talking themselves up well before the finish line comes into view.
During the 1987 Littlewoods semi-final against their hated neighbours Arsenal, Spurs began announcing ticket details for the final at half-time with a slender 1-0 lead behind them. Late Gunners goals from Ian Allison and David Rocastle turned the crestfallen Lilywhites a distinct shade of crimson.
After their admittedly-impressive destruction of Stoke last April, Harry Kane posted a picture of a pack of lions on his Instagram page, intended as a warning to league leaders Leicester. Spurs didn't win another game all season and eventually finished third following a familiar collapse.
Then in 2012/13, as Spurs chased down fourth-placed Arsenal on the final day, ex-chairman and Lord of the Realm Alan Sugar passed on the news that Newcastle had equalised against the Gunners at St James' Park. Word got around inside White Hart Lane and Spurs fans began to celebrate, but the information was false – the Magpies hadn't levelled the scores in the north-east. Arsenal held their nerve and 1-0 advantage to condemn Spurs to yet another year in the Europa League.
2. They get on the wrong side of everyone
Spurs fans are still rather embittered (and misinformed) about the events of 1919, which saw Arsenal elected to the First Division in their place. Despite extensive lobbying, Tottenham only secured eight votes as they applied for admission to the top tier, compared to Arsenal's 18. Entirely unsubstantiated accusations of skulduggery from Arsenal began to surface from Spurs fan fiction accounts in the late 1960s.
A similar vote took place in 1892, as clubs in the south sought to form a Southern League. Tottenham expressed an interest in taking part, but only received a single vote from the 12 interested teams (presumably their own, which is something at least). Spurs, who eventually joined the Southern League in 1896, resigned from it in 1905 to join the Football League – but they overestimated their popularity and failed to secure enough votes to be elected, leaving them frozen out of both the Southern League and Football League structures.
Over a century later, Tottenham were still rubbing people up the wrong way politically, as they looked to move away from White Hart Lane. The club tried to make a grab for the Olympic Stadium in Stratford, but Newham Council were unimpressed with their proposal, opting to support West Ham's bid instead. Tottenham's request for a Judicial Review into the decision was also rejected as they continued to irritate the authorities.
3. They release DVDs for bloody everything
Every time Spurs defeat a local rival, they mark the occasion with a DVD release, causing mirth among opposition fans. The practice reached parody levels in October 2008, when the club decided that a 4-4 draw at the Emirates was reason enough for the ceremonial treatment.
Even the usually-reticent Frank Lampard was moved to comment, telling an interviewer that, "It's always bad to lose to Tottenham because they make DVDs of it for the next 10 years".
4. ... or mugs
5. Their use of the 'Y' word
Reappropriating words intended as insults – especially prejudicial insults – is an effective way for a group of persecuted peoples to strip pejorative terms of their power. Due to the high amount of Jewish fans Spurs have, they were often lamentably referred to as 'Yids' by opposing supporters in the '70s and '80s; Tottenham then decided to adopt the term themselves in order to disempower the anti-Semites that branded it so venomously.
It largely worked, but while opposition fans rarely use the term these days, it remains a staple of the Tottenham lexicon. The majority of Spurs followers who use it are not Jewish, meaning it really isn't their term to brandish.
We now have the ridiculous situation of non-Jewish Spurs fans yelling 'Yid Army' at the top of their voices towards Jewish supporters from other clubs. Even a legal challenge from the Society of Black Lawyers couldn't dissuade fans from using the offensive word. It's time to retire it.
6. They won't get over Sol Campbell
Your captain leaving for your geographical rivals is obviously a bitter pill to swallow, and nobody would ever expect a moderate reaction to such an eventuality.
But the personal nature of some of the abuse dished out to Campbell in the ensuing years – much of it of an incredibly questionable flavour – did little to elicit sympathy for Spurs fans. Ultimately, he won two league titles, three FA Cups and played in a Champions League final for Arsenal.
It's not that difficult to see why he did it.
7. They try to make failure sound noble
When you're a little short on trophies, your marketing department has to work a little bit harder to give the club a "corporate identity." Tottenham have decided to make their persistent failure to win silverware sound like some kind of inevitable byproduct of a higher artistic purpose – hence their incredibly jarring club motto, 'To Dare Is To Do'. To do what, exactly?
8. "Oh when the Spurzzzzzzzzzzzzz"
Tottenham have their own version of Oh When The Saints Go Marching In, with 'Saints', substituted for 'Spurs' – obviously. Nothing wrong with that.
But Tottenham's unique twist is to sloooooooowwwwww theeeeee chaaaaaaaaaant riiiiiiiiiiighhhhht dooooooooown until you feel as though your drink has been laced with industrial-strength barbiturates.
So if you ever find yourself at White Hart Lane, bring Red Bull and smelling salts, because this soporific dirge will have you nodding off in no time.
Quizzes, features and footballing fun
Get the best features, fun and footballing frolics straight to your inbox every week.
Thank you for signing up to Four Four Two. You will receive a verification email shortly.
There was a problem. Please refresh the page and try again.