A tale of two DPs at NYCFC: Lampard the villain and Villa the hero
David Villa has embodied everything New York could want from a big signing. Frank Lampard's time in the Big Apple, however, remains an incomplete and complicated tale...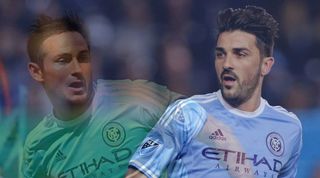 New York City FC's first designated player is embracing his role as captain and team leader. The club's second DP may finally emerge from the shadows on Wednesday.
David Villa scored in each of NYCFC's last three games, all wins, to take draw the club level with the Montreal Impact atop the Eastern Conference. Villa has been omnipresent for NYCFC, playing every minute this season. Frank Lampard has been a ghost.
That may change soon, as Lampard fully trained twice last week for the first time all year. He was with the team in Portland and could be in the squad for Wednesday's match against Toronto FC. NYCFC head coach Patrick Vieira also left open the idea of holding off on playing Lampard until Saturday's Hudson River derby against the New York Red Bulls.
It wouldn't be the first time Lampard has been on national television this year.
Lampard vilified in absence
NYCFC have largely kept Lampard away from media and criticisms, but excused him from his rehab for a return to England, where he appeared on a game show. Lampard also agreed to contribute to the BBC's Euro 2016 coverage from New York City and stopped by Chelsea for a second opinion on the injured calf. Chelsea coach Guus Hiddink opened his doors and let Lampard interact with his young team. Many NYCFC fans felt insulted by Lampard's appearances abroad as he remained largely invisible in New York.
When City went winless for 11 matches last season, Lampard was seen as the potential panacea. Now, with NYCFC unbeaten in their last four, he's seen as the potential wrench. Part of that has to do with Jason Kreis's failure to incorporate Lampard into the squad last season, but the roots of the scepticism run deeper.
Lampard, making a reported $6 million a year (£4.1m), spent the first half of NYCFC's 2015 season at Manchester City. The decision to stay with City until the end of the Premier League season largely hampered NYCFC's chances in building a cohesive and competitive squad. When Lampard finally did join NYCFC in July, he had 'sustained a small strain' to his calf in a training session that delayed his debut.
It was clear to all parties involved that the decision to remain in Manchester was disastrous. Lampard, a supersub for the first part of that Premier League season, went unused for much of the spring while NYCFC struggled. Desperate to redeem themselves (and justify a heavy marketing effort), Lampard was rushed to the pitch for a substitute debut against Montreal on August 1 and started for the first time eight days later against the Red Bulls. He reaggravated the injury and missed another month.
Though Lampard showed he can make an impact in his limited playing time, many NYCFC supporters have interpreted his remaining in the shadows only to appear on British television as a profound insult. That relationship was rocky from the start by City Football Group's botched handling of his signing, when he was introduced in summer 2014 as an NYCFC player, only for it to be later revealed that the announcement of him being on loan was wrongly phrased.
Lampard hit out at what he called "lies and nonsense," summarising much of his time in New York thus far.
Villa sets a winning example
Villa, meanwhile, has been adored by NYCFC fans for his work on and off the field. A photo of the Spaniard helping out a homeless man and his son in Portland last weekend went viral. It was as celebrated as any of the 26 goals Villa scored in MLS, and spoke to his character.
NYCFC is a club only 45 games old. It is a club on its second coach and thusly, a second attempt at forging an identity. Villa said it takes a certain mentality to turn positive play into results, a lesson NYCFC recently learned.
"During the three games, we played the same," Villa told FourFourTwo. "We trained the same but three games ago this team understood that in this league – no, not in this league but in the world – you can play well, you can have quality players, you can have a good defence, a good keeper... but if you don't fight for all the balls, if minute-by-minute you fight with team-mates against other team-mates, we are dead. The team, three, four games ago understood this and it's been very nice for us."
In encouraging NYCFC to fight for results, Villa threw the first firgurative punch. Frustrated after NYCFC gave away an equaliser to the Montreal Impact on April 27 and then the opening goal to the Vancouver Whitecaps on April 30, he took matters into his hands. He scored twice in six minutes against Vancouver to turn that game around and spark the start of this three-game winning streak. He helped preserve the result with smart defensive work and collapsed after the game, joking afterwards that he nearly died.
"I believe in football and in sport there are two different types of leader[s]," Vieira said that day. "The one that is really vocal and the one that [is] expressing talent and working hard. I think that David isn't very vocal but he works really hard and send the message to the players and when David is like that, that is really good for us. You know when you have such a talent, and are having players work really hard around him, that is the real talent. And he was a fantastic captain today."
Don't rely on DPs
NYCFC's win Sunday at the home of the defending champion Portland Timbers was the most noteworthy in the club's short history. But the defensive mistake that cost them a win against the Impact is now the reason they are only level for first place. Still, a better problem to have than trying to beat time to get above the red line.
Ex-boss Kreis relied on the team's three designated players to lead that effort and is now unemployed. Andrea Pirlo is New York City FC's other DP, of course. His complicated place in the conversation falls somewhere in the middle – hardly the bust that Lampard has been, but never really showing more than brief flashes of his former all-world self.
After Sunday's game, Vieira praised his team's ability to stick together.
"We have to accept that sometimes the game will not go the way we want," Vieira said. "We have to accept that other teams will dominate the possession. It's about how we can answer that lack of possession and that is why we defended really well. From Josh to David, everybody worked tremendously hard and we managed to take the three points. That was a really, really good team performance without the ball."
That team chemistry will be tested with the insertion of Lampard, who would join Pirlo in midfield. NYCFC's hope is that the humble captain and the beleaguered superstar can join forces to make a run at the MLS Cup.
This feature originally appeared on FourFourTwo.com/US
Quizzes, features and footballing fun
Get the best features, fun and footballing frolics straight to your inbox every week.
Thank you for signing up to Four Four Two. You will receive a verification email shortly.
There was a problem. Please refresh the page and try again.