Arsenal hero Bergkamp playing a huge role in Ajax's 'velvet revolution'
Elko Born on the fine job Dennis Bergkamp and co are making of revitalising Ajax...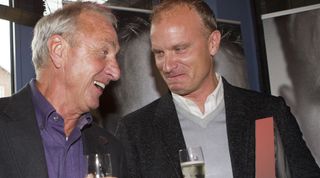 'This isn't Ajax anymore', Johan Cruyff wrote in his Telegraaf column in September 2010. He was venting his frustration after the Amsterdam club's recent Champions League performance against Real Madrid - a desperate 2-0 defeat at the Santiago Bernabéu.
Most people probably read the column and shrugged. They knew the legendary No.14, they were used to this. He was right, of course, but what could you do? Ajax were never going to win the Champions League again, and they were never going to beat Real Madrid. Those days were gone. Ajax just didn't have the money to compete with Europe's biggest sides, simple as that.
Little did people know, Cruyff's column would have the impact of an atomic bomb. It would spark the so called 'velvet revolution', a long-term project in which Dennis Bergkamp, among others, would play a pivotal role. 
Shortly after his column was published, Cruyff explained to the Dutch media that he was planning on taking up an active role within the club, and that things were going to change.
Ajax were to go back to the old days. The club were to focus on their main strength: their world famous academy. They were to stop overspending on expensive players like Miralem Sulejmani, who has since departed for Benfica. Only then would they be able to at least come close to where they once were.
It would take a drawn-out squabble with the board of directors and other Ajax officials, who weren't too keen on Cruyff's claim to power, but eventually the former Barcelona star got his way. Now an unofficial advisor to the club, he installed what he likes to call the 'technical heart' of the club: a dream team consisting of Wim Jonk, Frank de Boer (later replaced by Marc Overmars, so that De Boer could focus on his managerial duties) and Dennis Bergkamp. The trio was tasked with with turning Cruyff's dreams to reality by taking up key positions within the club.
Not long thereafter, other former Ajax stars joined the technical heart in their mission. Frank de Boer's twin brother Ronald took up a position as a youth coach, while former Manchester United defender Jaap Stam became the first team's defensive coach.
Three years and three consecutive Eredivisie titles later, Cruyff's plans are starting to bear fruit. More and more gifted, young players are graduating the Ajax academy, claiming a spot in De Boer's first eleven almost instantly. The Ajax team that beat Barcelona in November 2013, for example, included no fewer than six home-grown players. That number included Davy Klaassen, a technically gifted attacking midfielder described by some as 'the new Bergkamp'.
While it should be remembered that Cruyff's project is still in its early stages, the new standards being set are a testament to the technical heart's ability. Marc Overmars has shown himself to be an excellent technical director, while Wim Jonk, as head of Ajax's academy, has done well to ensure the youngsters are prepared when they move on to the first team.
Amidst all this, Dennis Bergkamp's role is perhaps the most important. Apart from his more general duties as assistant manager, it's the Arsenal legend's job to act as the link-up man between Wim Jonk and Frank de Boer. Overseeing the inflow of academy graduates, Bergkamp is continually aware of every young player's strong and weak points. This way, the learning process doesn't stop once a youngster reaches the first team.
It's for this reason, perhaps, that Bergkamp still puts on his football boots to train with the first team almost every day. Together with Jonk, it's the Dutchman's goal to turn Ajax's whole setup into what they like to describe as a 'talent factory'; a machine that, should one of Ajax's key players leave for a bigger club, will always have a capable youngster ready to fill the void.
Yet these duties don't prevent Bergkamp from being in the dugout every match - he's always acting as a sounding board for Frank de Boer. And while he's usually sitting quiet, humble as usual, it's more than obvious that in his role as assistant-manager, Bergkamp influences the first team's ongoings as well.
A world away from the short-termism that typified Ajax a few years ago, Bergkamp and his colleagues are building for the future. And under the watchful eye of Johan Cruyff, they're getting all the time and space they need. In this regard, Ajax's 'velvet revolution' has turned the club into an ideal finishing school. Not just for players, but for coaches too.
It will be interesting to see, then, what Bergkamp does when Frank de Boer eventually leaves his position. Will he become Ajax's first team manager, or will other clubs - perhaps even including Arsenal - be vying for his services?
Quizzes, features and footballing fun
Get the best features, fun and footballing frolics straight to your inbox every week.
Thank you for signing up to Four Four Two. You will receive a verification email shortly.
There was a problem. Please refresh the page and try again.