Awaydays: How we made the best soundtrack in football film history – with no money
When Kevin Sampson turned his football novel Awaydays into a film with Stephen Graham in 2009, he had six weeks and no money to make it. But he wouldn't skimp on the soundtrack…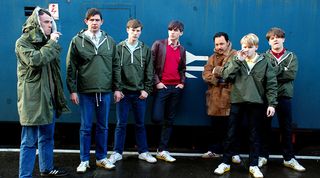 When Dave Hughes and I made our 2009 film Awaydays, we had a budget so meagre we couldn't even appoint Messrs. Greggs & Co. to do the catering. Nevertheless, we were determined to acquire the 'right' tracks to underscore the film; if we couldn't persuade the bands and copyright holders with filthy lolly, we'd do it with charm, persistence, flattery and, if that didn't work, emotional blackmail. Neither of us was above standing there with lip quivering, eyes moist with tears as we cried:
"But... I love that track! I love you..."
Yoz – what we call producer Dave Hughes – is a youthful veteran of the Merseyside Eric's Club post-punk scene I have tried to lovingly evoke in my books (particularly Awaydays and Stars Are Stars) He played keyboards with OMD and The Teardrop Explodes before forming his own seminal electro-art combo Dalek-I (who feature on Awaydays' compilation.)
He was there on the night that Eric's opened in 1976, while I didn't go through the club's magic portal until February 1978 – nevertheless, for both of us it was a life-enhancing, everlasting experience. When it came to choosing tracks for Awaydays, we were very clear – you had to have heard it in Eric's if it was going in the film.
The first list we drew up included Public Image by Public Image, When You're Young by The Jam, The Model by Kraftwerk and various Simple Minds tracks, none of which we were able to clear with the songs' publishers on the pittance we were offering.
Only when it was too late did Simple Minds' management realise that we weren't actually joking with our first (and last) offer – they said yes to I Travel the day after we'd delivered the final, locked version of the film; too late. I was gutted, as I'd always had a fierce vision of main character Carty running through the streets to the pulsating electro of it. It might not have been in the film but it should have been – it was always on my mind.
We struck up a good rapport with Paul Weller over The Jam – so good that he offered to write a new song especially for the film. We had the impossible task of explaining why we could only use songs we'd heard in Eric's. I didn't have the nerve to ask him to record a "cover" of one of his own songs and we all parted best of friends – but without The Jam's When You're Young.
An entire scene I'd written where Carty and his mate Elvis go on a road trip in a hot-wired Triumph Herald ended up not being filmed. It was specifically written with When You're Young coming out of the car radio, tears of rage running down Elvis's face and – to my mind, anyway – just wouldn't have had the same impact with any other track.
On the other side of the coin, Lou Reed gave us the green light to use Vicious – but, this time, we couldn't a place for it the final film. From 2007 until its printer ink faded to nothing, I had a fax from the man himself, saying he thought the book was the best thing he'd read in years – so it felt very, very weird not to be able to use such a definitive track. It's hard to explain, but it just felt a little unsubtle when we tried the song against various scenes – "We're hard! We're vicious!" – so, no Lou Reed.
We also had Wire's Outdoor Miner and I Am The Fly prominently in our thoughts. Somewhere in the ether there exists an early promo we made of The Pack – the hooligan firm the film revolves around – marching along a station platform, all set to I Am The Fly.
We'd made the impulsive decision to start filming even though we didn't have a studio on board to release the film – everyone had said no – and we didn't have enough money to get beyond three weeks of a six-week shooting schedule. But, on the basis of the book, the script and that short clip of The Pack on the march, Will Clarke at Optimum (now Studio Canal) bought the UK distribution rights and gave us enough money up front to complete the film on time (and only slightly over budget).
We also showed the promo to Gary Aspden at Adidas who, coming from the scene himself, didn't need any second invitation. He sent us crates of vintage training shoes and trackie tops, returning the compliment by basing an Adidas cagoule on the definitive green 'Packorak' and reissuing some of the shoes featured in the film (Forest Hills are about to do another turn as I write this).
FOOTBALL ON FILM
23 things you didn't know about cult football TV & films (opens in new tab)
Yoz was able to use his Eric's Club privileges (essentially two bean cans linked by a piece of string) to get the blessing of Ian McCulloch and The Bunnymen for Going Up and The Rascals' sublime cover of All That Jazz. And we struck up a brilliant relationship with John Foxx who loved the setting, the fashion and, of course, the music of Awaydays. Dalek-I had supported Ultravox at the Russell Club once upon a time, and the two of them bonded over vintage synthesisers (and meagre paydays from a Mr. Tony Wilson). John Foxx said we could take as many of his Ultravox compositions as we wanted, which was almost an embarrassment of riches.
On a personal note, the way Awaydays introduced those classic early Ultravox tunes to a new audience is one of the side-effects that has given me the most satisfaction. The extreme opposite would have to be the ubiquitous green hoodie. That fucking green didn't exist before Awaydays! I experience a mild heart attack with every new F&F or Rab creation, or whichever other pale imitation hits the high street.
When it got to the scary business end of our delivery schedule, we had a finished cut of the film that featured Joy Division, The Cure and Magazine in key scenes. Having tried numerous tracks and different 'takes' and assemblies of these big, evocative moments – The Pack coming around the corner for Carty's first big away day; the bizarre love triangle between Molly, Elvis and Carty; and Elvis getting jealous in Eric's – we couldn't imagine life without the tracks we'd settled upon: The Light Pours Out Of Me by Magazine, Joy Division's Insight and the heartbroken, stripped-down very early four-track demo of The Cure's 10.15, Saturday Night.
With The Cure, it was pretty simple. Their music publisher told us we would have to secure written permission from Robert Smith. The only problem was that the band was on a world tour and there was no saying when he might receive the letter, if at all. They suggested writing one letter c/o The Cure's manager, who would be likely to fly out and join the tour at some point – but to send another (not a copy – the publisher emphasised that Robert Smith was a fan of a personal letter) to him (the publisher), who would forward it to Bobby's home address. So I did – I wrote him a letter about how I'd seen him play at Eric's for £1 on a Thursday night in 1979 and walked home, getting a lift from the milkman for the final mile. It was completely true – but it didn't work. I didn't hear back.
Until, long after we'd given up hope, a hand-written letter arrived from the man himself. He said he hoped we didn't think he was being rude in not replying sooner. He'd just got back off a gruelling six-month tour (after which he'd taken a month's holiday). He said he'd be more than happy to give his permission for us to use the track in a sensitive, non-violent context – so long as we donated £500 to Greenpeace. And he remembered the Eric's gig with great affection. We were on.
Joy Division was less straightforward. I mean, Joy Division said no to everyone – and everyone knew that. I could only think of Moby's (pretty good) cover version of A New Dawn Fades in Michael Mann's Heat, and an obscure French film that had, I think, Insight playing on a taxi's radio – which is exactly what you'd expect to hear blaring out of the radio of your everyday French taxi, of course.
Other than that, Joy Division tracks just didn't feature in films, ever – but what the hell, we were going to give it a go. I interviewed Peter Hook in Sheffield way back in 1981, just before New Order's second-ever gig at a club called Tunnelvision. I'd gone round the back of the club and found their dressing room and just said "Can I interview you for NME?" The rest of the band blanked me, but manager Rob Gretton and bassist Peter Hook took me to the pub and, as I recall, just talked about football violence for an hour. NME never used the interview.
Next time I saw Hooky, which was at a Happy Mondays gig years later, he said they'd often wondered what happened to the interview with "that cheeky Scouse c**t". There's a bit of love in there, somewhere.
Anyway, I had his phone number and he agreed to let me and Dave Hughes come up to his studio in Alderley Edge to try to persuade him. He told me on the phone that it would be a two-way street; he was in a band called Freebass which consisted of three bass players (geddit?) and he said he was hoping we could use some of their stuff, alongside the Joy Division tracks – if he liked the film.
On a Baltic-cold January morning, myself and Yoz went up to Alderley Edge in Cheshire, insulated from the cold in big, black Lowe Alpine jackets. We had to ask directions, and three different people directed us to this prim little cul-de-sac of seven executive bungalows. It was Brookside Close for millionaires and possibly the last place on earth you'd expect a Joy Division/New Order virtuoso to reside. The cul-de-sac was bedpan shaped – one narrow road leading in, then a circle (I believe city planners call it a circus) of houses, vaguely Alpine in design, with huge, sloping roofs. The problem was, none of them was number one. Dave went right, I went left and we set about the trial-and-error of knocking at different doors, hoping a genial Peter Hook would fling open the door, beaming: "Joy Division tracks, is it? Well you've come to the right place!"
There was an oldish fella tinkering with his car. The (huge) garage door was open and the front end of the car had been brought out into the daylight. I gave it my most radiant grin and asked him which house was number one. He said there wasn't one.
I asked him if he knew which house Peter Hook lived in – perfectly polite, never at any stage going within four feet of him. Now, I have never had a pronounced Merseyside accent in the first place, and seven years working in the media in London smoothed out whatever might once have been there into a gentle lilt… but to this old corporal there was a Scouser, in the richest neighbourhood outside of London, dressed in black, asking jarg questions about a house that didn't exist. Over the road there was another one, looking through windows and ringing on doorbells to see if anyone was in.
"One moment," he said, and disappeared into the garage. He didn't come back out.
I gave up and went to the house next door, then the next, meeting up with Yoz at the bowl end of the cul-de-sac. I was about to phone Hooky again when a vehicle arrived at high speed, blocking off the entry-exit to the close.
A man in uniform came towards us, while another stood dixie by their van. As he got up close, I saw he was from Redcare, a private security company. We both knew straight away that he had no jurisdiction, but he was friendly enough, quite apologetic as he explained that he'd had a couple of calls from worried residents. I said to him, 'Well if we tell you why we're really here, you're never going to believe it'. But we told him. He laughed (very loudly, with a weird, hiccough-type wheeze when he breathed in) and pointed to a gap between two tall, bare, silver birch trees.
"See that windmill?"
When we did eventually trudge into Peter Hook's studio, I told him he was morally obliged, now, to give us permission to use every single track we asked for as penance for living in an area that randomly sends out SWAT squads to tackle strangers in black jackets. He gave me the Hooky Look – the one where he might just as easily fall down laughing as nut you in the face, and said: "You cheeky Scouse c**t. Okay."
So we got three Joy Division tracks. Even though Decades didn't come out until 1980, they played it in Liverpool in October 1979 (though – splutter – it wasn't actually Eric's, that time. Mountford Hall. The song existed, at least – good enough for me.)
The last track to be cleared – and by far the most important in terms of the iconic impact it ended up delivering – was Magazine's The Light Pours Out Of Me. And, true to the madcap, meandering journey that led us to this enigmatic collection of songs, its ultimate inclusion came about purely by accident.
Our editor, Mark Elliott, himself one of about a thousand one-time musicians who played in The Fall at one time or another over the previous 30 years, had one of his 'illuminations'. Mark was a brilliant, instinctive dude who sometimes felt restrained by the very disciplined world of the edit suite and would have these flashes of inspiration; revolutionary solutions to liberate obstinate scenes.
The Light Pours Out Of Me was 100% his idea. I had originally wanted Public Image for that scene, but we couldn't clear it. We'd also tried it with Vicious, with In A Rut by The Ruts (which came close – that fuzzy, threatening guitar intro almost works). We tried it to Teenage Kicks, Into The Valley, No Fun... none of them were quite right.
MORE LIKE THIS
LIST The 14 best football adverts EVER (opens in new tab)
Then Mark just called us in one day and said: "Look, you're probably going to hate this, but I think it's... well just sit down and have a look, anyway." And we did. It was fucking amazing. We went wild with euphoria, hugging him and running around in circles punching his (very low) ceiling. Then he said: "Clearing it's going to be a nightmare, mind you..."
And he wasn't wrong. Trying to speak to the song's publisher, the record company, the management – anyone who could just say yes – became the most frustrating succession of dead-ends and no-can-dos. We kept being told that nothing could happen without the agreement of Howard Devoto – but Howard Devoto had been living in Thailand for many, many years and only very occasionally made contact with his manager, Richard Boon. I tried about six different numbers for Richard Boon, and 10 different email addresses, but never heard back.
I was at Latitude festival, two weeks before our final, final, final deadline, and we had accepted we were never going to clear the Magazine track. I was talking to a lovely, quietly-spoken man called Richard Thomas, a Manchester City fan from remote Carmarthenshire and (I think) a relative of Dylan Thomas's. I knew him from the notorious Vox & Roll nights he promoted at a backstreet pub in Pentonville; basically an author and a band, live. He had a Vox & Roll tent at Latitude and we were about to go and watch Irvine Welsh. I told Richard about the trouble we'd been having trying to track down Howard Devoto and he said – why don't you just ask Ricard Boon?
"Just ask Richard Boon? Oh yeah, why didn't I think of that... stupid, now I think on!"
I reeled out the list of trial and error we'd gone through trying to get an answer out of Richard Boon. The other Richard – quietly-spoken Richard Thomas – chuckled and said words to the effect of: "Oh yeah, he can be a bit hit and miss when it comes to all that, but he's a lovely bloke. Look – that's him, over there. Shall I introduce you?"
Having gone to such extremes and, right there and then being so bloody close, I had an attack of stage-fright. What if he hates the sound of the film? What if he hates me? I asked Richard if he'd go and ask Richard for me, but he just marched me over. I gave a hesitant, forcibly-matey intro. Richard Boon kept looking over my shoulder at first – I would have, if I was him; I would have been looking for a not-too-obvious moment when I could politely edge away. But then I mentioned that our producer David Hughes was in Dalek-I... and that was that. Richard Boon loved Dalek-I. He was pretty sure that Howard Devoto loved Dalek-I. Everyone loved Dalek-I.
And by the sort of wonderful, lucky coincidence that everyone needs from time to time, whoever they may be, Howard Devoto was coming to the UK the following week to sort out his affairs before moving to Thailand for good. Blimey. We arranged for Yoz to meet up with him, talk about gigs they'd both been at (not just punk but Bowie, Kraftwerk, Can, The Heavy Metal Kids...) and Awaydays. And he liked the sound of Awaydays. Howard Devoto liked Dave Hughes, and he liked the sound of our film, and he fucking said yes and the track was in.
It was in. And here it is, dear listener – a classic, classic track, among the very best of company, for your further listening pleasure.
This article was originally written as the sleevenotes to the Awaydays Original Soundtrack album, which you can buy on vinyl from 80scasuals.com here (opens in new tab)
In the latest FourFourTwo magazine: Kes! Half a century on, FFT hails the greatest football match in British cinematic history. Subscribe today! 5 issues for just £5 (opens in new tab)
More features you'll love on FourFourTwo.com (opens in new tab)
Thank you for reading 5 articles this month* Join now for unlimited access
Enjoy your first month for just £1 / $1 / €1
*Read 5 free articles per month without a subscription
Join now for unlimited access
Try first month for just £1 / $1 / €1
Get FourFourTwo Newsletter
The best features, fun and footballing quizzes, straight to your inbox every week.