Behind enemy lines at Schalke: When our Dortmund fan went to Gelsenkirchen
It's Germany's biggest derby with Ruhr pride at stake, but what happens when the Ultras are banned and there's a big Europa League second leg four days later? Yannick Hesse finds out...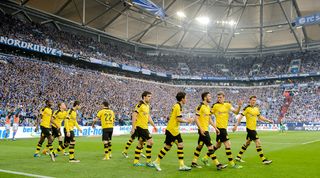 I am not much of an away traveller. I never really have been, in truth. The reasons for this used to be financial, later of a professional nature (and admittedly, convenience also played a considerable role).
Even for Borussia Dortmund's biggest match of the year, the Ruhr valley derby against Schalke 04, I usually refused to take the 27-kilometre trip. I didn't want to give the detested club any money, I didn't want to stand in the roofed birdcage they call "Arena" and in particular, I simply didn't even want to set foot in the city of Gelsenkirchen. End of discussion.
Those were the fundamental reflections I had in mind while I was walking towards the Schalke Arena on Sunday 10 April 2016, ahead of the 148th Revierderby. What happened? Well, first of all I managed to get a ticket quite easily. But what I found most astonishing was having the feeling that, this time, the team would actually need my support.
On the other side
This feeling had less to do with the fact that, due to several incidents, about 500 BVB supporters were banned from the match (among them many of those who are mainly responsible for the team's support – the Ultra groups).
Instead, it was the sporting situation that worried me: with Schalke being 23 points behind us in the league, the Europa League match at Anfield in mind and the chance of going to the cup final for the third time in a row, the derby was in danger of becoming a compulsory event. That should certainly not be allowed to happen, and I wanted to do my bit that it wouldn't.
Unfortunately, I wasn't able to show my colours in doing so – at least not during the trip to Gelsenkirchen. Since I was taking a tram that is used largely by the home fans, I renounced any yellow stuff on myself.
It was a good decision: as I entered, the tram was already packed with blue and whites, some cheerful, some half-drunk and even aggressive. It felt strange to travel incognito; then again I was able to gain insight into the pre-match atmosphere of the opponent – to spy on the enemy, so to say.
"If we beat the ticks today," muttered a stubby man whose faded blue and white cap must have witnessed Schalke's last German championship (1958, for the record), "then the bloke might stay."
'Ticks' is Schalke fans' derogatory term for Borussia Dortmund's fans and players; the "bloke" is André Breitenreiter, Schalke's coach. Thinking about it, I got slightly worried again. The little man was right: if Schalke should win today, they could make up for a whole, rather disappointing season.
"A derby win is like winning the league," says a sign that is often held up on Dortmund's Südtribüne. I really wished our team and fans would remember it.
Apart from one or two flying beer bottles and a few verbal duels, there were no incidents on the way from the station to the stadium, especially since the Gelsenkirchen police appear to do a better job in separating the fan groups than their colleagues in Dortmund.
Yet the fact that on this occasion there were no bigger marches of ultra groups made it easier for them. Speaking of ultras: earlier in the day, 200 of the BVB supporters with a stadium ban had occupied the Glückauf-Kampfbahn (Schalke's home ground from 1928 until 1973), singing and shouting in the empty stadium – a peaceful and, above all, creative way of protesting against their restrictions.
What really matters?
When I arrived at the visitors' entrance of the Veltins-Arena, my concerns were confirmed as I overheard two BVB fans arguing whether Thomas Tuchel should rest his key players for next Thursday.
"Europa League is more important than the derby," one said, without a wince. The counter-argument of his friend was no less strange: "We should always play with the best team, there is still a chance to win the league."
From a mere sporting point of view, he was probably right, but it nevertheless sounded strange. "A derby win is like winning the league," I said when passing by – but I was slowly starting to doubt. Maybe today's game really was a compulsory task. Maybe this time, the derby really isn't the most important game of the season.
My doubts grew when I saw the starting XI Tuchel had chosen for the day. Only three players from the Liverpool match (Sven Bender, Mats Hummels and Erik Durm) remained; otherwise, reserves like Moritz Leitner, Adrian Ramos and the 17-year-old Christian Pulisic were getting their chance.
"Is anybody taking this seriously?" I asked myself. While Schalke's fans and players were fired up for the match of the year, we seemed to give our reserves some match practice while talking about the 'real' opponents, Liverpool or Bayern.
Talent in reserve
However, during the first minutes of the game it became apparent that even Dortmund's second string would be on par with the hosts' first.
"A win today could give us confidence for Thursday," said the supporter to my right. Slowly but surely, I got annoyed. "It's not about Thursday, it's about today," I said. He agreed, but kept on telling me that winning the Europa League would be important in order to "piss Bayern off".
While I was trying to figure out how it's possible to annoy a team by winning a competition they aren't even in because they are too good for it, 17-year-old American Pulisic had the first chance for Dortmund. It was the only one in a first half that was just as mediocre as the atmosphere in the away end.
The absence of BVB's ultras was being felt: after all, they were the people who drive and coordinate the support. As a result, people started to intone certain songs by themselves, which, though laudable, in most cases flattened very quickly. However, that changed after half-time. Just like basically everything changed after half-time.
It was Shinji Kagawa's wonder goal – a 16-yard lob shot – that resurrected the Dortmund supporters' section. However, the celebrations didn't last long as Schalke's (now Manchester City's) Leroy Sané equalised shortly afterwards.
The madness continued when, three minutes later, Henrikh Mkhitaryan crossed and Matthias Ginter made it 2-1 with a header. I got showered with beer, the guy who wanted to "only gain some confidence for Thursday" fell off two or three steps headfirst, but looked happy as he got up again. Finally, everybody was in derby mode. Finally, it was the most important match of the season again.
Derby spirit
Eventually the game ended 2-2, after Klaas-Jan Huntelaar levelled with a penalty on 66 minutes. Bayern Munich now seven points ahead, the title race decided.
But fortunately, that wasn't the main subject of conversation after the match: while walking back to the bus station, I only heard people complaining about the missed chance to beat "Scheiße 04", but nobody talking about a seven-point margin or the upcoming Europa League match.
In the end, is a derby win really as important as winning the league? Probably not, but sometimes it releases the same emotions – and this is why it must never, ever be a normal Bundesliga game or a compulsory task.
Thank you for reading 5 articles this month* Join now for unlimited access
Enjoy your first month for just £1 / $1 / €1
*Read 5 free articles per month without a subscription
Join now for unlimited access
Try first month for just £1 / $1 / €1