The big interview: Gianluigi Buffon – "Goalkeepers are perverse – you're playing a game where everyone uses their feet, but you want to use your hands"
What did he think of his world record transfer fee? How did he deal with his depression? And what made him stick around in Serie B? Your questions answered in July 2014...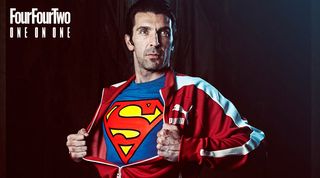 The legendary goalkeeper has announced that he will leave Juventus this summer after an incredible 17-year association with the Turin giants.
With over 1,000 games to his name for club and country – not to mention nine league titles, five domestic trophies, UEFA Cup and a World Cup – Buffon will go down as one of the game's undisputed all-time greats.
FourFourTwo met the Tuscany native in the summer of 2014 for a wide-ranging career reflective, which you can enjoy below...
Is it true you started out as a midfielder? How did you end up between the sticks?
Ryan Stone, via email
Yeah, it's true. I guess every kid starts off playing football wanting to score goals rather than keep them out. Was I a striker as well? Yes, for a while. I was OK at it; I enjoyed it. I ended up in goal by chance, really. My dad pushed me towards it a bit, but then I also really wanted to be like Thomas N'Kono, the Cameroon goalkeeper. I was a bit reluctant at first, but the [1990] World Cup was on and I'd watch that great Cameroon side. N'Kono was such an important member of the team.
Your dad came second at the European Athletics Junior Championship and your mum was a champion shot-putter. Did she teach you how to throw a football?
Ben Driver, via email
My dad, my mum, my sister – everybody. Shot put? No, no, it was the discus. She was an Italian record holder in the event. But yeah, my father was a really good athlete as well – it was a very sports-minded family. Did it help me growing up? I think so, yes. You take sports more seriously, perhaps. You certainly have the support of your family, which is important.
Who were your heroes as a kid – and who would you say is the best goalkeeper ever?
Fiona Makepeace, via email
Oh, I had lots of heroes, but none were particularly conventional. There was N'Kono, but also his team-mate, Roger Milla. I really loved to watch Cameroon – they were my second team after Italy. I was a big tennis fan as well and I always liked [Ivan] Lendl, [Stefan] Edberg and [Pat] Rafter.
I heard that your professional debut for Parma saw you face Milan – and Weah, Baggio and Savicevic. Is that right? Were you as confident and vocal then as you are now?
Massimo Robinson, via email
It was a beautiful day, a beautiful experience – the realisation of a dream I'd worked towards for years. And I had a good game. I didn't let in any goals [the match finished 0-0]. I was confident, and where I wanted to be. Did I have a shout at the defenders? I think so. I hope so. It's what goalkeepers do.
Much was made of your €45 million transfer fee when you joined Juventus in 2001. How blown away were you when you heard that fee? What would you say to someone who believes no keeper is worth that much?
Leon Adams, via email
It was a big satisfaction for me. I really didn't have any problems with it at all. In that sort of transfer market, I was seen as... we could say a phenomenon of sorts, but that was down to the price tag more than anything else. Juventus went to see me play, thought "f***, this Buffon really is a phenomenon" and paid a lot of money for me. If they had paid five million rather than 45 then it wouldn't have made such a big splash. But the market determines the price. A good goalkeeper is vital for a good team, just as valuable as a good striker. And sometimes just as expensive. Would I have signed for Juve for five million? Yeah, I would. I'm not sure Parma would have been too happy, though...
You suffered from depression 10 years ago and even reached the point where you were afraid to walk onto the pitch. Who knew about it, and why didn't you take a break?
Graham Dowling, via email
Who knew about it? I knew about it. And I had to keep it to myself because, at the beginning at least, I didn't really have the opportunities to be open about it; I didn't know if I could talk about it to anyone. But then, very gradually, I would chat about it to friends, to team-mates, people really close to me, and I began to understand I had a problem and that it was something that could be dealt with and cured.
I didn't take a break because I felt this great responsibility to my team-mates and to people who relied on me; I didn't want to let them down. And I didn't feel like I could stop playing: I didn't think that would be seen as an acceptable way of doing things, not with that responsibility. I had a European Championship to play in. [FFT: Has that attitude within the game changed towards depression?] I think so. I hope so. It helped to see a psychologist, but as I said, the support of friends and team-mates was a big thing for me.
How devastating was it to see Juventus's titles stripped because of the 2006 Calciopoli scandal? It seemed to inspire Italy to glory at the World Cup; do you think you still would have won the tournament if it wasn't for that scandal?
John Kerridge, Kent
On a professional level, as a player, to have all that success taken away from you like that was devastating, yes. It deprived me of future successes and it deprived me of two successes from the past. We certainly arrived at the World Cup in Germany as the centre of attention and with the conviction that – in what was a delicate moment – we had to do something big on the pitch to respond to everything that had been going on. We were in determined mood, but then I never really thought we were going to win the tournament, so I'm not sure if it [Calciopoli] had much to do with it.
What's the best save you've ever made? It has to be that one-handed stop from Zidane in extra-time in the 2006 World Cup Final, right?
Dominic Howe, via Twitter
The best? Er… hmm… the one against Zidane? Yeah, that was probably the most important save of my career, but I'm not sure if it was really the best…
Oh, I don't know. But yes, it was absolutely the most important.
Was it an easy choice to stay with Juventus when they were demoted to Serie B? What did you make of the likes of Patrick Vieira and Zlatan Ibrahimovic walking away from the club? And how much did you enjoy playing in the second tier?
Ollie, via Twitter
Of course it was easy, because they threw a load of money at me! No, no, I'm just kidding, of course! It was the opposite... no, playing in Serie B wasn't a logical choice, but it was one of those made by the heart. Other players in the squad made other choices. That was up to them. The choices you make in life can be tough, they might not make your life any easier, but they make you the person that you are. Serie B was certainly an experience, but I have mixed feelings about it. To say I enjoyed it wouldn't be the right word, but yes, that season was an experience...
You don't look like you fear anyone, but which player do or did you least like to face in one-on-ones?
Evanesce Insomniac, via Twitter
The absolute best player I've ever had to face was Ronaldo, the Brazilian, who was a champion without equal – an incredible player. An Italian? It would have to be a player who was the most grande expression of Italian football: Roberto Baggio.
Is Antonio Conte more impressive as a team-mate or as manager? Was it weird to be managed by someone who you'd played with for so long?
David Robinson, Bromley
As a team-mate, Conte was an excellent player, a very charismatic player – someone who was always a great example out on the pitch for others to follow. And now he's a coach, I think he's very good. Was it a bit strange? No, no, not at all. He always had that thing about him, way before he ever became a coach. He always had a certain stature about him.
Andrea Pirlo recently proclaimed his locker space at Juventus to be "the most dangerous spot in Turin", because of its proximity to the door that Conte often storms through to deliver a half-time rant. Is Conte the most fired-up boss you've had? Surely Capello was worse?
Liam Towney, via email
He's a coach who really likes to transmit his energy to the players. If he's angry about something that has happened on the pitch then he lets you know, yes. Capello was worse? No... Conte, maybe because he's a younger man, a younger coach, lives the whole 90 minutes – he really puts all his energy into it. A coach like Capello, with all that experience, can sometimes be a little more distant.
I remember you giving Steven Gerrard a cheeky slap around the face at the coin toss just before the Euro 2012 quarter-final shootout against England. Were you that relaxed, or was it mind games to unsettle the opposition? Would you be so relaxed if required to take a spot-kick?
Tim Bradley, via email
No, no, I wasn't relaxed against the English. And I'm never relaxed when the game goes to penalties. Look: you go to penalties, you've got a 50 per cent chance of winning, but a 50 per cent chance of losing. But the thing with me is, I'm one of those handful of goalkeepers who are always expected to save at least one or two of those penalties. And if I don't do that, I'm going to be judged really harshly by the press. So no, I can't relax before penalties.
Is it right that Mario Balotelli blamed the Juventus players for losing the Euro 2012 final against Spain – and you angrily wrestled him to the floor in the changing room after the game? Who won the fight?!
Trevor Jenkins, via email
He did what? Wrestling?! No, no, that's not true. [Laughs] Anyway, he couldn't really say that, could he? There were quite a few Juve players in that team! (Six started the game.)
I've never seen a footballer sing a national anthem with as much passion as you. What are you thinking about when you shut your eyes, and are you just as passionate at karaoke?
Luca Antonoli, via email
I'm thinking that I'm happy and honoured to be an Italian and someone who's truly lucky to be able to represent my country. Karaoke? Well, it all depends on the song...
Who's the biggest joker of a team-mate you've had? I bet it's Gattuso...
Bryan Henderson, via email
Yeah, it would have to be Rino [Gattuso]. We still enjoy a close friendship – he can always make me laugh. Ah, Rino...
SEE ALSO Gennaro Gatusso: the animal inside
Wearing the right gear is crucial for a keeper, so why the short sleeves?
Steve Mason, Facebook
I really don't know why. It's just something that I've always done, right from the time I first started playing in goal. It always felt good. And now look: lots of goalkeepers do it. I've started a fashion.
If you hadn't made it in football, what do you think you would you be doing now?
H Silva, via Twitter
Pffffft... I have no idea. I have no idea because, from when I was a kid, I've followed this dream of being a footballer and I never thought it wouldn't happen. There was never a moment when I thought of doing anything else.
You've spoken before about enjoying being an entertainer and creating a spectacle for the crowd. Do you think football should still value these qualities when there is so much at stake?
Seb Moore, via email
Yes, but these things shouldn't just be a question of money or whatever. If you play for a big club, you're obliged to win – you have to do it. So I suppose it's normal that the idea of playing football for enjoyment, to please the crowds, becomes less and less important. But if you go out onto the pitch and the only objective is to beat your opponent, then it's not really about enjoying yourself.
You look just like a young Al Pacino, Gigi. Ever met him? What's your favourite Pacino movie?
Neil Hendon, via email
Who? Pacino? Really? Nooooo! No, really? It's not bad, though, is it? Hmmm. OK! No, I've never met him. My favourite film of his? Oh, Scarface is the best. Definitely.
Italian sides have struggled in the Champions League of late. Why would you say this is? And how far do you think Serie A lags behind La Liga and the Premier League right now?
Jan Fairless, via email
Yes, yes, it's true... Italy is having a very tough time economically, and so Italian football suffers as well. There isn't the sort of money in the game that there was 10 years ago, 20 years ago and yes, we've fallen behind, but we [Juventus] came close to success in Europe last season. Will Serie A come good again? I know it will, because these things go around in circles. They do.
Goalkeepers seem to be playing to a later age these days. What would you say is the peak age for a keeper, and how long do you think you can go on for? Are you targeting 150 caps for Italy?
Lenny Goodhall, via email
Maybe up until you're 28, 29, 30, it's about your physicality, your agility, but after that things change a little and your experience as a keeper begins to kick in. You know how to approach the important games, the sort of thing you only know from experience. And to have that kind of experience, I think you need to be over 30. But there's a pay-off to that, because you can't do the same things you could do as a young man. So I don't know if we can really say there is a peak age, as the two ages can be just as important for different reasons. Good goalkeepers improve all the time, though. Yes, 150 caps would be a great achievement. Let's see.
You and Iker Casillas have been the best two keepers in world football for the last decade. Who would you say are the next two on that list?
BenIsAinDom, via Twitter
I like Joe Hart: he's still young and he can become a great keeper. Among the other young keepers I really like is the Belgian, [Thibaut] Courtois.
What single bit of advice would you give an aspiring young goalkeeper looking to make it as a professional?
Jerry JD Redwine, via Twitter
One bit of advice? To swap position... no, no, I'm absolutely serious! You have to be a real masochist to do this as a job. And a bit perverse. Think about it: you're playing a game where everyone uses their feet, but you want to use your hands...
You're already the most-capped Italian player and Brazil was your fifth World Cup. Are you aiming to make it six in Russia in 2018?
Hassan Assad, via email
Yes, there could also be a sixth. But you know, I really haven't thought about that, not just yet. We'll see.
This feature originally appeared in the July 2014 issue of FourFourTwo. Subscribe!
Thank you for reading 5 articles this month* Join now for unlimited access
Enjoy your first month for just £1 / $1 / €1
*Read 5 free articles per month without a subscription
Join now for unlimited access
Try first month for just £1 / $1 / €1
Get FourFourTwo Newsletter
The best features, fun and footballing quizzes, straight to your inbox every week.
Matt Barker is a freelance journalist and regular feature contributor to FourFourTwo magazine. He specialises in Serie A and Italian football, has interviewed players including Michael Owen and Gianluigi Buffon, as well as covering stories such as Silvio Berlusconi's purchase of AC Milan, and Ronaldo's injury-plagued time at Inter Milan at the turn of the century.