Why Bill Shankly and Jurgen Klopp share so much in common
Unifying personalities loyal to the cause? Check. Defied critics to transform a defence? Check. Peter Hooton – lead singer of The Farm and author of The Boot Room Boys – reflects on kindred spirits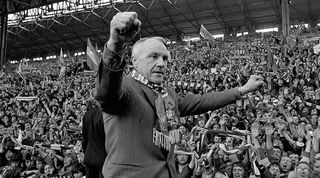 When Bill Shankly arrived at Anfield in December 1959, there was no fanfare. He had joined a club struggling to get out of the Second Division with a mediocre team and a dilapidated ground.
Nobody would have predicted that the Messiah had arrived; the man who would transform Liverpool FC into a bastion of invincibility and lay the foundations for the Boot Room Dynasty.
When Jurgen Klopp arrived at Anfield in October 2015, the contrast couldn't have been greater. After his achievements at Borussia Dortmund, Liverpool fans were praying he was the new Messiah after years of their club being dubbed nearly men.
Same pod
Shanks had been nurtured in a small pit village called Glenbuck in Ayrshire, 40 miles south of Glasgow. Klopp spent his formative years in Glatten, a similar distance from Stuttgart.
Both grew up with the word 'loyalty' in their DNA and both were totally obsessed with football, possessing a natural enthusiasm bordering on fanaticism. They wore their hearts on their sleeves.
The similarities didn't end there. Shanks was a man of the people who believed in the holy trinity of supporters, players and the Boot Room, while stories of Klopp's relationship with the Yellow Wall of Dortmund's Westfalenstadion were the stuff of legend before he even arrived at Anfield.
Over the decades there have been many pretenders to Shankly's crown, his special communion with the fans, but Klopp certainly has that same unique bond. As far as I'm concerned, he's the nearest thing to Shankly we've ever had.
Shanks built his successful 1960s team around the 'colossus' Ron Yeats, just as Klopp has built the foundations of what is already a record-breaking Liverpool team (in terms of points gained at this stage of the season) around Virgil van Dijk. The Reds conceded 1.2 goals per game before Van Dijk arrived, but this season that's down to 0.58 per game; 18 goals conceded in 31 games so far.
Fight for your right
Shankly had fought long and hard with Liverpool directors to secure Yeats's signature in 1961 – £20,000 was a club record for a defender at the time, and they said they couldn't afford him. Similarly, Klopp knew the player he wanted to transform Liverpool even though many baulked at the fee, just as they had done with Yeats.
Social media and television pundits went into meltdown when he wouldn't contemplate an alternative. Lists were drawn up as angry social media football managers implored Klopp to go after alternatives, all while Liverpool continued to leak goals. Klopp had to straight-bat questions from eager journalists at his press conferences about other central defenders. He wouldn't be swayed.
Eventually, in January 2018, Klopp got his man – his own 'colossus' – and everyone could immediately see why he was the manager of Liverpool and those social media 'experts' weren't.
Just like Yeats all those years ago, Van Dijk has transformed Liverpool from mediocrity to what looks like the real deal. Shankly would have approved.
Peter Hooton is author of The Boot Room Boys, available from Penguin Books now (opens in new tab)
THEN READ...
QUIZ! Can you name these foreign '90s Premier League players?
RANKED! The 50 worst players in Premier League history
Subscribe to FourFourTwo today! (opens in new tab) 6 issues for £19
Thank you for reading 5 articles this month* Join now for unlimited access
Enjoy your first month for just £1 / $1 / €1
*Read 5 free articles per month without a subscription
Join now for unlimited access
Try first month for just £1 / $1 / €1