Bruce Grobbelaar: What Happened Next?
"Despite walking from court an innocent man, The Sun got what they wanted in the end..."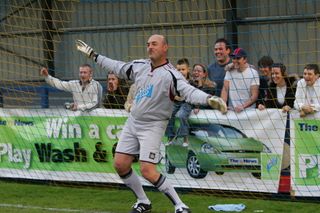 It could have been so different for the most decorated goalkeeper in English football. Thirteen medals in a 13-year spell at Liverpool should have left him revered. But, as FourFourTwo found out back in June 2007, he was left in personal and professional ruin.
It was 1994 when business partner Chris Vincent told The Sun that Grobbelaar was involved in match-fixing. In a bugged hotel room, the then-Southampton keeper spoke about throwing games, admitted receiving £40,000 for a Liverpool-Newcastle game in 1993 and was filmed accepting £2,000 as part-payment for throwing matches.
In a 1997 court case alongside Hans Segers, John Fashanu and Malaysian businessman Heng Suan Lim, Grobbelaar claimed he was obtaining evidence against Vincent. The jury failed to reach a verdict. After retrial, all four were acquitted. In 1999 he won £85,000 in libel against The Sun, only for the Court of Appeal to rule this a miscarriage of justice. The House of Lords reinstated the original verdict, but cut his damages to £1 and told him to pay The Sun's £500,000 legal costs. Unable to, he was declared bankrupt.
"Despite me walking from court an innocent man, The Sun got what they wanted in the end," he says. "What sticks in my throat was the way it was done. I never knew the system; they did. They had the resources to break me. My highest wage was £2,800 a week at Southampton, I had put my daughters through private school and my houses were not in my name [a court case is pending with his ex-wife]. Bankruptcy was the only option."
So why take on The Sun? "It had started off as a libel case – it was never a criminal case at the beginning," he explains. "But the law courts were fair; the jury found me not guilty, it was the appeal courts, where there is no jury, who put me where I am. When I went to the House of Lords, one of them said I should hang my head in shame. Why? I never did anything wrong. What happened to me was a first for British law. I doubt it'll ever happen again."
Yet Grobbelaar is a fighter; from his days as a frontline soldier in Rhodesia, through his criticised eccentricities at Anfield, he's always stayed tough. Now he's re-surfaced in South Africa as a top-flight coach.
"I initially went back to coach kids," he says. "That's how I was earning a little bit of money, plus I had my pension from my Liverpool days – without it I would have been at rock bottom."
In five years, Grobbelaar has coached SuperSport United, Seven Stars, Hellenic, Manning Rangers and Umtata Bushbucks.
"I saved every team from relegation," he insists. "I also left a legacy at SuperSport, putting a coaching system in place, now they are no lower than fourth in the league. I'll return to coaching but I need my badges. It would be a dream to manage Liverpool one day; mind you they're not doing too badly!"
Having returned to Blighty, Grobbelaar is a member of the former Liverpool players' association, playing golf and exhibition matches around Europe for "older players who've fallen on hard times". He doesn't include himself in that bracket but while he's bankrupt, he can't accumulate any money.
He is hoping the impasse will end soon. Besides playing golf for children's charity Sparks, he's following appearances on Sky One's The Match by playing for Northern Counties side Glasshoughton Welfare in August.
"I still get a buzz from playing. The Match was great and it makes me laugh when these wannabes think they can beat us," he grins. "I'm looking forward to playing for Glasshouse, who have fallen on their own hard times. The old Grobbleaar magic is still there.
"They were fantastic days at Liverpool but whatever happens now in my life I can't complain too much," he ends. "I came to this country with £10 in my pocket and after the Law Lords had finished with me, I had £1. That's quite some life I've had on £9!"
From the June 2007 issue of FourFourTwo.
Thank you for reading 5 articles this month* Join now for unlimited access
Enjoy your first month for just £1 / $1 / €1
*Read 5 free articles per month without a subscription
Join now for unlimited access
Try first month for just £1 / $1 / €1