Canada coach John Herdman recounts unconventional pathway to management ahead of World Cup 2022
Canada's manager never played professionally, and got into coaching through a Brazilian football academy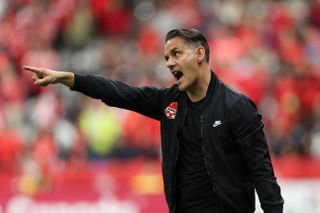 (Image credit: Getty Images)
Canada's manager for World Cup 2022, John Herdman – from Country Durham – wasn't formerly a professional footballer and got into coaching while studying at Northumbria University, helping out in Sunderland's youth system.
In March 2022, after confirming Canada's men's team would finish first in CONCACAF qualifying for the Qatar World Cup, Herdman became the first manager to qualify a men's and women's team to the World Cup, having previously done so with Canada and New Zealand's women.
However, his managerial pathway in nothing short of incredible, as he tells FourFourTwo in the latest issue of the magazine, a World Cup special available to buy.
"I set up a Brazilian football academy with a guy called Simon Clifford," Herdman told FFT. "At the time it was revolutionising English football, and I was part of that revolution.
"I had probably the best two or three years of my coaching career, setting up a Brazilian academy in Moorside Primary School in County Durham. My wife and I were painting walls yellow, white, blue and green, listening to Brazilian samba music.
"That was the very start of it. The son of Sunderland defender Chris Makin turned up – they let people know that there was a bloke doing some enjoyable coaching with kids, and that was my pathway into professional football. I got a chance at Hartlepool with Martin Scott, who'd been sending his kid too. I've never looked back."
Herdman then moved into coaching with Sunderland's youth academy, before upping sticks and moving across the other side of the world to New Zealand in 2001. He joined the national set-up in 2003, but in 2006 the New Zealand FA appointed him as the women's national team manger.
The Englishman guided New Zealand to the 2007 and 2011 World Cups, as well as the 2008 Olympics. In 2011, though, Herdman decided to journey across to Canada and take charge of their women's national team.
Two Olympic bronze medals followed in his seven-year tenure, but he could only manage a quarter-final place at the 2015 World Cup, as Canada lost 2-1 to England on home soil.
After his success in the women's game, Herdman was handed the task of transforming the fortunes of the struggling Canada men's national team in January 2018. He has done just that. Since Herdman was appointed, Canada have climbed from 72nd to a high of 33rd in the FIFA Ranking – they've since dropped back to 41st. Qualifying for the World Cup is a dream come true for Herdman, too, especially because the last time Canada reached the finals was in 1986.
"You never think you're going to be at the World Cup – I remember watching Italia 90, and getting the Panini sticker album when Canada were last there in 1986," reminisces Herdman. "The reality, when it hit, was just one of complete relief, then joy."
Thank you for reading 5 articles this month* Join now for unlimited access
Enjoy your first month for just £1 / $1 / €1
*Read 5 free articles per month without a subscription
Join now for unlimited access
Try first month for just £1 / $1 / €1