Qatar World Cup 2022: Dates, groups, fixtures, stadiums, temperature, squads and tickets
By Conor Pope published
Everything you need to know about the Qatar World Cup 2022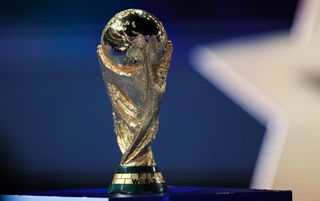 (Image credit: Getty)
The Qatar World Cup 2022 is coming up – and boy, are we excited.
This World Cup promises to be very different from FIFA's previous installments, so there's plenty of questions that fans need answering before it kicks off later this year.
Where will World Cup 2022 take place?
If you've somehow missed this – or just still can't quite believe it's happening – the World Cup 2022 is happening in the Middle East nation of Qatar.
The unusual hosts were announced by FIFA back in December 2010, on the same day that Russia was announced as the host country for the 2018 World Cup.
Qatar is not particularly known for its football history, and its warm climate made it a surprising choice for a tournament that normally takes place in the summer.
Dates and fixtures
What are the dates for the Qatar World Cup 2022?
Given the summer temperatures in Qatar – average highs in July are around 43C – mean that the World Cup 2022 has been moved to winter for the first time in its history.
The tournament will kick off on November 21, 2022 and will run until the final on December 18, 2022.
SEE MORE World Cup 2022 fixtures – full schedule and dates
Temperature
How hot will it be at the Qatar World Cup 2022?
The temperature in Qatar in November ranges from an average high of 29C in the daytime, to an average low of 19C at night.
Qualified countries
What countries have qualified for World Cup 2022?
Who has qualified for the World Cup 2022? As it stands, 29 of the 32 teams heading to Qatar have been decided:
Qatar (Hosts)
Germany
Denmark
Brazil
France
Belgium
Croatia
Spain
Serbia
England
Switzerland
Netherlands
Argentina
Iran
South Korea
Japan
Saudi Arabia
Ecuador
Uruguay
Canada
Ghana
Senegal
Portugal
Poland
Morocco
Tunisia
Cameroon
United States
Mexico
When will all qualified countries be confirmed for World Cup 2022?
In Europe, Ukraine's play-off semi-final against Scotland has been postponed due to the country's invasion by Russia, and is set to be played in June, with no specific date set. The winner will then face Wales for a place in the World Cup. That game is also expected to be in June.
The final two teams to qualify for the World Cup 2022 will be the winners of the two inter-confederation play-offs.
This year, these ties will be decided in a single leg, at a neutral venue, on June 13 and 14, 2022. The first will be between Costa Rica and New Zealand, while the other will be between Australia or the United Arab Emirates and Peru.
Find out more about when all the World Cup 2022 qualified teams will be confirmed here.
When will the World Cup 2022 squads be announced?
We normally see tournament squads released around six weeks before the competition kicks off – so we currently expect to see World Cup 2022 squads being announced in early October 2022.
Draw
When is the group draw for World Cup 2022?
The World Cup 2022 group draw took place in Qatar's capital city Doha on April 1.
You can see the full World Cup 2022 groups here.
Tickets
Can you get tickets for the Qatar World Cup 2022?
If you've just started looking for World Cup 2022 tickets, you've already missed the first phase of sales.
There are two more sales phases yet to come.
Sales Phase 2 will begin after the World Cup 2022 draw has been made on April 1.
All FIFA have said about the third and final phase is that it will be another first come first served situation, presumably involving whatever tickets remain by then.
Find out more about World Cup 2022 tickets here.
Kick-off times
What will the kick-off times be at the World Cup 2022?
All kick-off times for the World Cup 2022 will be between 10am and 7pm in the UK.
The first two rounds of group games will have kick-off times of 10am, 1pm, 4pm and 7pm GMT.
The final group stage games and all knockout games will have kick-offs of 3pm and 7pm.
Here's how those times translate around the world:
10am GMT
Qatar: 1pm
CET: 11am
EST: 5am
PDT: 2am
1pm GMT
Qatar: 4pm
CET: 2pm
EST: 8am
PDT: 5am
3pm GMT
Qatar: 6pm
CET: 4pm
EST: 10am
PDT: 7am
4pm GMT
Qatar: 7pm
CET: 5pm
EST: 11am
PDT: 8am
7pm GMT
Qatar: 10pm
CET: 8pm
EST: 2pm
PDT: 11am
Stadiums
What stadiums will be used as World Cup 2022 venues?
• Lusail Stadium, Lusail, capacity 80,000
• Al Bayt Stadium, Al Khor, capacity 60,000
• Al Janoub Stadium, Al Wakrah, capacity 40,000
• Ahmad Bin Ali Stadium, Al Rayyan, capacity 40,000
• Khalifa International Stadium, Doha, 40,000
• Education City Stadium, Doha, capacity 40,000
• Stadium 974, Doha, capacity 40,000
• Al Thumama Stadium, Doha, capacity 40,000
Wall chart
Click on the image below to open a high-resolution PDF wall chart that you can print off at home. Alternatively, click here for black and white and blank versions of our World Cup 2022 wall chart.
Mascot
The World Cup 2022 mascot is La'eeb, a traditional Qatari headdress known as a ghutra, and its name translates as 'super-skilled player'.
La'eeb encourages everyone to believe in themselves, with the slogan 'Now is All'. No, we haven't got a clue what that means either.
For a limited time, you can get five copies of FourFourTwo for just £5! The offer ends on May 2, 2022.
Thank you for reading 5 articles this month* Join now for unlimited access
Enjoy your first month for just £1 / $1 / €1
*Read 5 free articles per month without a subscription
Join now for unlimited access
Try first month for just £1 / $1 / €1
Conor Pope is the Online Editor of FourFourTwo, overseeing all digital content, and joined the team in February 2019. He supports Blackburn Rovers and holds a season ticket with south London non-league side Dulwich Hamlet. His main football passions include Tugay, the San Siro and only using a winter ball when it snows.
Quizzes, features and footballing fun
Get the best features, fun and footballing frolics straight to your inbox every week.
Thank you for signing up to Four Four Two. You will receive a verification email shortly.
There was a problem. Please refresh the page and try again.