Carlton Palmer: What Happened Next?
"It's great to retire when you know your legs are pretty much f*cked"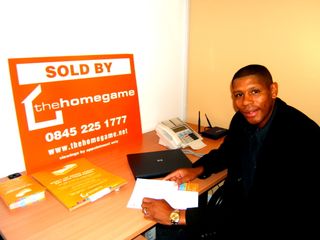 I've always dabbled in property and when I broke into the West Brom side as an 18-year-old I bought my first house. Everyone else was buying cars and wondered what the hell I was doing, but 18 months later I sold it and made a 40 grand profit.
Over the years I've built up a portfolio of property in the UK and abroad but when I tried to sell my house in England about 18 months I just couldn't get my head around the costs involved and the service I was being offered. In the end the missus told me to stop moaning and do something about it so I set up an internet-based estate agency called The Home Game.
Carlton on….
The property boom
On interest rates
On stamp duty
We've been going just over a year and we're doing ok. We've just moved into new offices and if I can get the concept to work in Sheffield I'll franchise it across the country. The main battle is changing people's perceptions. Like anywhere, there's a cartel in Sheffield with two major estate agents but we're getting there. Bill Gates reckons that anyone who underestimates the power of the internet will be out of business within 20 years, and I agree with him.
The costs of moving a house these days are just outrageous and it's always the people at the bottom that get clobbered so we're trying to work with everyone, from first-time buyers to people selling houses at the top end of the market.
I've just been in Dubai where I was doing some work covering the Premiership for Showtime Television and coming back here does make you realise how expensive it has become to live in this country. I filled my car up this morning and it cost me 90 quid, I mean 90 fucking quid, it's just ridiculous, so it's not just property prices that have gone through the roof.
Football has gone the same way – if you look at the league tables at the end of the season, by and large the teams at the top will have the huge wage bills and those struggling at the bottom will be the ones who are lagging behind financially.
When I was boss at Stockport with Kevin Richardson we came in and the wage bill was astronomical. The club was in five million quid worth of debt and getting by on average attendances of less that 5000. We came in reduced the wage bill to £1.1 million and with a bunch of kids managed to finish eight points off the play-offs. Then the club was taken over and after seven or eight games we were out on our ears. I fought for a year to get what I was owed – the League Managers Association told me to accept a month's salary, I told them to fuck off and I eventually got paid for the remainder of my contract.
I haven't been directly involved in football since leaving Mansfield, which was a job I should never have taken. People ask me if I miss playing, but I genuinely don't. I was very lucky that I was able to play for a long, long time. I was speaking to Marcel Desailly recently and we both agreed that it was great to retire when you know your legs were pretty much fucked and couldn't take anymore.
I don't have any regrets about my career. I punched above my weight but was a much better player than people gave me credit for. Pretty much every manager I ever played for tried to re-sign me, which tells you a lot.
Interview: Luke Nicoli. From the January 2008 issue of FourFourTwo.
Thank you for reading 5 articles this month* Join now for unlimited access
Enjoy your first month for just £1 / $1 / €1
*Read 5 free articles per month without a subscription
Join now for unlimited access
Try first month for just £1 / $1 / €1
Get FourFourTwo Newsletter
The best features, fun and footballing quizzes, straight to your inbox every week.