The case for the defence: Why Godin deserves to be considered the world's best
By Lee Roden published
Lee Roden explains why the often-overlooked Atletico Madrid defender really is the planet's best stopper...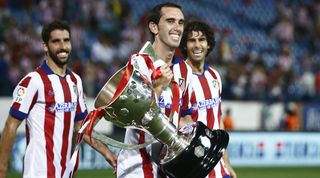 "If this 20 million offer from Manchester United arrives for Godín, will you consider it?"
Diego Simeone couldn't believe what he was hearing: "How much?"
"Twenty million." the journalist replied.
Simeone took a sharp intake of breath and glanced away, as if to catch himself before he said something he shouldn't. Even then, he couldn't help but ridicule the suggestion.
"We're better off talking about something else," he laughed. "Twenty? How much?" the coach asked in disbelief, this time sticking his head forward in the universal are you serious gesture. "Twenty? Godín? That must be a mistake. That must be a mistake…" He chuckled then moved on to the next question.
The incident from a press conference in early December is but a minor chapter in a long list of insults towards Diego Godín's quality. In an era where David Luiz commands a £50 million (€65m) fee, no wonder Simeone could only laugh at the notion of his prized defender being purchased for less than a third of that figure.
Forgotten man
Just as he must have laughed in disbelief upon learning the results of the FIFA FifPro World XI vote earlier this month. Despite breaking Barcelona and Real Madrid's 10-year La Liga dominance, as well as coming within minutes of winning the Champions League, not a single Atlético player featured.
Godín, the rock at the back for a side that relies on defending more than most (conceding the fewest goals in La Liga last season) didn't even make the reserve XI. Nor even the third team. In fact, you have continue all the way to the fourth side for a mention of the Uruguayan, who was judged to have had a poorer year than Gerard Piqué, Mats Hummels and Luiz, to name a few.
The outcome of the vote in which 23,383 professionals participated doesn't exactly help to debunk the common perception that footballers aren't always the brightest types. For a while, Atlético could be considered a cult team, but their prominence both domestically and in European competition over the last year means even the most casual football observer will have watched them on multiple occasions.
What those professionals failed see in Godín in comparison to the 300,000 plus UEFA.com users who did vote him into their own team of the year – or indeed FourFourTwo, who ranked Godin as the world's top centre-back in the FFT100 – is hard to grasp. The latter result is a far better reflection of where he really stands at this moment in time: quite possibly the best defender in the world.
Value judgements are always open to debate, but try to think of times where Godín has put a foot wrong during his club's recent success. It's certainly more difficult than listing the things he has done incredibly well. Atlético's strength as a unit is evidently their biggest weapon, but that can sometimes mask the reality that within the unit there are some exceptional individuals. The centre-back, their most-used outfield player this season, is certainly one of those players.
To some extent the consistency of his partnership with Joao Miranda last year made it difficult to value one player over the other, but this year the Uruguayan has proved which of the pair is really vital. While the Brazilian has dipped in and out of starting line-ups due to both injury and competition from José María Giménez, Godín has been a constant, absolutely indispensable for Simeone in his quest to match the heady heights of last season and always playing 90 minutes.
So far in 2014/15 the only games the Argentine coach has allowed his most-trusted player to rest in were two cup fixtures against third division CE l'Hospitalet. When Real Madrid came calling in the next round, there was little doubt over who would be marshalling the back four in the derby.
That tie served as a much better marker of where Godín ranks in world football than FifPro falling hook, line and sinker for the marketing machine. Showing off anticipation, muscle in the air and goal-line clearances, in the second leg at the Bernabéu in particular, he was a wall for the Colchoneros against the club champions of the world. Much was made of Fernando Torres's brace but it was Godín who made sure the night was remembered for El Niño's return and not a horror show from keeper Jan Oblak that could easily have cost Atléti the tie.
Man for all occasions
Paradoxically, Godín is made to seem unspectacular by his consistency. The Atlético No.2 doesn't dive in for camera-grabbing slide tackles that make the YouTube highlight reels. Instead, he's far more likely to stand his ground and frustrate, or step up and win the ball before a recovery is even necessary.
An exceptionally clean defender, he has only committed 13 fouls in La Liga this season, compared to bigger-name rivals like Sergio Ramos who has done so 27 times and Dani Alves, with 29.
In the Champions League his number of fouls drops even lower, to four. That accuracy in the tackle, combined with the 56 passes the Uruguayan has intercepted and 23 balls he has robbed in the league suggest he is a much more intelligent defender than some would give him credit for.
Perhaps those who still don't rate him are of the school of thought that says modern defenders need to do more than simply defend well to be considered among the elite. But even then, it is easy to fight the Atlético man's case.
He may not make eye-catching cross-field diagonal balls that players like Ramos or Piqué attempt more frequently, but he does contribute significantly to his team's attacking play when the moment is right.
An obvious example came against Granada last Sunday, when Godín stepped up to win the ball on the edge of his own area, quickly and accurately played it forward into midfield, then continued his run all the way into the opposition box before winning the penalty that broke the deadlock.
Atlético are a relatively conservative team, so examples of Godín bombing forward like the above are perhaps few and far between, but one reflection of attacking quality that he does produce on a near weekly basis comes from set-pieces.
As dangerous a player in the air as there is, last season he scored no fewer than eight headers in all competitions for Atlético. That included putting them ahead in the Champions League final and, most notably, the bullet header that won the league at the Camp Nou in May. This season he has already scored four, continuing to win points at both ends of the pitch.
On Wednesday night, Godín will return to the scene of May's triumph to face Barcelona in the Copa del Rey. Back to the same stadium where, after the final whistle in the last game of the 2013/14 edition of La Liga, Simeone told him: "Godin, you're going to be part of Atlético history!"
Recognition from one of the finest coaches around will likely mean more to the defender than snubs in awards lists or elsewhere, but it is disheartening to see how much of a difference PR power can make.
Is the quality of a footballer measured in merchandise sales or ability? It's increasingly hard to tell these days.
Thank you for reading 5 articles this month* Join now for unlimited access
Enjoy your first month for just £1 / $1 / €1
*Read 5 free articles per month without a subscription
Join now for unlimited access
Try your first month for just £1 / $1 / €1
Quizzes, features and footballing fun
Get the best features, fun and footballing frolics straight to your inbox every week.
Thank you for signing up to Four Four Two. You will receive a verification email shortly.
There was a problem. Please refresh the page and try again.