Ciro Ferrara: 'England have tactical problems in midfield and Gerrard's getting old'
Marco Muretti catches up with the up-front former Azzurri player and boss to discuss all things Italy and England, why John Terry should have been in Brazil and Paul Ince's bare torso...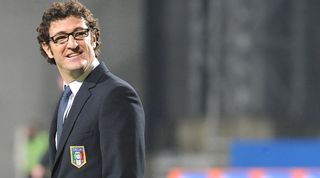 Hi Ciro: what's your prediction for Italy vs England?
I think we will win. I've watched England in their last three friendlies and I have to say that, especially in the midfield, they have big tactical problems. I also wonder why they decided to play their warm-up matches against three teams from South and Central America instead of playing against a European one. They knew their first match would have been against Italy. They know our football is very different from that of Honduras or Ecuador, who both play with a 4-4-2 system. Why didn't they organise a match against a team or even a club that play more similar to us? If you ask me for my forecast, I'll say 1-0 to Italy. We have problems scoring at the moment, but other teams have bigger problems scoring against us.
ITALY GEAR
Do Italy or England have any chance of actually winning the World Cup?

None. To be honest, there are at least four teams who are better than us and England. But having said that, back in 2006 nobody thought Italy could win. So, maybe, a miracle can happen again. Anyway, if I had to pick between the two, I'd say Italy have more chance.
Do you expect them both to make it out of the group?

Uruguay seem to have something more than England, especially with the Cavani-Suarez pairing in attack. And they are also strong and combative in defence. But England's lions never give up: so I predict a great match for second place between these two.
A lot of the focus is on the teams' respective star strikers, Mario Balotelli and Wayne Rooney, both of whom are not going into the World Cup in the greatest shape. How decisive a role do you think they will play?

I think after Diego Maradona, no player in the world has been decisive on their own in determining his team's fortunes in the World Cup. Even Messi needs a well-organised team around him. Wayne Rooney seems to me to be in worse physical condition than Mario. Both have it in them to score a decisive goal, of course, but it's the organisation of the teams around them that will make the difference.
Are there any young players on either side that catch your eye? Who could make a name for themselves?

For the Azzurri, I will be looking out for Mattia De Sciglio or Matteo Darmian. I don't know if either will feature in the first match, but they have everything to have a very good tournament. And believe me, I'm a good judge: in 2006, I forecast Fabio Grosso as the surprise of the World Cup. For England, I'm a fan of Luke Shaw: a kid born in 1995 who plays like a veteran – he's amazing. I know Hodgson prefers Leighton Baines, but Shaw is a wonderful prospect.
What do you see as the weak sides of England and Italy?

As I said, I think England will suffer in the midfield, especially with the pairing of Steven Gerrard and Jordan Henderson. Gerrard is an awesome player, but he's getting old and I'll be interested to see how he copes in the hell of Manaus: he will have to cover a lot of yards, and he'll get tired quite soon. Our weak point? I'm not saying… I don't want to help Roy Hodgson!
Who do you think will win the World Cup and why?

My favourites for the trophy are Spain, but they'll face a lot of pressure and they might be short on hunger, given that the players from Real Madrid have won the Champions League and Atletico took the Liga title. The players who won in 2010 may also have lost a bit of their desire. Defending the World Cup title is never easy. Anyway, I hope and believe a European team will win: either Spain or Germany. There's too much pressure on Brazil, as the public expect too much from them.
Italy always had a sort of awe for England. Does this feeling exist nowadays or is something that belongs in the past?

I think now things have gone the other way. If I'm not mistaken, the last time they gave us a real lesson was in 1948 [England won 4-0 in Turin]. I'm sure that when the names came out of the hat and put England up against Italy, everyone in Britain would have been groaning. We're possibly the worst team to play against. Not the strongest, but the most difficult.
An anecdote of a match you played against England?

England-Italy, Wembley 1997, qualyfing for the World Cup – a freeze I can still feel in my bones! In the tunnel that led us to the field, Paul Ince took off his shirt. He wanted to intimidate us, to frighten us. He seemed to say: look at me, look at my muscles, I'm strong, I've no fear of the freeze. And actually we were impressed. But then Angelo Di Livio stood up and said, in perfect romanesco (the dialect from Rome): "A smilzo (something like: thin man), redress yourself or you'll get a cold!". We started laughing, we entered the pitch with no fear at all and we won.
Hodgson worked as a coach in Italy for almost four years at Inter Milan and Udinese: is this an advantage for England?

I don't think so. The players have changed, everything has changed. And with TV, statistical analysis, DVDs there are no secrets anymore…
The weather in Manaus is very humid: this will that work against England more than Italy?

It will be difficult for both teams. Italy landed in Brazil three days before England, and maybe this is a little advantage for us. England chose to stay in Miami, but the humidity levels in Manaus are much higher.
Which players that Prandelli and Hodgson left at home would you have brought to Brazil?

I think Cesare Prandelli made the right choices. To tell the truth I was surprised by Antonio Cassano's call-up, despite the fact he had a great season in Italy. For England, I can't help feeling John Terry's absence could prove costly. Maybe if Hodgson had made a phone call to him, he could have convinced him… but he didn't call and I don't know why. JT is still a wonderful player. And he helped get the best out of Gary Cahill. Cahill with Terry at his side is a different player from the one without him. And I don't think that Phil Jagielka will be that happy knowing that the FA begged John to be there instead of him…
In England there's a big debate about where Rooney should play. What's your view?

I think that he should play where Hodgson likes him the most: on the left of the three in a 4-2-3-1. He's possibly the humblest of the star players out there: he'll do his best for the team wherever he's played.
Ciro Ferrara is a commentator for Sky Italia. Interview via Libero Language Lab.
Quizzes, features and footballing fun
Get the best features, fun and footballing frolics straight to your inbox every week.
Thank you for signing up to Four Four Two. You will receive a verification email shortly.
There was a problem. Please refresh the page and try again.