Dave Mackay: One-on-One
"He was a brilliant little player but a dirty little bastard. He kicked me in the leg I'd just come back from breaking twice..."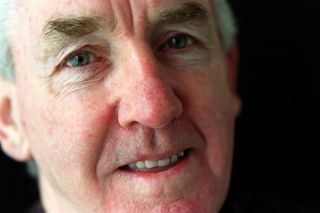 Who would you say is the closest to the modern-day Dave Mackay?
Christopher Spicer, Reading
One would be little Paul Scholes. He's only small but he's dominant and runs the show for Man United. I think there are fewer players of my kind around than there were.
Football's changed. In our time it was a tougher game, maybe because of the referees. In the olden days you got away with more hard tackles. As long as they were fair, you were OK. Nowadays a hard tackle can get you a booking, which isn't right if it's not dirty. Even though I can show you a few stud-marks in my legs!
Fact file
Born: 14 November 1934, Edinburgh
Position: Midfield, sweeper
Clubs: 1953-59 Heart of Midlothian (208 games, 32 goals), 1959-68 Tottenham Hotspur (318, 51), 1968-71 Derby County (145, 7), 1971-72 Swindon Town (26, 1)
International: 1957-65 Scotland (22 caps, 4 goals)
Honours: Scottish League Division One (1957/58), Scottish Cup (1955/56), Scottish League Cup (1954/55, 1958/59); Football League Division One (1960/61), FA Cup (1960/61, 1961/62, 1966/67), European Cup Winners' Cup (1962/63); Football League Division Two (1968/69), Watney Cup (1970); Kuwait League (1980, 1982, 1983), Kuwait Emir Cup (1981, 1983), GCC Champions League (1982)
You're known for your competitive nature – were you always like that as a kid? Was it because you weren't that big?
Danny Sanderson, Stevenage
I was always like that; that's just my nature. I want to win at everything I play: pool, football, even in the gym... it doesn't matter to some players but it does to me. As a kid I was very small; slim, as well. So at school I had to be a tackler to get the ball. That's how I became such a good tackler. I wanted to play, and to play, you have to have the ball. As a slight kid, I had to learn how to tackle, and tackle well.

You played in the Scottish Schools Cup Final at Tynecastle aged just 14. Being a Hearts fan, how did that feel?Matthew Webb, Ruislip
Just to get near Tynecastle was a dream. I was a Hearts fan all my life; I used to walk the three miles to Tynecastle, go early to get under the turnstile because I couldn't afford to get in. So when Hearts came along to sign me, I couldn't believe it. My brothers Tommy and Frank also signed for Hearts; all my family are Hearts fans – and all my wife's support Hibs! I used to enjoy Christmases because we beat them, though not all the time – Hibs had a great team then: the forward line of Smith, Johnson, Riley, Turnbull and Norman were brilliant, but we always did well against them. I was frightened to go home if we didn't!

You were on National Service during your early years at Hearts. What was it like combining the two? How did it mould you as a footballer?
Philip Watkins, High Wycombe
Sapper D Mackay, 23162786, sir! Royal Engineers. The war was finished so the only fighting I did was to get home at weekends to play for Hearts. The forces used to help. I enjoyed it. You're not fighting so there's nothing to worry about; you ain't going to get killed. But you get the same discipline and treatment as everybody else, footballer or not. Do something wrong, you get the same stick and have to abide by the same rules. I was always frightened to go out of line in case they said, "Hey, you ain't going home this weekend". That would have killed me. I've never been a rebel.

Despite the Scotland team not playing particularly well, you only played one game in the 1958 World Cup. How much better do you feel Scotland would have done had you been in from the start?
Adam Hull, Birmingham
A lot better! But I don't pick the team; that's the manager, or back then the selection committee with all their different views.
You captained Hearts to their greatest ever season in 1957-58 – losing just once and scoring 132 goals – then played a key role in Spurs' Double winning season. How did the two teams compare?
Daniel Addy, Barnsley
When I went to Spurs they were in the bottom four or five, but started getting some decent players. Including myself, ha ha… What are you laughing at? [he shoots FFT a mock-threatening look] Ha ha! Bill Nicholson took over from Jimmy Anderson as manager and got in Cliff Jones and two or three other guys and built a fantastic team. I'm a Hearts supporter, and they were fantastic too. But the Tottenham side was the better of the two, eventually.
Despite being regarded as one of the great British club sides of all time, Spurs only won the league title once in your time. Why do you think this was?
Daniel Smith, Eastbourne
Aside from the injuries, it's very hard to replace great players in any position. Out wide, say, your [Cliff] Jones and [Terry] Medwin and [Terry] Dyson were hard to replace. We had an excellent team and always tried to attack everybody, home and away. To win at all costs; that was our attitude, our philosophy. We had such an excellent team, I'm surprised we didn't win the title more than once.

At White Hart Lane, you used to come out of the tunnel, kick the ball high in the air, then catch it on your instep – were you sending out a message to the opposition as to how skilful you were?
Steve Price, Torquay
If they were out, yes! I was showing off, so people could see how good I was, ha ha!
I hear that you don't like that famous pic of you and Billy Bremner because people forget how good a footballer you were. You must admit, though, it's a great shot!
Paolo, Holloway
I get asked to autograph that photo all the time. But I don't like it because it portrays me as a bully – he's smaller than me and I'm picking him up. I'm not a bully and don't like bullies. He was a brilliant little player but a dirty little bastard.
He kicked me in the leg I'd just come back from breaking twice. If he'd kicked the other one, I could have accepted that. But he kicked the broken one, and that really annoyed me. I could've killed him that day. Alex Ferguson has that picture hanging in his office. I'm a good pal of Alex; I go at least once a year to see Man United, then back to his place.

Is it true you tried to carry on playing when you broke your leg against Man United in a European game? How do you feel when you see players rolling around in agony for next to nothing these days?
Jack Withey, Wembley
I couldn't carry on – my toe was touching my knee; I couldn't believe it. Tib and fib broken; you can still see it [rolls up trouser leg]. I had to have my leg reset back in London from Manchester; the doctor said I might never play again. He kept in touch and said he couldn't believe I'd come back; then nine months later it got broken again. I was never the same again; much weaker. Now, when I see players take a little knock and roll around as if they've been crippled, trying to get the player sent off, I think that's disgusting. Some players fall over with just a little brush and sometimes without being touched. It's always been the case but it happens more now than when I played.
Is it true you 'welcomed' Terry Venables to Spurs by grabbing him by the balls on his first day at training?
Scott Woodhouse, Manchester
No. But we had skirmishes in the gym, with six-a-side. You always had battles there – not fights, but nearly. I want to win the game, win the ball and be in there challenging. And some players get upset and fight back. But I don't remember hurting anyone.

You played with some great players, but who was the best?
Karl Hoddell, Sheffield
I could give you half a dozen – Cliff Jones, Blanchflower, Denis Law. Playing against Greavesie when he was at Chelsea was tough – and Johnny Haynes of Fulham and England.

If it wasn't for a dodgy linesman, Spurs would have beaten Benfica in the 1962 European Cup semi-final. Do you reckon we would have beaten Real Madrid in the final?
Peter Besley, Walthamstow
I'm sure of it. We were so confident we could have beaten even Real Madrid at their best.
Is it true that you, Cliff Jones and John White of the Spurs Double side used to compete playing keepy-uppy and foot-juggling with coins and fruit?
Don Calloway, Co Antrim
True. I don't think the others even tried. Coins in particular – from one foot to the other, flick it up and catch it, then flick it into your top pocket, which is quite difficult. Whoever got the most coins won. Can I still do it? Yes! I'd show you but my shoes are too shiny; we used to wear suedes then.

What happened to the Dave Mackay Club Ties shop in Tottenham?
Rick Mayston, Camden Town
I think it's still going but moved to Winchmore Hill. I get a tie for Christmas but never really made any money out of them using my name. There's my agent [he grins at Isobel]. She's not done very well!

How come a nation that could call on the likes of Denis Law, Jim Baxter, the Lisbon Lions and you were not serious international contenders in the '60s?
Tony Smith, Dumfries
It's hard to figure out. It must have been the other players in the team, ha ha! We beat England, the World Cup winners, twice.

You played in Scotland's 9-3 defeat to England in 1961. What went wrong?
Daniel Bryant, Stockport
Play? I didn't play – I was there but I didn't play! We were terrible. Everything went wrong but it was the keeper who got the blame. He emigrated to Australia – he had to! Denis Law saw him a few years ago and he asked, "Is it safe to come home now?" "NO!" Ha ha! Frank Haffey was his name — 'What's the time?' 'Nine past Haffey!' Ha ha ha! He had a bad game, but so did everybody else. Your defenders haven't done very well if you face nine shots on goal.
Is it true that you were the one to ask for a transfer from Spurs? How did you feel when Brian Clough came along and signed you, calling you the "greatest ever Spurs player" in the process?
Chris Scott, Sunderland
Because I'd had the breaks, I wasn't the same player. Brian fancied me as a captain more than as a player. It was about leadership in the dressing room. I was amazed when he asked. I was going to Hearts. After the '67 Cup Final I went to Bill Nick saying I didn't think I could do the job any more. Hearts were going to make me player-manager.
That weekend while I was up in Edinburgh, Brian phoned Isobel asking for a contact number for me but wouldn't say who he was so she didn't tell him. When I got back thinking we were going back up to Scotland, there, at Tottenham on Monday, was Brian waiting. By lunchtime I'd signed! You see, I'd left Hearts as a hero so didn't really want to go back older and less good; I knew I wouldn't be the same player again. I wanted to stay a Hearts hero, being a fan.
What was it like working under Brian Clough at Derby?
Jon Hinton, Exeter
Brilliant – he picked on everyone else except me. I never had a bad game with Brian. If it was a bad game on a Saturday, there'd be a meeting on the Monday, but I always had Monday off. The other players never gave me problems; I was quite popular with the guys. [Roy] McFarland, [Colin] Todd and [John] McGovern were all brilliant players, and [Archie] Gemmill later.
Later, when I took over from Brian and he'd gone to Leeds and burnt Don Revie's desk, he came to see me in my office to sign McGovern and John O'Hare and said, "Why haven't you burnt my desk?" Ha ha!
In 1969 you became joint Player of the Year with Man City's Tony Book, the only time this has happened. Did you have to share the trophy? How annoyed were you to not win the award outright?
David Roberts, Glasgow
I don't like sharing. We got one award each. A lovely guy. I think he was delighted.

You began your managerial career at Swindon then went to Forest but soon found yourself back at Derby following Cloughie's resignation in 1973. With players threatening to strike and the press on your back, how difficult were your first few months in charge?
William Jones, Warwick
Not that difficult. I'd been offered the job and was determined to take it. The players were upset that Cloughie and Peter Taylor had left and were against the board. They said to me that if I came back there'd be problems. I had a meeting with them and said, "Hey, I'm coming back; if you want to leave, you can leave." They didn't frighten me. If I'd been someone else it might have been different. I've no idea how Brian felt. [Isobel Mackay intervenes: "Every time I saw Brian at a function, he'd say to me, 'Your husband kept me in my job at Derby – and taught my Nigel how to play football!'"]

There was a lot of political tension at the time with the miners' strikes. And if I'd still been Derby captain I'd have been disappointed that Brian and Peter had gone too. Those players would have beaten any other manager coming in – but me, I'd not long left the place and knew all the players as individuals, who's the tough guy and who's the weak guy. And they knew I knew. That helped me. My job as manager was to handle the players, and I had to handle the board as well. Of course, the fans treated me differently when I won the League, but they were never really angry at me, just at Brian Clough leaving.
How did winning the title with Derby rate alongside Spurs and Hearts?
Steve Frimpon, Brighton
It was fantastic. Our season had finished but Ipswich were playing Man City during our annual Player of the Year night at a hotel; and if they were beaten, we'd won the League with one game to go. The game was on the wireless and Barry Ecclestone of Radio Derby was reporting, and a big roar went up when he announced Ipswich had lost. We won the League having a night out. The celebrations started right away. Help yourselves, I told everybody. I couldn't care less because we've won the League. We were all still drunk when we played on Saturday!

How did you feel when Derby, who you took to the title, sacked you?
Gary Scouse, via email
I was beginning to lose interest anyway at that time because I wasn't happy with the board. [Chairman] Sam Longson had been moved aside, and I'd already won the League. One of the board members, George Hardy, a scrap millionaire, wanted Cloughie back. Even before he joined the board that was his ambition. But Brian said there was no way he was coming back. I told George, there's only one way the club will go with you in charge: down. I was right.
What did you learn about management from Tommy Walker at Hearts, Bill Nick at Spurs and Brian Clough at Derby?
Jim O'Neill, Chadwell Heath
Tommy was a perfect gentleman and very religious. Bill was the same, though he could get a little annoyed. Neither would shout. But Brian would. As a manager, I never lost it with anyone. The main thing for me was to be reasonable and above all honest with players. If you'd had a bad game, I'm not going to say you've done well; I'll say you were crap and you need to pick up or else. But you get different types of manager who are successful.

In your autobiography The Real Mackay you stress the importance of not delaying signing the player you want. You knew Matt Busby rated you and would have joined Man United had Bill Nick not made a firm offer. Then, at Derby, you signed Charlie George from Arsenal when he'd agreed to defect to Spurs, a deal delayed while they lined up the press to announce this coup…
Neil Green, Luton
True. I knew Charlie George would rather not go to Spurs. And if Matt Busby had come in for me, I would have gone there. As soon as I knew anybody was up who I wanted, I phoned them straight away – don't delay!

You won six league titles with with Al-Arabi in Kuwait. Not speaking the lingo, how did you lay into players if you had to?
Dean Allen, Edinburgh
Most of them speak English or semi-English. They weren't dummies. I could speak a bit of Arabic but didn't have to. Brilliant years – we kept winning, even their Treble.
How do your managerial experiences in England compare with the Middle East?
Samuel Inkersole, Dover
In the Middle East you had to get results but no one interfered. In this country if you're doing badly the board will get onto you.
Mackay the manager
Clubs: 1971-72 Swindon Town; 1972-73 Nottingham Forest; 1973-76 Derby County; 1977-78 Walsall; 1978 Al-Arabi Kuwait; 1983 Al-Shabab; 1987 Al-Arabi Kuwait; 1987-89 Doncaster Rovers; 1989-91 Birmingham City; 1991-93 Zamalek; 1994-95 Qatar
Honours: Football League First Division (1974/75), FA Charity Shield (1975)
Were you disappointed that you weren't offered more top-level jobs when you returned to England from the Middle East in 1989?
Joe Langtree, Liverpool
No. I'd had my fill. But I'd never phoned anyone asking for a job; they phoned me. I liked playing better. Managing was second best, but I still had hunger: if we lost I was gutted. If we won I was delighted.

Of all the great derbies in which you've taken part as player or manager – Hibs-Hearts, Scotland-England, Arsenal-Spurs, Derby-Forest, Zamalek-El-Ahly – which is the most heated?
Ted Riley, Battersea
The hottest is Cairo, ha ha! But Scotland-England is always the biggest... if we win.

Is it true that the only time it looked as if you might be sent off in your entire career, you talked the referee out of it?
Avi Chaudhuri, West Hampstead
Yes, I was so dirty I was never sent off in my whole life! It was against Bristol City in the FA Cup [for Spurs in 1967]. I had an argument with Johnny Quigley, who I'd played against when he was at Forest. The referee says he's going to send me off, so I ran after Quigley and got him to tell the ref what had gone on; he'd done something the ref hadn't seen but he'd seen my retaliation. The ref sent off neither of us.

You once said your hobby was 'spending'. What's been your priciest purchase?
Anthony Williams, Durham
My wife! Just kidding, she'll batter me!

Interview: Mat Snow. From the May 2009 issue of FourFourTwo.
Thank you for reading 5 articles this month* Join now for unlimited access
Enjoy your first month for just £1 / $1 / €1
*Read 5 free articles per month without a subscription
Join now for unlimited access
Try first month for just £1 / $1 / €1
Get FourFourTwo Newsletter
The best features, fun and footballing quizzes, straight to your inbox every week.