Dido: Sing When You're Winning
By Nick Moore published
"If I ever meet one of our players I'm just pathetic. I start blushing, stammering"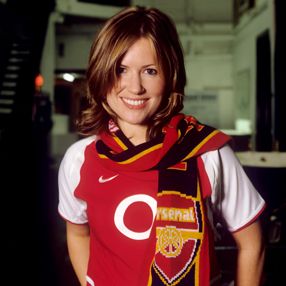 It's rare to meet a genuine life-long supporter of any football team. Although the term is bandied about with what approaches abandon, few have in fact devoted themselves to a club for longer than they care to remember – like multi-million-selling chanteuse Dido has to Arsenal.
Her earliest memory is of being at Highbury, the crowds, the noise, the sense of event, and of doing something very special with her family.
"From age three, in 1974, my dad took me to Arsenal. He was religious about it and took me and my brother Rollo [of Faithless, and now her record producer] to every home game and to Tottenham away, just for a laugh.
"It was like this until I left home, and it's still pretty much the same – we walk to the ground from my dad's house. I just don't go to absolutely every match anymore.
"The whole event would take hours, because we'd be queuing round the block from about midday, and there was this fantastic feeling among the three of us – sitting in a row, fighting and arguing over the sausage rolls... It was me, my brother and my dad and it was our time together and it was lovely and there's nothing that can replace something like that in your life.
"MUM LIKED THE PEACE AND QUIET"
"Mum went once or twice and she was definitely very supportive, but it was so much dad's thing that he did with me and Rollo. We were such a tight little threesome when it came to Arsenal that she left us to it. I think she quite liked the peace and quiet when we were out."
This was at a time when it wasn't common for girls to go to football, but then Dido was raised as the epitome of Islington bohemia – that is if you believe everything you read.
"That perception is because I once said in an interview that we didn't have a television," she laughs.
"And what that really meant was my dad used to go to friends' houses to watch Match Of The Day. At least that's what I think he did because it's what we did when we got older – dad didn't talk about it much!"
In fact, and this is speaking as somebody who knows her military history expert dad well, in spite of the extravagant name – Dido Florian Cloud de Bounevialle Armstrong – she's as grounded as you'd expect anybody who sat through the George Graham years to be.
"IT SHOULDN'T JUST BE FOR DIEHARDS LIKE ME"
Generous to a fault, Dido in no way resents the gentrification of Arsenal, whereby, post-Nick Hornby, it's become the club of choice for media types looking for credibility. It's not by accident that that bloke in The Fast Show wore a selection of Arsenal shirts.
"If they want to come and watch the best football being played, then why shouldn't they? As far as I'm concerned it shouldn't be just for the diehards like me and my family."
She intends to add to the number of Arsenal's celebrity fans – by taking her old musical sparring partner Eminem down on a match day to see how he gets on in the Clock End.
But otherwise she's an ordinary Arsenal fan, no more and no less. She has a season ticket so there's no need to play the 'Don't you know who I am?' card.
Like so many who remember terracing she was sceptical about the French invasion, but is now perpetually amazed that some of the world's best players play for Arsenal. She would wear her shirt more often but "it makes me look eight years old".
And despite hanging out with some of the most glamorous people alive, she goes all gooey if you put her next to – and you're reading this right – Ray Parlour.
"I'M ACTUALLY GIBBERING"
"In the business I'm in you get to meet so many famous people and I'm just 'Yeah, whatever...' but if I ever meet one of our players I'm just pathetic. I start blushing, stammering. People laugh at me because of how I am about it, but it's because Arsenal has been such an institution throughout my whole life.
"Once, my record company had to make a presentation to me, and they knew the way to my heart so they got Ray Parlour in to do it... I've got video footage of that – it's pathetic! I'm actually gibbering!"
But she's having to miss the start of the season because she'll be on a US tour; conscientiously, she has never bunked off work to go to a game. "Like I'm going to tell a US promoter, 'Sorry, I've got to blow out those dates because we've got Birmingham City at home'"
She greatly regrets she's now probably too old to be a mascot, plus she's unlikely to emulate that other pop-picking Gooner Tony Hadley and get on the pitch by leading the singing of Abide With Me before the FA Cup final. Not that she minds – it would massively compromise her status as a fan.
"Because it's been part of my life long before I became a singer, it's so important to me to keep it like that. Nobody recognises me down there. I go to my dad's house and we all walk to the ground. Just like always; family time.
"It's a total escape from being in the studio, and it's how Rollo and I connect back to real life because we leave the music business totally behind. All we think about is what everybody else in the ground is thinking about. The game.
"If I was to put myself in the position where I went there as Dido The Singer I'd lose all that, and I'd lose the idea of just being with my dad and my brother away from it all. That's much too precious to me to throw away."
From the September 2003 issue ofFourFourTwo.
Thank you for reading 5 articles this month* Join now for unlimited access
Enjoy your first month for just £1 / $1 / €1
*Read 5 free articles per month without a subscription
Join now for unlimited access
Try first month for just £1 / $1 / €1
Nick Moore is a freelance journalist based on the Isle of Skye, Scotland. He wrote his first FourFourTwo feature in 2001 about Gerard Houllier's cup-treble-winning Liverpool side, and has continued to ink his witty words for the mag ever since. Nick has produced FFT's 'Ask A Silly Question' interview for 16 years, once getting Peter Crouch to confess that he dreams about being a dwarf.
Quizzes, features and footballing fun
Get the best features, fun and footballing frolics straight to your inbox every week.
Thank you for signing up to Four Four Two. You will receive a verification email shortly.
There was a problem. Please refresh the page and try again.