EFL Trophy to include reserve teams, fictional teams, things
The EFL Trophy will be a 'baffling and depressing ordeal', organisers have promised. Back of the Net have the latest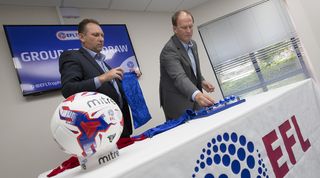 The new EFL Trophy format has been unveiled and organisers have pledged that the competition will 'revolt and bemuse' fans in equal measure.
The tournament, which takes over from the Johnstone's Paint Trophy, which took over from the LDV Vans Trophy, which took over from the Auto Windscreens Shield, which took over from the Autoglass Trophy, which took over from the Leyland DAF Cup, which took over from the Sherpa Van Trophy, which took over from the Freight Rover Trophy, which started out as the Associate Members Cup, started as a drunken dare, but is now entering its 24th year.
And despite a lukewarm response from the general public, organisers insist the new competition will be every bit as superfluous as its past incarnations – but it will now also be almost entirely indecipherable who is in it and why.
At a press event, the EFL Trophy, a shiny cup made from the crystallised tears of true football fans, was presented along with the new slogan: "It'll be a baffling and depressing ordeal".
"We've had to field a lot of questions about the EFL Trophy, such as 'what is it?,' 'why?', 'how dare you?', 'what were you thinking?', 'how can you sleep at night you monster?'... those kind of things, so we're answering as many of those as any human could hope to hear today," a spokesman told FFT.
"In terms of who is in the competition, it's basically everyone and no one. We'll have Exeter but we'll also have Chelsea – well, Chelsea reserves – and at least two Reading teams.
"We'll have Coventry City's 1987 FA Cup-winning team, we'll have Paul Merson and a few lads he plays five-a-side with, we'll have a team of garden gnomes who look like Bruce Grobbelaar.
"And then we'll divide everyone into what we believe to be regional groups, although in truth none of us had a map so we just had a crack at it. I guess two teams from each will go through, but let's be honest, nobody will be following it that far."
Air caution
Supporters have been assured that the competition will almost certainly have no effect on them at all, but they have been warned not to venture out to their club's stadium unless they know a league match is going on.
"We can't stress enough that this ill-conceived charade will barely register in anyone's consciousness, but it is probably best to be aware it is going on," a spokesman admitted.
"As a rule of thumb if your team seems to be playing a fixture that makes no sense and tickets are going for under a tenner, stay well clear.
"We're so very very sorry."
Please note: This news story isn't real. But you knew that, obviously.
Quizzes, features and footballing fun
Get the best features, fun and footballing frolics straight to your inbox every week.
Thank you for signing up to Four Four Two. You will receive a verification email shortly.
There was a problem. Please refresh the page and try again.