Focus on Low to make Germany successful, not just progressive
With Germany set to get their World Cup underway against Portugal on Monday, Jonathan Harding explains why coach Joachim Low is under more pressure than ever before...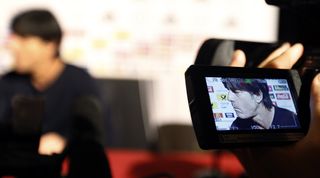 "Joachim Löw was never just an assistant coach," said Jürgen Klinsmann after stepping down as Germany manager in 2006.
Löw, hailed as the ideal solution by the departing Klinsmann, went from backstage to spotlight as he took the big job. Since then, Germany have made remarkable progress. A runners-up spot and two semi-finals in the last three major tournaments earned Germany new respect after a period of relative struggle, and Löw a new contract ahead of this summer's jaunt to Brazil. But as Löw's ten-year plan comes to a head, progression must now be partnered with success.
Winning three World Cups and three European Championships will inevitably create high and constant expectations, but the story was very different for Germany back in 2000. Under the dubious stewardship of the unfortunate Erich Ribbeck, the oldest man ever to take the job, Germany picked up a solitary point from their three group games at Euro 2000 and were sent packing in historically dismal fashion.
The result of this ignominy was an upheaval of the country's youth development system, planting a solid and widespread foundation on which the future of the domestic game could be built. As much as Klinsmann seized on this change and breathed new life into German football, it was Löw who masterminded the arrival of this attractive footballing beast – one that is joint-third favourite to win the tournament in Brazil.
And win they must. This generation changed the direction German football was headed, but the trust invested in them at the turn of the millennium is beginning to wear a little thin. The expectations of the country, and perhaps even the players themselves, have moved on from excitement and potential. The 2014 World Cup is that future, as both Löw and his charges reach the key stage of the long-term plan.
A new start
In 2004, Germany took the first steps to developing a squad that is now blooming. Two years later, Germany successfully hosted a World Cup and began to change its footballing face altogether. Passion and belief had been reignited in the country. With the squad still evolving, their defeat to Spain in the final of Euro 2008 was an acceptable part of their coming of age. In South Africa two years later, Germany may well have failed to capitalise on an outside chance of revenge on their Spanish counterparts, but excitement hadn't been dampened and the evolution remained on course.
Defeat to Italy in the semi-finals of the 2012 Euros was when the first concerns crept in. Poor decision making from both the players and the manager saw Germany miss out on a chance to finally beat Spain. The momentum that this special group had been gathering seemed to have taken an unforeseen blow.
In qualifying for Brazil, Germany threw away a four-goal lead at home to Sweden in an inexcusable capitulation, both defensively and mentally. Even when Mikael Lustig scored to make it 4-2, a draw already looked the likely outcome. Long had the football world marvelled at Germany's shape and attacking flair, but cracks were beginning to appear in Löw's system. Rarely is resilience a label attached to this team and there were even question marks about the defence.
The only remnants of that stubbornness appear to be found in Löw. His refusal to deviate from his plan is on the one hand admirable, but on the other it's spoiling Germany's chances. As impressive as Toni Kroos is when deployed in a deeper midfield role, the Bayern Munich man is unsettled when pressured and isn't the best man marker. Implementing a false nine system doesn't work if Germany are too patient in possession – a striker is a must as it encourages direct running from the supporting attackers.
Not a beauty contest
Germany must be able to think on their feet more. The Germany of the 1970s enjoyed success because they were capable of winning ugly. Whether it's Löw's stubborn faith in his system or a mental block for the players, this Germany team seem incapable of that.
Another recent tendency - much like Bayern Munich in the latter stages of the season just gone - is to loiter in and around the final third with little intent. With the talent at their disposal, it is nigh on criminal that they aren't using the ball better. While opponents deserve some credit for becoming savvier to Germany under Löw, a slightly more expressive football would frighten most opponents because of the technical qualities Löw's players possess.
Borussia Dortmund's Marco Reus is currently Germany's best footballing expressionist, but a dream-shattering injury sees him miss the tournament. While his absence will be felt greatly, injuries and poor preparation are not excuses Löw can hide behind. Germany are, after all, one of the few countries capable of compensating for the loss of such a key player.
Lukas Podolski, who came on for Reus to score one and assist three against Armenia, looks the most likely replacement. Chelsea's Andre Schürrle is another in-form attacking option, while Julian Draxler (Schalke), Mario Götze (Bayern Munich) and even the versatile Kevin Grosskreutz (Borussia Dortmund) are capable of occupying the left flank.
Even beyond those names, the squad is full of talent capable of delivering success. For captain Philipp Lahm, a player that arrived in the senior team before Löw's plan was even drafted, this tournament could be a special one. Lahm has been a huge and constant feature of Germany's transition, and it would be hard to begrudge Germany's most intelligent player football's greatest prize. Löw will know that Lahm alone is reason enough for them to return victors.
Dortmund's left-back Erik Durm, Bayer Leverkusen's (currently on loan at Gladbach) defensive midfielder Christoph Kramer and Freiburg's Matthias Ginter are the faces of the future, but Löw must think of now.
Even though his contract runs until 2016, and the likes of Thomas Müller & Co. will likely have more chances ahead of them, Löw's plan must bear fruit in Brazil. He must learn from his mistakes and effectively utilise the talent at his disposal. He seized on something special back in 2004. Now it's time to finish what he started. If not, he will forever be remembered as the manager who resurrected German football, but never reinstated it.
Thank you for reading 5 articles this month* Join now for unlimited access
Enjoy your first month for just £1 / $1 / €1
*Read 5 free articles per month without a subscription
Join now for unlimited access
Try first month for just £1 / $1 / €1
Get the FourFourTwo Newsletter
The best features, fun and footballing quizzes, straight to your inbox every week.