Football's greatest-ever hoax: Was the 1958 World Cup faked by the CIA?
By Joe Sharratt published
The tournament launched Brazil as football's new superpower, but did it actually happen?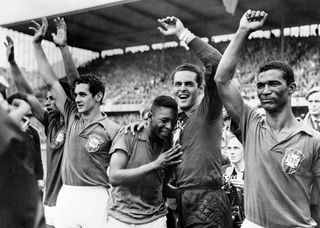 Watching grainy footage of a swaggering 17-year-old Pele taking host nation Sweden apart with a blistering brace in Brazil's 5-2 victory in the 1958 World Cup final, it's hard to accept the possibility that the entire thing was faked. But according to historian Bror Jacques de Wærn that is exactly the problem; we simply want to believe in the drama of a World Cup final that remains the highest scoring of all time, despite the evidence he has unearthed that proves the tournament didn't take place at all.
It is in Swedish director Johan Löfstedt's 2002 film Konspiration 58 that De Wærn lays out his incredible claim that the 1958 World Cup wasn't held in Sweden, but rather was staged in the USA as part of a Cold War era experiment into the power of televised propaganda orchestrated by the CIA, FIFA and powerful figures within the television industry. "The United States needed to test television's power to influence people," says De Wærn, who worked in the Swedish national archives for over twenty years. "It was a part of the Cold War that was raging at the time. I call it the 'media race'.
"Right after the championship in 1958 I began collecting thousands of documents, photos and texts.
"I found one after another that pointed to the strange fact that the 1958 World Cup had never taken place."
Seeing is believing?
It's an astonishing statement. The key piece of De Wærn's evidence are the suspicious buildings that lurk in the background of footage from Sweden's semi-final victory over West Germany at Ullevi stadium in Gothenburg; buildings that, De Wærn argues, were never there, and actually lie on the other side of the world in Los Angeles.
Further proof can be found in the length of the shadows cast by the players; shadows that De Wærn says are not consistent with the angle of the sun in the Swedish summer time and could only have been produced in a location on the west coast of North America. There's also the boots seen on the feet of the Brazilian players that could not have been in use at the time, photographs that De Wærn says have been doctored and the fact that staging an event as large and logistically demanding as a World Cup was simply beyond the economic means of a nation the size of Sweden in 1958.
Disputing De Wærn's theories are, understandably, many of the Swedish side considered national heroes who finished runners-up in 1958 including Kurre Hamrin, whose goal against West Germany in the semi-final, in which he raced to the byline, cut back, beat two defenders and slotted the ball past the despairing West German goalkeeper at the near post, remains one the World Cup's greatest-ever goals.
"They say there was no World Cup in 1958, all I can say is that I was there for it, so I can't understand how they can say that," Hamrin says. "The greatest football memory of my life is of the 1958 World Cup."
But as Löfstedt's film progresses, it becomes clear why De Wærn has found others who share his beliefs. "Soon no one will be left who can swear that the World Cup took place here," says former striker Agne Simonsson, who scored Sweden's second in the 1958 final. As time goes by and those who lived through that World Cup pass away, Sweden is losing its connection with a tournament that remains one of the country's greatest-ever sporting achievements. The death of Hilderaldo Bellini last month, Brazil's captain for the 1958 final, proves a sad reminder of this fact.
More worryingly, though, Löfstedt's film reveals the existence of a shadowy organisation also bearing the name Konspiration 58; a passionate and militant group of De Wærn's followers who believe unwaveringly in his message and have waged a campaign of violence and intimidation against those that they perceive to be perpetuating the myth of the existence of 1958 World Cup, including former UEFA president Lennart Johansson.
During Löfstedt's film we are introduced to Olof Arnell, the leader of the Konspiration 58 group. "No reliable witnesses exist to prove that the World Cup was really played," says Arnell, a startlingly matter-of-fact statement delivered with absolute conviction. Among the allegations levelled at Arnell's organisation are attacks on stadiums and the intimidation of players and officials.
"I repeat once again," Johansson says at one point, eyes staring straight down the camera lens, "this must not be taken as a joke. It's serious. There were letters, supposedly containing bombs. There were phone calls. I needed to have police guards watching my house. I was told that I didn't have long to live.
"While we're still alive, we who were there must document what happened, otherwise the debate will get distorted, and many will be convinced that what happened didn't happen," says Johansson.
Causing a storm: The public reaction
When Konspiration 58 debuted on Swedish television in 2002 it caused outrage. "A lot of the older generation who have vivid memories from the World Cup in 1958, whether they were at the games or just saw them live on TV, got very upset," Löfstedt says. But it wasn't just those who lived through the event who were shocked.
Löfstedt recalls one email he received in particular – though there were many more – from a young man in his twenties, who as child was regaled with stories of the 1958 World Cup by his grandfather, and was distraught at the allegations that these stories were fabricated. "You should be ashamed," the email read.
But as the credits rolled, a statement played over the top revealed a crucial detail about Löfstedt's film that many missed.
The entire thing was a hoax. There was no Konspiration 58 organisation and De Wærn's theories were just fantasy. Thousands were duped. Johansson, De Wærn, Hamrin, Simonsson and the rest had all been in on it.
"We wanted to fool as many people as possible," Löfstedt says. "I thought that if I could make people believe in this story or believe that these people or opinions exist then it would have a great impact on viewers when they realised it was all fiction.
"Some people realised quite soon that the story was fake, another group realised at the end of the film. Some people realised the next day when they [discussed it] with their workmates. But one small group of people didn't just fall for the hoax, they also thought that the theories were real. That is a scary group of people."
Football's greatest ever hoax?
Though Löfstedt admits that he set out to playfully deceive his audience, he also had more serious intentions. "My friends and I sat discussing a TV programme one night that had aired the day before about famous Holocaust deniers. We were all irritated and a bit shocked. We started to joke about things as stupid to deny as the Holocaust. What about denying the existence of the old ten kronor note, the 1912 Olympics in Stockholm or a Eurovision song contest? Then we thought about the 1958 World Cup. An hour later we had the plan to make this film. A mockumentary."
Konspiration 58 may just be football's greatest-ever hoax. On the one hand it is an intelligent, thought-provoking piece which combines its director's desire to explore the hard-hitting issue of Holocaust denial through a film that also harks back to a golden era of Swedish sport. On the other hand it is a hoodwink of the grandest proportions. Think Sven and the fake sheikh, only a thousand times more dramatic.
Conspiracy'58 (opens in new tab) from Stavro Filmproduktion (opens in new tab) on Vimeo (opens in new tab).
"It's both a documentary about World Cup '58 and an important film about truth, denial, and the importance of critical viewing," Löfstedt says.
But if the idea for Konspiration 58 came quickly, convincing the film's list of stars, including members of the 1958 Sweden side such as Hamrin and Simonsson, and sports journalists including Lasse Sandlin and Lars-Gunnar Björklund, to be involved wasn't as straight forward
Though the players and journalists were by and large keen to be involved, as the then-president of UEFA, Johanssen required some convincing. "It took some time before he said yes," Löfstedt says. "I was in contact with his assistant for a couple of months, but when he understood the idea and purpose of the film he was happy to appear as himself.
"I wasn't sure how good Lennart would be as an actor, but during shooting I was blown away by how great he was. He took it very seriously and his wife, who sat in the same room when we were shooting, told me that if he hadn't become what he is today he would have become an actor."
The power of the silver screen
Nowadays the furore surrounding Löfstedt's film has died down, and it is even used in schools across Sweden to educate children about the importance of critically engaging with sources.
Still, twelve years since it first aired, the reaction to Konspiration 58 continues to baffle its director. You can still find conspiracy theorists discussing De Wærn's fictional hypothesis on internet message boards.
"More people than I could imagine didn't understand that the film was a hoax, and still today that confuses me. It's a little bit scary how easy it is to fool an audience," Löfstedt says.
"But I wanted to show people that you shouldn't believe everything that you see on TV or read on the internet. Everyone should be a critical viewer. After all, where is the line between documentary and fiction?
"However, lots of people still think that there was something strange about the 1958 World Cup. Sometimes I meet people that haven't seen the film and don't know anything about the film, but still they've heard that there is something strange about that World Cup."
So given that lingering suspicion, does Löfstedt think his film would provoke the same reaction if it was released today?
"No," he says, without hesitation. "I think – and hope – that people are now more critical about the things they see, hear and read than they were 10 or 15 years ago."
Thank you for reading 5 articles this month* Join now for unlimited access
Enjoy your first month for just £1 / $1 / €1
*Read 5 free articles per month without a subscription
Join now for unlimited access
Try first month for just £1 / $1 / €1
Quizzes, features and footballing fun
Get the best features, fun and footballing frolics straight to your inbox every week.
Thank you for signing up to Four Four Two. You will receive a verification email shortly.
There was a problem. Please refresh the page and try again.