Gary Lineker on Spurs' 1991 FA Cup Final, in his own words: "It was pure relief..."
By Gary Lineker published
After heartbreak with Everton in 1986, a 30-year-old Lineker returned to Wembley for a second bite of the cherry. The former Tottenham striker recalls an action-packed showpiece...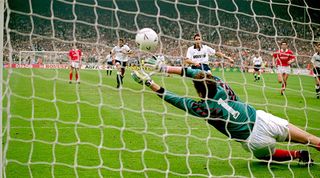 Like most people of my generation, the FA Cup was a huge part of growing up, in a way that younger people perhaps might not grasp now. There was hardly any live football in those days, but every year on TV there was the FA Cup final.
It was something you looked forward to every year; you'd get up really early in the morning to watch the enormous build-up, and it was just really special. Growing up it was always an ambition to be able to play in an FA Cup final and win one, which thankfully I managed to do... at the second attempt.
Obviously it's not the only circus in town anymore, so perhaps doesn't carry the weight it once did, but it still has real significance as a domestic trophy and is something every player wants to get their hands on at some point in their careers.
1991 FA Cup Final: Nottingham Forest vs Tottenham Hotspur
May 18, 1991 • Wembley Stadium
To get here, Tottenham had overcome Arsenal in the first ever north London derby at Wembley, opening the scoring with a stonking Paul Gascoigne free-kick before Lineker added a brace that voided Alan Smith's reply for Arsenal on the stroke of half-time.
I'd been here before with Everton in 1986. We'd got the lead at half-time and had dominated the game for an hour as much the better side. One mistake, though, and it turned on a sixpence.
It wasn't just desperately disappointing to lose a cup final, it was doing so to your nearest rivals in Liverpool too. They ended up doing the Double, which we were so close to doing ourselves. And then we had to share a bus ride with them, which kind of rubbed salt in the wounds.
The 1991 final kicks off at Wembley. Within two minutes, Gascoigne miraculously escapes punishment for a studs-up challenge on Garry Parker. Less than 15 minutes later he follows up with a similarly appalling tackle on Gary Charles, again somehow escaping a booking but giving away a free-kick and injuring himself in the process. He would be sidelined for the entire 1991/92 season with torn knee ligaments.
You'll find both Gazza challenges in here...
When Gazza went in for that first challenge I thought: 'What the f**k's he doing?!' He will admit it himself – he was just a bit overhyped, as he could get before big games. It meant so much to him, and he started the game… well, it was just manic.
He was in a similar mode against Arsenal in the semi-final, but I think scoring that free-kick so early took away some of that pent-up emotion away. In the cup final he got rid of it in a different manner, which was a shame because it had a massive impact on the rest of his career with the gravity of those future injuries.
I spent much of my two years at Tottenham trying to calm him down, but he was never one to do that really. Gazza was a great player, but it was just one of those things with him getting carried away. Sadly he just paid a massive price for it.
We all went to see him in hospital after the game, which I think was probably a collective decision. I imagine it cheered him up a fraction, but he missed out on a great day and I know that was difficult for him.
In the 16th minute, Stuart Pearce thunders the resulting free-kick into Erik Thorstvedt's top corner from 20 yards. Ten minutes later, Lineker has a goal wrongly chalked off for offside, but has the chance to rectify the situation soon after when Forest goalkeeper Mark Crossley brings him down in the box...
If you take penalties you know you're occasionally going to miss one. I always practised them, and I hit it really sweet, but Mark guessed and got it right. It was probably a good height for him, but I was genuinely quite pleased when I hit it – I thought I'd scored.
I played against him again in the following season's League Cup semi-finals, and because he'd done that before I just chipped one down the middle. So I kind of got a little bit of revenge there.
Tottenham are 1-0 down at half-time, but come out of the traps in the second half as Paul Stewart nabs the equaliser on 55 minutes.
We were pretty confident anyway because we'd played well in the first half. There'd been a debate about their goal, concern that someone had knocked someone out of the wall for Stuart Pearce's free-kick.
We'd had chances, a goal disallowed, a missed penalty – so at this point you were just hoping it wasn't going to be one of those days. But we thought we'd just keep playing the same way and would get back into it. Thankfully we did.
(Lino, you've had an absolute 'mare here)
Spurs went one better than that. The game went to extra-time, where Des Walker diverted a corner past his own goalkeeper in the 94th minute.
We had a bit of luck with that winning goal, but you do need that to win a cup final. At Everton we'd had none of it in 1986 against Liverpool, when we were clearly the better side for most of the game, but these things happen.
The only negative for me was that a good mate in the England team, Des Walker, scored the own goal. It would obviously have been much better if I'd notched it! Sadly it just went over my head.
It was just a massive mixture of emotions, having lost one cup final, and then this one was near the end of my career as well so there was an element of pure relief.
This was Lineker's first – and only – major trophy in England, having missed out on the Double with Everton in 1986, then joining Barcelona after the World Cup.
I was definitely worried about missing out on it. Obviously at Everton we'd lost out on the title and the FA Cup in '86 and then I went abroad to Barcelona, so it was massive for me to do it in 1991. I didn't win that many honours – although at Barça I managed to win the Copa del Rey and Cup Winners' Cup – even though I did a lot in my career.
I was a late developer at Leicester and only had one season at Everton; when I was at Barcelona, Real Madrid were very strong. Then I came back to Tottenham who suddenly had financial problems and were two or three players short of being a title-winning side. But thankfully we did manage the FA Cup.
I'd say it was probably the highlight of my career. On a personal level I've won a few things, but it's a team game and I think this was the biggest trophy I won. It felt a lot less tiring to walk up the steps to get the trophy than five years before, I can tell you that. It's a wonderful feeling, but difficult to describe.
It's something that every player of my generation dreamed about doing, and I'm just so thankful that it did end up happening to me.
Thank you for reading 5 articles this month* Join now for unlimited access
Enjoy your first month for just £1 / $1 / €1
*Read 5 free articles per month without a subscription
Join now for unlimited access
Try first month for just £1 / $1 / €1
Quizzes, features and footballing fun
Get the best features, fun and footballing frolics straight to your inbox every week.
Thank you for signing up to Four Four Two. You will receive a verification email shortly.
There was a problem. Please refresh the page and try again.