Hard-Fi: Sing When You're Winning
By Nick Moore
"Being a Brentford fan was a bit of a lonely existence, but it was a badge of honour..."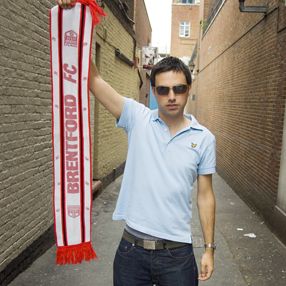 Flushed with rock success and the kudos of slouching on Soccer AM's sofa, Hard-Fi's Richard Archer was recently given an honorary day at Griffin Park, home of Brentford FC, the club he'd supported since primary school.
He foresaw fancy seats, luxurious banqueting, top-of-the-range hospitality. "Being a minor celebrity, I get the best seats in the house," he chuckles, self-mockingly.
Instead, he and his platinum-selling bandmates experienced a slightly faded red carpet greeting: a day behind the scenes, 'Brentford-style'.
"We were in the saloon bar and our manager went up to one of the security guards and said 'Can you tell us where the lounge is please?' He looked at us and said, 'What are you talking about, mate?' We had a drink in the bar like everyone else. It wasn't flash at all and I loved it. That's what being a Brentford fan is all about." 
This down-at-heel civility is what drew Archer to Brentford in the first place. As a kid he was impressed by Liverpool's marauding side of the early-'80s, but on his sixth birthday, he was taken to Brentford by his cousin Tony, ?a lifelong fan. That afternoon, the Bees thrashed Walsall 4-1. A boy was hooked.
"EVERYTHING SEEMED ENORMOUS"
"Until that point, I'd cheer for Liverpool. They were on the telly and everybody in the playground supported a big team like Arsenal, Man U or Spurs. But once I went to Griffin Park I was into it.
"The ground was huge, everything seemed enormous and everything was so colourful. Then my cousin gave me this... " He holds up a slightly faded and frayed Brentford scarf. "They were my team from then on. As you grow older you realise it's important to support a team you're close to.
"Most of the people at school were Spurs and Arsenal, so being a Brentford fan was a bit of a lonely existence, but it was a badge of honour. You're keeping it real, even if kids gave you shit in the playground.
"Saying that, I remember going to school one day when I was about 12 and some of my mates said, 'We ain't supporting England no more, we're supporting Brazil.' I wasn't having any of that."
So when did he realise his future footballing path was potholed rather than paved with glory?
"I guess it was when I was a kid and I'd never see Brentford on TV. I think we got to the quarter-finals of the FA Cup in 1988-89, which was a big deal." 
As Archer grew up he went to Griffin Park more frequently, standing on the Ealing Road End. "There's no roof on it," he says.
"YOU'D GET DRENCHED"
"It was the home fans' end for quite a while. You used to get drenched all the time when the weather was bad. The away end was covered and because of that, their fans made more noise. Eventually the club saw sense and swapped them around. Now the other lot get wet." 
Archer's band identify with Brentford's underdog status. Early on, Hard-Fi battled defiantly against record label indifference, before punching back with the anthemic suburban roar of Stars Of CCTV last year.
Likewise, Brentford have slogged it out in League One of late, with occasional pleasant detours into cup giant killings: the Bees stung Sunderland 2-1 at Griffin Park and held Southampton to 2-2 at St Mary's.
Sadly, touring commitments have kept Archer from watching his team. "I was on tour in America when we beat Sunderland," he sighs.
"We'd got pissed and for some reason we were playing golf in the hotel room. We'd smashed a few windows before I checked the internet to find out the score. We'd beaten Sunderland! I couldn't believe it. I rang home and all my mates were out – dancing in the streets of Brentford. I felt gutted that I was missing out on it all." 
Like most fans below ?the Premiership, Archer dreams of promotion. Brentford have come close in recent seasons, reaching the play-offs under the now departed Martin Allen, and new manager Leroy Rosenior is ambitious. Archer knows the margins can be small.
"A couple of seasons ago we played Reading in the last game. We had to win to get automatic promotion; they needed a point. They f--king drew and went up. We didn't and just look at them now." 
The club's long-standing financial difficulties don't help. Balancing the wage bill is a constant headache and while Griffin Park is hemmed in, plans for a new stadium are hamstrung by rampant local property prices.  
"Even though we've been in the play-offs twice – and could have made it with a bit of luck – we're skint," says Archer, despondently.
"WE'VE HAD TO SELL EVERYONE"
"We've got a big wage bill to pay and we've had to sell everyone. Sam Sodje went, Jay Tabb had to go to Coventry... and Martin Allen's gone. His attitude was, 'I've got us to the play-offs twice, there's not much more I can do without cash' – which was fair enough." 
There has been talk of Hard-Fi doing a Brentford benefit show. "I'd love to do ?a gig, but the problem is people want us to play at [Brentford FC bar and live music venue] Stripes, and it only holds 200 people. By the time we've paid our crew, the money's gone from that sort ?of show. We need to do a gig that makes a profit so we can really pay the club. 
"I'd love to do a gig at Griffin Park. ?I don't know what the deal would be with the council and the neighbours ?and all that, but it would be amazing. ?I remember Noel Gallagher said after he'd played Maine Road with Oasis that he'd fulfilled one of his ambitions."
He laughs. "I tell you what, though, if we can convince four or five million more people to buy our records, I can become a wealthy benefactor for the club. Then I could really turn it around."
From the November 2006 issue ofFourFourTwo.
Quizzes, features and footballing fun
Get the best features, fun and footballing frolics straight to your inbox every week.