I was at Holland 2-0 England, 1993 – for one of the maddest Three Lions away days of my life
Justin Walley was a home-and-away regular in his younger days, and recalls a crazy trip to Rotterdam ruined by anarchy, arrests… and Ronald Koeman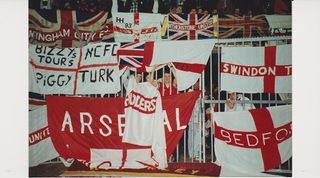 Justin Walley is the Africa President of CONIFA, former manager of Matabeleland, author of 'One Football No Nets' about that experience, and co-founder of Riga United FC. (Is that it? – Ed.)
October 13, 1993
Feyenoord Stadium, Rotterdam 
Att:48,000
On Thursday night, England face Montenegro at Wembley needing only a point to qualify for Euro 2020. Twenty-six years ago, Graham Taylor's England were in Rotterdam needing exactly the same result in a qualification match that had a place at USA '94 riding on it. It's one that few will ever forget.
We travelled to Holland in our thousands on the topsy-turvy cross-channel ferries – beer cans and fry-ups aplenty – knowing that we needed a draw to have any hope of England securing a place at the World Cup the following summer. 
My partner in crime for the trip was a mate from Bournemouth University, Ian, who had also been part of the uni football team that had toured in Holland a few months earlier. Aged 22, I was England home and away at that time, and that football tour to Holland had been a real eye-opener for me. I realised that my football ability was better suited to the more technical Dutch game, and my England trip was also a personal recce to see whether I enjoyed the country enough – the second time – to seriously consider moving there in the hope of playing semi-pro football.
Ian and I decided to go in under the radar by arriving early and staying in Utrecht to avoid the anticipated trouble in Rotterdam and Amsterdam. The atmosphere was tense from the moment we arrived to say the very least, but setting up base in Utrecht proved to be a wise move.  
We attended the U21 game there, which ended 1-1 in front of just 3,000. In hindsight, I wish some of the members of that U21 team – which included Trevor Sinclair, Jamie Redknapp, Andy Cole and Ugo Ehiogu – had been included in the senior squad. I remember seeing lots of familiar faces from rival firms knocking about together at that game. There were already plenty of stories about stuff that had gone off in Holland, and rumours of what to expect in Rotterdam.
Ian and I had a fantastic couple of nights out in the candlelit cafes along the Oudegracht canal, however, where we met some nice Dutch girls and then travelled into Rotterdam by train on the day of the game. Aside from an ominous presence around the U21 game, we didn't see a sniff of trouble in Utrecht.
In those days, travelling by train when you were England Away was always tense. You were instinctively nervous that a local firm would board and give you a kicking. Or the police would board… and do the same. The trains were jam-packed. There might not have been internet, but the word was out that it was going off big time in Rotterdam: mass arrests with England lads held in something resembling 'camps', a 'tennis ball bomb' thrown into a bar, huge running brawls with the police and opposition fans; one England lad shot in the leg...
Ian and I avoided the city centre as much as was possible and made straight for the stadium, reasoning that it was wise to get there well in advance of kick-off while most of the trouble was still in Rotterdam's centre. When I watched the film Children Of Men a few years later, it rather put me in mind of what it looked like that night in Rotterdam. Anyone who was there will understand what I mean. 
I carried a claret/yellow and white Northampton Town/Hinckley flag with me to all England away games in those days, which also encouraged me to get to games at least an hour before kick-off – I liked to get it up early (that flag appeared on the front page of the Daily Mirror after Ireland vs England was abandoned in 1995, and prominently in the background of tabloid photos of David Beckham celebrating his winning goal against Japan at the 2002 World Cup in Japan). 
England had more than 5,000 fans packed into the double-decker stands behind the away goal, although there were noticeable gaps where arrested fans had failed to make it into the Feyenoord Stadium. The rumour before kick-off was that a mind-boggling 800 England supporters had been arrested in total. To put this in context: 339 were arrested at the 1990 Poll Tax riots in London. 
Emergency bylaws were brought in by the city of Rotterdam rather akin to the types of draconian powers that suddenly exist under martial law, meaning the police had pretty much carte blanche. England fans told us how they were taken out of bars and given a kicking down side streets. Everyone admitted that there were plenty of England lads being very naughty, but that the police were out of control and Dutch hooligans were getting away with murder (well, almost).  
Thanks to one kind-hearted steward, I got my flag down on the concrete in front of the metal fences and razor wire that imprisoned us behind the goal. It made me happy knowing friends and family watching at home on ITV would see it. Ian and I posed for photos through the metal fencing, surrounded by Birmingham City, Atherstone United, Bedford, Arsenal and Swindon Town flags. We wanted to have a couple more beers before the game but, unsurprisingly, England fans weren't allowed to buy alcohol inside the ground. Incredibly, we discovered that Dutch fans were purchasing beer on the other side of the giant metal segregation fences, and comically goading us like little schoolboys. I calmed myself with the notion that they were drinking non-alcoholic beer and didn't realise it.
We were in white and the Dutch were in orange, as it should be. The fantastic news was that Marco van Basten was still out injured, which was just as well since England were shorn of the suspended Gazza, plus injured pair Stuart Pearce and Les Ferdinand. Strangely, Carlton Palmer started the game at right-midfield rather than in a defensive capacity.
The atmosphere was raw, loud… very loud. It was hostile, tribal, masculine, heart-poundingly tense and very, very exciting.
The Dutch had England on the back foot in the opening exchanges, and created a number of chances as they attacked the goal in front of our end. But after weathering the early storm, David Platt and Paul Merson both had chances. On 24 minutes, Ronald Koeman should have got booked for poleaxing Paul Ince. Tony Dorigo smacked the post with the resultant free-kick. A minute later, Tony Adams found himself in the unusual position of being one-on-one with an opposition goalkeeper, only to see his goal-bound effort cleared off the line. 
Some fans thought it was only a matter of time before we scored. But on 32 minutes, David Bergkamp swivelled a volley over the crossbar after the German referee somehow managed to play a one-two with Jan Wouters; then it was head-in-hands time just before the break when Frank Rijkaard nipped in to score for the Dutch. Only he didn't: the goal was given offside, but after the game I discovered that Rijkaard had in fact timed his run perfectly and the goal should have stood. Somehow, a breathtaking first half ended 0-0.
In those days, you spent much of the half-time break shuffling in and out of stinking, overflowing toilets to offload bladders full of beer, and spent what remained of the break debating the game and taking in a full-on atmosphere. 
On 55 minutes, Andy Sinton played a long ball over the top of the Dutch defence to David Platt, who ran clear on goal right in front of us. Platt was brilliant for England, and as he darted towards the penalty area, most of us expected him to drill the ball past the oncoming Ed de Goey and put England ahead. But Ronald Koeman, who was totally done for pace, wasn't going to allow that to happen. He pulled Platt down on the edge of the box. 
You could call it cheating. You might call it taking one for the team. Either way, Koeman knew that if England had scored, there was every likelihood that they would be the ones on that plane to New York the following summer. He knew he was about to see red. The referee ran towards the penalty area and pointed to the spot. We were all jumping around celebrating. In the context of likely only needing a point from the game, England looked to be on the verge of World Cup qualification. In that atmosphere, it felt like your heart might explode from the adrenaline. 
But, as things settled down in the England end, a penalty had become a free-kick without explanation. We waited to see the red card flashed at Koeman, but beyond all belief he was shown a yellow. One moment it was penalty to England and the Dutch about to go down to 10 men; the next it was Holland illegally charging down England's free-kick and getting away with it. Even Koeman looked embarrassed. "I expected the red card," he shrugged afterwards. Everyone expected the red. To this day, I don't understand what ref Karl Josef Assenmacher was thinking about. His bizarre interpretation of various incidents in that game changed the destiny of the 1994 World Cup.
The Koemans were obviously close friends of Assenmacher, as Ronald's younger brother Erwin then kicked Paul Parker in the crown jewels a couple of minutes later – and got away without a booking for a challenge that would definitely see red (and never-ending GIFs) today.
Big moments in the game were now occurring seconds rather than minutes apart. On the hour mark, Holland were awarded a free-kick themselves on the edge of the England penalty area, at the opposite end of the ground. Koeman stood over the ball. Koeman took the free-kick. It was rubbish. But there was yet more frustration for England as the referee ordered it to be retaken because Paul Ince was alleged to have illegally charged down Koeman's poor effort. 
That w***er is going to score! I'm sure I remember people around me shouting that. Maybe it was in my own head. Look at Seaman! He's miles off his line! From the other end of the stadium where we were standing, Seaman's positioning did look instinctively wrong. "He's gonna flip one now!" Brian Moore warned the millions watching on TV back home.
Koeman stepped up again, and like a slow-motion car-crash, curled the ball into the top corner. The Dutch fans went absolutely mental; the noise was insane. There was a lot of smoke from flares and the whole stadium seemed to shake. We were incredulous, lads shouting as if VAR from the science fiction future would time travel back in time to overrule the goal and red card Koeman for his earlier crime.
The timeline for me gets hazy after this. At some point, a distress flare fired from the Dutch terraces flew across the stadium at frightening speed and smashed into empty seats only a couple of rows away from us. I remember going mental. We all knew if that had hit anyone, there's a good chance they would have been killed. It almost hit me and I remember reacting by jumping around and screaming profanities at the Dutch. One month later, a fan was killed by a distress flare in an almost identical incident at Wales vs Romania.
The atmosphere turned more hostile; nasty, tense. But, again, within seconds – not minutes – it was another destiny-defining moment in a game that seemed to be filled with them from start to finish. 
England won a free-kick in front of us, 20 yards out. Dorigo looked set to launch another piledriver, but instead Merson tricked everyone and lofted a curling shot, completely evading the defensive wall. It looked destined for the net. Instinctively, we were all beginning our celebrations. But, drama built upon impossible drama, it hit the inside of the post and flashed across the six-yard box... and away to safety.
Seconds felt heavy. Time seemed to slow down and speed up. The noise was incredible. What on earth could happen next? The answer: an incredible passage of Total Football from the Dutch, ending with Seaman pulling off one of the best double saves you will ever see; first from Bergkamp and second from Rijkaard. England went straight up the other end, to 'our end', and Dorigo flashed just wide. It was still game on, with Ian Wright about to make his entrance; probably alongside Alan Shearer.
From that goal-kick, the ball was flicked on and reached Bergkamp 40 yards from goal. He blatantly controlled the ball with his hand but referee Assenmacher wasn't about to do the right thing and stop play. Bergkamp, one of the greatest players of his era, ran at the last England defender, wrong-footed him and smashed a shot into the bottom corner to make it 2-0 Holland. Game over. 
At the final whistle, 90 per cent of the stadium erupted in celebration. The Dutch knew they were on the plane to America. Always Look On The Bright Side Of Life was played at full blast. It sounds funny now, but it certainly wasn't at the time and was clearly done as provocation. 
The Dutch goaded England fans once more through the segregation and threw plastic pint glasses full of urine at us. The authorities kept us behind for a long time. Many people missed trains, flights and buses. I remember Dutch police sat all around us in the lower tier; the officer nearest to me kept banging a baton – accessorised with a Dutch scarf tied around it – in his hand, wanting us to react. Things were like that in those days. We just wanted to go home, wherever home was. Seats were set on fire at the top of the double-decker as they continued to detain us inside the Feyenoord Stadium. 
Leaving the scene of the Dutch robbery was a tad scary, but that was the norm then. While England fans were very naughty, foreign authorities – almost universally – only made matters much worse. It was usual to get attacked by police or set up by the press, or for local authorities to make naive decisions in their matchday planning. I saw it time after time away from home post-1992: from Malmo to Dublin; Katowice to Marseille. Poland was the most absurd. 
I don't actually remember us getting back that night. Or was it the next morning? Dozens were arrested in Amsterdam, the departure point for the majority of England fans. My emotions after the game were anger, shock, frustration and disillusionment. The refereeing in that game was so bad it felt like it had been rigged – so we didn't take our hooligans to the United States. 
I wasn't a fan of Graham Taylor as England manager. Instead of pushing on, the Three Lions were on the wane after Italia 90. But we still had some unbelievable talent – Shearer, Wright, Platt, Pearce and Gascoigne – and you felt we had to qualify for the USA World Cup.  
In hindsight, it was terrible how Taylor was treated by the tabloids, but he did himself – and especially not Phil Neal and Lawrie McMenemy – no favours with the Impossible Job documentary filmed that night. But for all the shortcomings of Taylor et al, they deserved to get at least the point they needed to qualify. England failed to qualify for USA 94, and within a month he was gone. Of course, truthfully this was all a blessing in disguise: three years later at Euro 96 I injured my leg at Wembley going mad celebrating England's fourth goal, as a rejuvenated England under Terry Venables thrashed the Dutch 4-1.
As for me? Well, believe it or not, despite all the violence, that trip did convince me that I wanted to move to Holland. A few months later, I set off with about £200 on a Eurolines bus, ready to begin life in Amsterdam and Utrecht and pursue my dream of playing at least semi-pro football in the Netherlands. I got let down by the two girls I'd met previously, and who'd promised to put me up: one had a new boyfriend, and absurdly, the other hadn't told me she was still at sixth form and lived with her parents. I was kicked out after four days staying in the attic at her parents'. I spent one night sleeping rough in an Amsterdam park, applied for a job at Greenpeace's HQ in Amsterdam and got shortlisted, accidentally got mixed up in a violent riot between Ajax and Utrecht fans at the old Ajax stadium… and very quickly ran out of money. 
Within two weeks I was back home in Leicestershire, and surprised my mates by walking in on a Friday night out they were enjoying. I expected them to rip the piss out of me, but instead they bigged me up for trying and loved my tales from doing so. I'd failed, but there is no shame in that. In fact, the experience taught me to better plan for future adventures abroad.  
I have never forgotten that night. Truthfully, I still resent the Dutch a little bit for how we were treated in Rotterdam. Whenever they've played since that day, I always support the other team (well, unless it's France or Argentina). It was epic. It was football as opera. Bergkamp, Koeman, Overmars, Rijkaard, Shearer, Ince, Adams – you don't always realise at the time quite how crazy it was on so many levels.
The result was completely gutting, but we follow football for entertainment and nights like those. That night in Rotterdam was one of the most exciting games of football I've ever witnessed, played in one of the most intense atmospheres I've ever known. I'm still gutted that it all panned out so badly and England failed to qualify for USA '94, but I'll always cherish the fact that I was there to experience the craziness.
While you're here, why not take advantage of our brilliant subscribers' offer? Get the game's greatest stories and best journalism direct to your door for only £9.50 every quarter. Cheers!
NOW READ...
ANALYSIS How Gareth Southgate used the Raheem Sterling-Joe Gomez bust-up to move away from England's past
QUIZ How many of the 60 England players with 50+ caps can you name?
WATCH Premier League live stream 2019/20: how to watch every game from anywhere in the world
Quizzes, features and footballing fun
Get the best features, fun and footballing frolics straight to your inbox every week.
Thank you for signing up to Four Four Two. You will receive a verification email shortly.
There was a problem. Please refresh the page and try again.