When England's WAGS went wild in Baden-Baden – and took the blame for World Cup 2006 failure
Did England's other halves really cost Sven's charges the World Cup? Steve Anglesey hits the Black Forest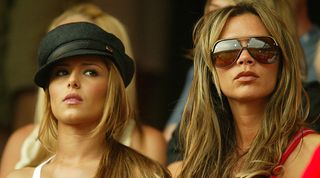 Please note: This feature originally appeared in the June 2014 issue of FourFourTwo
SEE ALSO Coleen Rooney vs Rebekah Vardy: the best tweets on a glorious day for the internet
In the early hours of July 2, 2006, in a hotel bar in Baden-Baden, a party of Englishmen came across a German even more upset than them by England's World Cup elimination to Portugal on penalties.
"It was the head barman from Garibaldi's bar. He was drunk and weeping uncontrollably," says journalist Andy Lines. "One of us put an arm around him and told him it wasn't so bad, but he wasn't really worried about England. He said, 'The best three weeks of my life are over. Nothing like this will happen again.'"
In the sedate resort known by some locals as 'God's waiting room', it's hard to fault his assessment. A couple of Wayne Rooney photos in Garibaldi's Bar aside, there is little sign that for the best part of a month in 2006, a town which hosted Queen Victoria, Marlene Dietrich, Charles de Gaulle and Adolf Hitler briefly became world-famous all over again.
That it did had little to do with Rooney and his team-mates, who spent much of their stay at the Schloss Buhlerhohe Hotel, a 20-minute climb into the Black Forest mountains.
The credit belonged to future wife Coleen, a modern Queen Victoria, her friend Cheryl and a group of long, lean, vaguely orange young ladies who went to Baden-Baden to support their partners and have fun with their mates – then ended up being blamed for overshadowing then ruining England's World Cup. The press called them 'hooligans with credit cards' but most knew them as the WAGs – an abbreviation of 'wives and girlfriends' coined by the Mail On Sunday.
You might remember the headlines. Victoria Beckham supposedly taking 60 pairs of sunglasses. Bottles of Veuve Cliquot drunk through straws. The £57,000 hour-long shopping trip. Frank Lampard's girlfriend Elen Rives exchanging honest words with German fans. The pear bellinis. The brief emergence of Joe Cole's partner Carly Zucker – she of the early-morning jogs in crop tops – as a tabloid star.
Or you might remember the hangover. "We became a bit of a circus," Rio Ferdinand said in 2008. "Football almost became a secondary element to the main event. People were worrying more about what people were wearing or where people were going than the England football team."
"Beckham believed wives should be there"
When the FA announced the location of their World Cup base back in December 2005, such criticism seemed unthinkable. Says Brigitte Goertz-Meissener of the Baden-Baden tourist office: "You could not do much better than staying in the magnificent Black Forest, where you can gather up your forces perfectly to be well-prepared for games."
"We thought it was as secluded as it could be," says then-FA chairman Brian Barwick. "The hotel and training base were miles out of town. We were up a hill and I thought it was one of the most isolated places I'd ever been. Meanwhile, we knew the players' wives could stay down in the town in the Brenner's Park Hotel and see their partners occasionally but generally be free to do what they wanted."
When the base was revealed on December 15 2005, coach Sven-Goran Eriksson gave some idea of what that WAG agenda might be when he praised Baden-Baden's "marvellous atmosphere, with some wonderful restaurants and cafes".
The Swede had lobbied hard both for the venue and for England's players to bring their families along if they wanted to, and they did. Of the 23-man squad, only 19-year-old Aaron Lennon didn't bring a partner, and all the players were supported by family members. In total, the England entourage numbered 110.
"Sven was close to David Beckham and Beckham believed that the wives should be there," says journalist Oliver Holt. "You can see how Baden-Baden appealed to Sven as a location. It's affluent. There's a very upmarket spa. There's an opera house. There's a beautiful river that runs through a park. The equivalent place in Britain would be somewhere like Bath, but smaller and more chi-chi."
Many harrumphed about the decision to invite WAGs, with former skipper Alan Shearer and former manager Sir Bobby Robson among those who insisted they should have gone only to England's pre-tournament training camp in the Algarve. However, Eriksson and Beckham – both in the autumns of their England careers – dug in their heels, pointing out that the WAGs would be paying their own way.
Says David Davies, then a high-ranking FA staffer: "We couldn't go against the captain's wishes and you have to give the coach what the coach wants. Some managers go the other way and want privacy. Glenn Hoddle had it as a high priority in 1998, as did Fabio Capello in South Africa. It's horses for courses. Some coaches and managers believe in having wives and girlfriends nowhere near the team."
As was the case in 1966, when the England squad's only contact with their wives during the victorious World Cup campaign was a joint outing to the shops in Golders Green. Yet in the intervening 40 years, the nation's relationship with celebrity had moved on, too. While Tina Moore, Norma Charlton, Judith Hurst & Co. could pass unnoticed at the shops and on their eve-of-the-final theatre trip to The Black And White Minstrel Show, their 2006 counterparts had their every movement recorded by OK! and Closer, Heat and Hello.
After their brief pause for contemplation following the paparazzi-aided death of Princess Diana in 1997, the tabloids were back onside, too, with any new front-page photo of Victoria Beckham guaranteed to raise an individual day's sale by tens of thousands of copies at a time of circulation decline.
The decision to allow the WAGs into Baden-Baden was manna from heaven for print media. "We knew before we went that it would be big, but we had no idea how hysterical it would get," says Andy Lines. "It created a beast that could not be controlled and the people we met out there from the FA acknowledged that."
By the time the WAGs landed on a plane from Stansted, events had begun to take the appearance of a script from Footballers' Wives. Elen Rives missed her flight after attempting to board with five large pieces of hand luggage. Meanwhile, there was speculation that Mrs Beckham was arriving from Madrid with 30 pairs of jeans.
Both England and the WAGs began the tournament in hesitant fashion. A day after the wives arrived at Brenner's Park and retired to bed straight after dinner, the team were unconvincing winners against Paraguay. It was here their paths split. While the men stuttered throughout the tournament, their women turned on an impressive display for the duration, shopping, drinking and entertaining the folks back home.
Champion time
The tone was set on the return to Brenners' Park after the opener. The WAGs found themselves in the sedate hotel bar, where the primary form of entertainment was a pianist named Frederico playing the music of Cole Porter. Then the peach bellinis were ordered and arrived in sugared champagne flutes.
They were dispatched, and more requested. A few minutes later, the tinkling ivories were replaced by a high-pitched, giggly and not entirely accurate chorus of Queen's We Are The Champions. Pizzas and chips arrived on silver platters and were consumed, together with more peach bellinis, wine and beer. While some cried off to bed as midnight struck, a hardy band – Coleen, Elen, Carly, David Beckham's sister Joanne and Steven Gerrard's partner Alex Curran among them – headed for one of the town's few nightclubs, Garibaldi's, and put away £300 worth of Moet and nine vodka Red Bulls.
The evening concluded at 3am, after Rives leapt on a bench to perform an enthusiastic dance routine. "She didn't even damage the bench with her stilettos," marvelled the bar's owner, Carmine Tortora.
With its unfussy atmosphere, outdoor seating for tan-topping and bar staff who poured with a heavy hand, Garibaldi's fast became an unofficial WAGs HQ. "We remember them well," says the woman who answers the bar-restaurant's phone in halting English. "The wives enjoyed themselves and we never had a problem. It was very exciting."
Though the nightclub Maxi's was also popular – especially with Rives, who on one visit silenced a party of Germans who dared to sing "We're going to win the cup" before herself getting on a table and crooning I Will Survive – the fact that it only opened on weekends meant the WAGs' biggest sessions were reserved for Garibaldi's.
One memorable night followed a dinner organised by Nancy Dell'Olio, staged in a 12th-century moated castle. Having picked at lobster salad, raw milk cheese, smoked salmon tagliolini, beef tartare and saddle of lamb, the WAGs returned to Garibaldi's to rack up an impressive bar tab, including bottles of Legas Grand Cru champagne, numerous vodka Red Bulls and glasses of Moet flavoured with strawberry syrup.
With the singing led by Coleen McLoughlin, the setlist that night included a group chorus of "We're not going home" followed by Three Lions, Rives' version of "Super Frankie Lampard" and a rendition of God Save The Queen led by none other than Neville Neville, Phil and Gary's father.
Almost as popular were the WAGs' shopping trips, and the owners of Baden-Baden's Gucci and Hermes franchises saw their decision to buy in an extra £200,000 in extra stock quickly vindicated. The Albert sunglasses store – where pairs of £500 designer shades were quickly snapped up – formed part of a circuit with boutiques Monica Scholz, Gero Mure and jeweller Bijou Brigitte.
On June 19, a day before the final group game, £57,000 was spent in just one hour, with Coleen showing off £900 worth of purchases and delightfully telling a reporter, "I just went out for a walk and I've come back with a few bits and pieces." Sniffed the German newspaper Bild: "It has turned into Shopping-Shopping in Baden-Baden."
A daily pattern had emerged. "Morning coffee or maybe a run in town, shopping, back to the hotel, then on the piss," says photographer Andrew Stenning. "It was full-on. They got no rest, so neither did we. Our rest days were when we got sent to cover the England matches."
When the English papers arrived carrying details of their first night on the town, the WAGs began to view those reporting on them with suspicion. Their paranoia was hardly helped by the fact that several senior hacks were staying in Brenner's Park alongside them. "Some of them saw that as a problem," says Oliver Holt. "Aaron Lennon's family were particularly adamant that we should not be there."
Those who were solely there to cover the WAGs were equally unwelcome. One female journalist who'd booked into Brenner's Park undercover, masquerading as a Brit on holiday, was rumbled and asked to leave the hotel.
Another hackette who bedecked herself in WAG accoutrements and followed the girls on a day out to a theme park was collared by the real deal and advised that some of the other girls would "rip your hair extensions out".
Things came to a head on a late night in Garibaldi's when, says Andy Lines, "everybody was pissed and singing. One of the players' missus took exception to me for some reason and screamed across the bar, 'Why were you born so f**king ugly?' I was marched out of the bar by security, with 30 or so WAGs waving me goodbye and singing 'Cheerio, cheerio, cheerio'.
"But we'd arrived four or five days before the WAGs and I was already friends with the owner. I pulled out my mobile, called him and within a minute I was being ushered back inside to the cheers of my colleagues."
Their relationship with the paparazzi took the opposite course. Says Lines: "At the start there were five or six paparazzi out there and the paps were doing deals with the WAGs. There was one WAG – not Carly Zucker – who turned up for a jog in town wearing a revealing top. We saw her with one of the paps later on, looking at the images on his camera and saying, 'Send that one, that one and that one'.
"But it's a double-edged sword. These paps were quite unpleasant people. I was with a press photographer and we saw Ashley Cole sitting outside a restaurant on the other side of the street, having lunch. So the photographer took out a long lens and snapped a couple of shots. Then we watched as one of the paps went straight up in Cole's face and snapped away. It made everyone look bad."
Says Andrew Stenning: "The WAGs knew the paps like to work in close, on a single target. So they'd start coming out in a pack, like the advert with Here Come The Girls on it. Also, a lot of the main action was going on in places like Garibaldi's and Maxi's, where they couldn't get in. The only photos you saw from those nights were taken by members of the public on mobile phones.
In the end, most of the paps went home. The paparazzi had been conquered. But now the WAGs faced a trickier opponent – a critical world press. While the British tabloids were reluctant to aim barbs at the golden goose, the opposition piled in.
"They spend more in 10 minutes than most of us do on our wardrobe in half a lifetime," sneered Bild. "Not even the stores of Vuitton and Gucci can keep up with the daily attack of the hooligans with Visas," moaned Spanish paper ABC.
Those who were at closer quarters disagree. "The WAGs did very little apart from enjoy themselves in the way well-off young women would," says Holt. Nevertheless, the trope had now taken hold and though the WAGs cried in public after England's defeat by Portugal they were glad to be going home.
All that remained was a quick morning's shop, during which an almost desultory £30,000 was spent, a last drink in Garibaldi's, where Tortora presented them with a cake decorated with images of St George, and settling up at Brenner's. This took longer than anticipated because of the extras the WAGs had racked up on top of their £26,000 room bills. Rives had spent £28,607, while Curran's bill of £25,321 included 60 bottles of £75 pink champagne.
In Baden-Baden the WAGs are remembered with fondness. "It was a great pleasure and lots of fun," says Goertz-Meissener. "Baden-Baden is a big party' is what I heard all the time."
However, the opposite was true in the highest echelons of English football. Says David Davies: "I remember one day in Soho Square not long after we'd come back when a meeting was held to discuss whether the WAGs had contributed negatively. There were a few people in the room who did believe that." Adds Oliver Holt: "You could say that Baden-Baden and Sven paved the way for the authoritative Fabio Capello."
Did the FA make a mistake allowing the WAGs to Baden-Baden? Brian Barwick kept his own counsel. "Obviously I have to respect what players like Steven and Rio have said," he admitted. "Having said that, if you are going to have people like Victoria Beckham and Cheryl Cole in a single place you are going to have press interest, and the players did want their partners to be there."
Says Davies: "The WAGs was a great sideshow whose importance and significance was blown out of all proportion. If anyone believes that England did not win the World Cup because of wives and girlfriends they are quite welcome to that but I don't agree, and I'll ask them this: "Who won the World Cup of 2006? Italy. And what happened the day after the match? Italy flew to Rome, the steps went up, the door opened and out of the plane came Marcello Lippi and Fabio Cannavaro, holding the trophy. And who came out of directly behind them? The rest of the players and their WAGs. The Italian WAGs had been there too.
"In Baden-Baden, a lot of people had a lot of fun – but it did not cost us the World Cup."
This feature originally appeared in the June 2014 issue of FourFourTwo. While you're here, why not take advantage of our brilliant subscribers' offer? Get 5 issues of the world's finest football magazine for £5 (opens in new tab) – the game's greatest stories and best journalism direct to your door for less than a pint in London. Cheers!
NOW READ...
QUIZ! Can you name England's starting line-ups from their three matches against the Czech Republic? (1998, 2008, 2019)
LIST 11 of the easiest title wins in English football history
WATCH Premier League live stream 2019/20: how to watch every game from anywhere in the world
Thank you for reading 5 articles this month* Join now for unlimited access
Enjoy your first month for just £1 / $1 / €1
*Read 5 free articles per month without a subscription
Join now for unlimited access
Try first month for just £1 / $1 / €1
Quizzes, features and footballing fun
Get daily World Cup 2022 news, updates and other football frolics to your inbox
Quizzes, features and footballing fun
Get daily World Cup 2022 news, updates and other football frolics to your inbox
Thank you for signing up to Four Four Two. You will receive a verification email shortly.
There was a problem. Please refresh the page and try again.