How to win Euro 2016 (and penalties!) playing as England on Football Manager 2016
England have competed in nine tournaments since their World Cup win. Wouldn't it be special then, 50 years on from that famous win, to end the trophy drought? Val-ex Ferguson shows you how to win the European Championship on Football Manager 2016…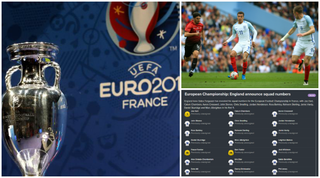 With Euro 2016 fever building, holidays approaching and the end of the regular football season, it's time to fire up a new game of Football Manager 2016. Mission: to win the European Championship in France.
But who to be? Let's go for a challenge and try to lift the trophy with a team that has never won it in real life. That rules out France, Germany, Spain, Italy and Holland…
But wouldn't it be even better to have a shot at success with a team that has never even played the final? Well, that means that neither Belgium nor Portugal is a valid option. Who should I pick then? England, of course! So be it…
How would England fare under their new foreign coach?
Hoping that the devs didn't code in the penalty thing, I decided to have a go at winning the European Championship with the Three Lions – their best performance is a third place finish in 1968. On paper, that isn't too tough a proposition. Though further reading would show that only four teams competed in the '68 edition of the Euros… Maybe not too impressive after all…
Anyway, let's start the kickin'.
Tactics
Some say that you have to create tactics according to the players you have at your disposal. Well I'm not really a blind follower of that unwritten rule. I'll first set up the three tactics that go with my WIN/WIN style.
I have a 4-4-2 (with two Defensive Forwards), a strikerless 4-2-4-0 and a 4-1-4-1 (again with the annoyingly efficient Defensive Forward role added).
Squad selection
Once the tactics are in place it's time to select the players that are suitable for my style of play. Unfortunately, there was no place for Arsenal duo Danny Welbeck and Theo Walcott whilst captain Wayne Rooney has also been left at home.
Other notable exclusions include vice-captain Gary Cahill, Tottenham's talisman Harry Kane (he lacks pace and crossing abilities, and didn't fit in with my tactical style) and workhorse James Milner. Marc Albrighton, meanwhile, is a surprise inclusion in the squad.
Friendlies
I don't always test my squad, but when I do, I prefer to play against a decent team. Like Germany! I wouldn't read too much into the 5-0 demolition job that my squad performed in the company of the Germans however.
In these matches I wanted to test the level of ambition of certain players and ensure that the squad's morale would be as high as possible before the official matches began. I also scheduled team meetings whenever I thought it would be beneficial for the lads.
Group Stages
Upstairs neighbour Scotland was up first…
Then it was Slovenia's turn to try and stop us…
Sterling then beats a 69 year-old record when he scores 13 seconds into the match…
I can now understand why Dutch fans love Football Manager. Their team qualified in the game and having won our first two games, the only thing left to sort out was who got qualified in first place:
So we finished first, scoring 13 goals and only conceding three. So far so good!
Knockouts
We were then drawn against my home country, Romania, who had finished third in their group…
The Three Lions now go on to break yet another record - the European Championship's biggest ever win. So I've basically listed my home country on the all-time wall of shame. Guess they won't be greeting me with flowers when I get back home…
We were then up against the Czech Republic…
This was no walk in the park. Daniel Sturridge's 121st minute decisive strike came after a wonderful seven-pass combination. The whole nation can't thank him enough for doing that and avoiding the dreaded penalties.
Penalties
We then had to face Italy in the semi-finals, who had just knocked out Belgium on penalties.
Let me remind you that England was defeated by Germany on penalties in the 1996 semi-finals. England were then knocked out on penalties in 2004 against Portugal and in 2012 against Italy, of course. It's fair to say that England fans would be biting a few fingernails…
Revenge, at last! Hart stood firm to deny Balotelli, Verratti and Santon. It all went well from there (apart from Wilshere and Sturridge missing theirs). If you doubted that anything is possible in Football Manager, this is your proof: England won on penalties!
The final
The Netherlands knocked out Germany and then lost to France. So we had to face Les Bleus who had only conceded one goal so far in the competition.
And: Jamie Vardy's having YET ANOTHER PARTY after scoring the winning goal in the first minute!
The best player award, meanwhile, went to…
Team of the tournament? Voila.
And top scorer…
Best Football Manager 2016 Wonderkids
Val has written a free guide to Football Manager 2016: FM 16 - Can't Win To Champion. Check it out for tactical advice, team talk strategies and more.
Quizzes, features and footballing fun
Get the best features, fun and footballing frolics straight to your inbox every week.
Thank you for signing up to Four Four Two. You will receive a verification email shortly.
There was a problem. Please refresh the page and try again.