I've followed Erling Haaland's career since he was a kid – it's no surprise he's now the best player in the Premier League
Jan Aage Fjortoft played with Erling Haaland's dad for the Norway national team – and soon realised that the junior goalgetter was on course for great things. Including being named FourFourTwo's best Premier League player of the season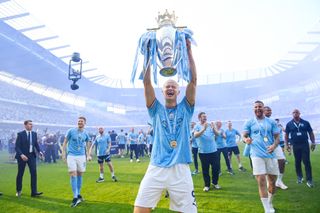 (Image credit: Getty Images)
I played for the Norwegian national team with Alf Inge Haaland, and the first of his kids that I saw play football was Astor, Erling's older brother. He was on the same team as my son at a reunion game for their dads and he was one of the standout talents, so it came as no surprise when I later heard that his little brother could play a bit, too. That turned out to be quite the understatement.
When he was coming through the ranks at his hometown club, Bryne, people were saying this lad was quick, physical and could score goals. Alfie soon realised what an incredible prospect Erling was and began carefully plotting his path. That's something so many young football players don't have – someone who really cares about them and their future development.
First, Alfie engineered a move to Molde, a big club in Norway known for progressing youngsters. Erling quickly established himself in the first team and went viral after scoring four goals in 21 minutes of a top-flight game. People started talking about this Norwegian wonderkid. The excitement was growing.
ALSO READ
Next came Red Bull Salzburg, where Erling scored a hat-trick on his Champions League debut at 19 and followed it up with strikes in his next four European matches. As part of my media work I was at the second game, at Anfield, where Erling shone in a 4-3 defeat to Liverpool. After the match, I interviewed Virgil van Dijk and quizzed him about Erling's goal. He seemed a little annoyed to be asked about this Norwegian kid after his side had won – I guess he didn't like being outplayed by someone so young – but Erling's display merited more focus.
When he moved to Borussia Dortmund, less than a year after his Salzburg debut, development was again the main focus for Team Haaland. He grew into the player we see now, improving his heading and hold-up play. His hunger for goals was fantastic.
After 86 goals in 89 games, he was ready for his biggest move yet. Erling and his team were very detailed in their analysis of each club, but I wasn't surprised that he chose Manchester City. They ticked the most boxes.
I had no doubts that Erling would hit the ground running in England. Nobody, though, would've guessed he'd score as many goals as he has. He has outshone everybody's expectations. He played alongside some brilliant players at Dortmund, but his City team-mates are getting the best out of him.
His five goals in a game against RB Leipzig would be most fans' highlight but, for me, his best performance was against Arsenal in April – a fixture of huge magnitude in the title race. He only scored once, but his all-round performance stood out: his physicality in pressing and holding up the ball; his technique in setting up Kevin De Bruyne for two goals. People talk about his goalscoring – and why wouldn't you? – but he showed then that there's more to his game. He's one of the only strikers I know who looks even happier if a team-mate scores.
Does he deserve to win the Ballon d'Or this year? Possibly, but the Ballon d'Or is a political prize and it's hard to see past Lionel Messi after Qatar. It can only be between those two.
I asked Alfie recently how it feels to be not just a manager, agent and mentor for this wonderful player, but also his father. He said he's immensely proud – not only for the goals and accomplishments, but for the feedback he gets from managers. Pep Guardiola has publicly praised Erling's personality many times. He's a sweet lad who supports his team-mates and wants to improve every day.
Now the best player in the Premier League, Erling is already up there with the very best in the world, if not the best. And they say players working under Pep get even better in their second season…
Thank you for reading 5 articles this month* Join now for unlimited access
Enjoy your first month for just £1 / $1 / €1
*Read 5 free articles per month without a subscription
Join now for unlimited access
Try first month for just £1 / $1 / €1
Get FourFourTwo Newsletter
The best features, fun and footballing quizzes, straight to your inbox every week.
Jan Aage Fjortoft made over 500 club appearances and 70 games for Norway over an 18-year playing career that took him to England with Swindon, Middlesbrough, Sheffield United and Barnsley. After retiring from football in 2002, he spent four years as a director of football at Lillestrom and has been a regular commentator and pundit.