Joe Thompson: "Cancer felt like a snake wrapping around my neck... I was determined to win"
Joe Thompson's life and career were thrown into utter chaos after he was diagnosed with cancer twice within the space of three years. Now he's part of a Rochdale squad preparing to face Tottenham on Sunday. FourFourTwo heard his story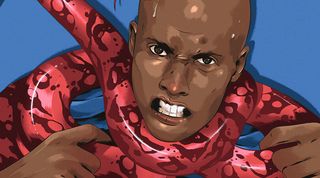 Illustration: Alexander Wells. Photography: Jon Shard
I can still remember the tiny, two-bedroom council flat back in Bath that I used to call home. My brother and I shared one room and my mum was in the other.
She would often wake us up at 4am and tell us to put on our school uniform, as she knew she wouldn't always be able to function in the morning. About three or four hours later we'd wake up again, have our cereal and head out the front door. We didn't realise it at the time, but she was suffering with a mental illness and has done for her whole life.
Mum was diagnosed with bipolar disorder when I was eight years old. She is a wonderful person to be around – a real social butterfly who people gravitate towards, but she can go the other way as well. I remember vividly the day she was admitted to a psychiatric hospital. I was too young to understand what was going on, but for a while my brother and me were looked after by our neighbours, who lived in the flats above and below. There was a real fear of social services getting involved and us going into care.
A tough beginning
When I look back, what my mum really needed was someone who could help her stay level – but my dad was never around. He'd gone down the wrong path and became addicted to hard drugs. I think he has spent 12 of the last 20 years behind bars and missed out seeing me and my brother achieve some great things in life. When he's been out of jail, he's found it hard to adapt to normal life. The people, shops and pubs he knew about 20 years ago just aren't around any more. I'm not trying to justify his behaviour, but I do try to understand him.
Not long after my mum was taken away, we moved to Manchester to live with my auntie. It was a city I had always loved. At Christmas, we'd head north – there'd be snow to sledge on and it felt different to down south. We would go to farms and places such as Blackpool and Formby beach for days out – but adapting to life in a new place wasn't easy.
Walking through the streets of Rochdale, I'd sometimes get called a monkey or a Paki. I wasn't unfamiliar with racism, but I refused to argue with idiots. Settling into school wasn't easy either – on my first day I remember a few heads turned to have a look at the new brown boy in their class.
I'd never played football before. I loved athletics and was a good 800-metre runner, but I longed to be a part of something. I started playing for a local team as a way of integrating.
It turned out I was pretty good, and got scouted by Manchester United at a five-a-side tournament when I was nine. My mum – who'd joined us up north – didn't want me to go because she knew the chances of me making it were pretty slim, but I went on trial anyway and a couple of weeks later they signed me up. My auntie started taking me off to training at night and games at the weekend – without knowing it I had structure and discipline for the first time in my life.
It was an amazing time to join United. It was 1998 – the club had just moved to their new Carrington training ground, the Class of '92 were flying the flag and would soon win the Treble. I was part of the same youth team as James Chester, Danny Drinkwater and Tom Cleverley. Together, we played in tournaments all over the world. I'm still in touch with a lot of them today, which speaks volumes for the team spirit we had back then. Lots of players had ability, but they got the changing room right at the club as well. It's the best education that you can get in football – it develops footballers and people, too.
At school, football slowly turned me from an outsider into one of the gang. I got a lot of pats on the back and respect as I was playing for United, and suddenly I had an air of arrogance and confidence in any situation because I knew I was good at something. My teachers warned me that I still needed to concentrate on my studies because I might not make it, but that didn't stop me practising my signature on scraps of paper at the back of the classroom.
During the next six years, life was great – but when I was 16 I had the rug well and truly pulled from under my feet.
The club tried to break the news gently. My coaches, Paul McGuinness and Tony Whelan, phoned up my mum and told her they wouldn't be offering me a contract. I was just about to start my GCSEs, so the timing couldn't have been worse. I had to swallow my pride and realise my teachers had been right all along – I wasn't going to get to where I thought I was heading. The rejection was difficult to take and I didn't tell any of my friends for at least two weeks. I'd always been a winner – the best at football, athletics and basketball – but now I was a loser.
Falling confidence
I still wanted to become a footballer, but my confidence had been dented. I had trials with Blackburn and spoke to Liverpool, but I was still hurting and ended up nowhere. My old school teacher told me to go down to Rochdale, but I thought I was better than that.
In the end I relented and realised it didn't matter who I'd played for in the past, we were all in the same boat. I did well and the club told me I'd soon be playing for the first team. I made my first appearance at 17 and scored on my home debut. The senior pros started to accept me, and at last I had the acceptance that I'd craved. I often wonder if that's because I never felt accepted by my dad.
I spent six happy years at Rochdale and life off the pitch was perfect, too. I didn't know it at the time, but I met my future wife Chantelle in a bar in Manchester when I was 21. We soon moved in together and found out that she was pregnant, just as I'd agreed to join Tranmere Rovers in the summer of 2012.
Another knock
But the first season didn't go to plan. The dressing room was full of strong characters, and even though we were top of the league at Christmas, there were a lot of flare-ups. I played 20-30 matches but didn't do myself justice. I was determined to start my second season flying and began it on fire. I was scoring goals and being named man of the match, but then in one game everything ground to a halt. I felt like I was moving in slow motion. I was lucky a team-mate got sent off so I was sacrificed.
Then the same thing happened again a few weeks later – I felt exhausted and got substituted after half an hour when one of our players was sent off.
I knew there was something fundamentally wrong. Lumps started appearing in my neck, so I told the Tranmere physio and we booked an appointment with the doctor. I thought I had glandular fever and had a scan to rule out anything more serious. A week later I returned to get my results. The clinic was in the Wirral, so my wife and I chose to make a day of it, take our daughter Lula to the beach and then get some food at a nice restaurant. It was the worst decision of my life – I sat down in the doctor's office and could tell by the look on his face that it was bad news.
He told me that I'd got Hodgkin lymphoma – a rare type of cancer which develops in your glands and blood vessels spread throughout your whole body.
The walls seemed to crumble around me. I was in complete shock. I couldn't believe what had happened to my life in just a matter of minutes. What would happen to my career? I still had a year left on my contract and a young family to support. Would I live or die? Why me? All of these thoughts were running through my head, while the tears ran down my face on the journey home.
In the following weeks I broke the news to my family and friends. It was actually my agent who took it the worst. In a funny sort of way it reassured me, because I knew he wasn't with me for financial reasons. I had someone in my corner with my best interests at heart.Tranmere had agreed to keep it quiet until I'd come to terms with everything, but two weeks later we decided to release a statement.
I was sat on the sofa watching Sky Sports News and it came up on the breaking news strap: 'Joe Thompson has been diagnosed with cancer.' That's when it really hit home.
The treatment didn't start for another six weeks and I felt like a sitting duck being shot at with my hands tied behind my back. I started to research cancer symptoms online and I ticked every box. I was getting night sweats so intense my bed felt like I'd jumped in a pool. I was fatigued, concentration was poor, and then there was the shortness of breath – the cancer felt like a snake wrapping around my neck, slowly wrapping around.
"It was a battle I was determined to win"
I began chemotherapy treatment in October 2014. I had a day of it via a drip every two weeks for six months. I was still only 23, so they put me on the same ward as the young kids. It didn't feel right – I had a child of my own – but I decided to try to be someone for them to look up to. Chemo attacks cancer but it also weakens the immune system and most of the time I was violently sick for 24 hours after each dose, which meant I started to lose weight. But I knew I was in a good position to fight it. It was a battle I was determined to win.
The following June I got the news I'd been praying for. The doctor told me I was in complete remission. I'd beaten cancer. I felt like I'd been given a second chance, but I still faced an uncertain future. My contract was up with Tranmere and I discovered they weren't going to offer me another deal when I received my P45 in the post. There wasn't even an offer to go back in and train with them to get fitter.
It made me view football in a very different light and I realised what a ruthless sport it is. That feeling of rejection I had experienced after being released by United came flooding back. I knew that it would be hard to convince managers and clubs I was worthy of a contract, but I had a chat with Bury's manager, Dave Flitcroft, and promised him if I trained with them I'd do everything that the first-team players did. It wasn't in line with the doctor's orders, but I wasn't an old lady of 77 and was convinced I could fight back.
I started pre-season training with everyone else and even beat a few players in the fitness testing despite not kicking a ball for nine months, which gave me a massive boost of confidence. My determination had been boosted because of the cancer. I knew any pain I felt out on the pitch was nothing compared to the chemotherapy. Bury then offered me a contract and I grabbed it with both hands. I broke down several times that season and didn't play many matches, but it meant I got a year of training under my belt.
The following summer, I moved on to Carlisle. I got on with my manager, Keith Curle, immediately after impressing him at Cassius Camps – a punishing pre-season training camp in the Lake District. I think he respected me after everything I'd been through. I ended up playing about 15-20 games during that season, which wasn't much, but it was progress at least. At the end of the campaign he said there was a deal on the table for me, but he couldn't promise regular football. We both knew I needed to kick on and my agent suggested going back to Rochdale, but I was reluctant. I didn't want to fall short at a club where I'd had the best period of my career.
Keith Hill was still the manager there and he offered me a six-month deal after I'd done well in pre-season. It gave me an opportunity to prove myself – and that's what I did. My fitness and strength slowly increased, and my confidence grew as well.
In November 2016 I agreed to sign an 18-month contract extension, and I felt like I was the player I used to be. I started doing things automatically like little tricks and flicks – there was no thinking about my next move. We ended the season just outside the play-offs – I'd surpassed anything I'd done before.
Back into deep trouble
I was approaching the three-year mark since I had been diagnosed with cancer. As a family we had moved on and just about put that dark chapter behind us. During my treatment I'd put myself forward for a research trial, which meant I was due to have a follow-up scan. It was a routine procedure and nothing to be worried about – I was completely healthy and felt good.
But it turned out something wasn't right.
After the scan, the doctor told me that I'd need to go for another one. He had detected a dark cloud around my chest, which is exactly what they'd found before. I went for the second scan and afterwards I recognised the look on his face as he broke the news to me. It was Christmas Eve and I'd been diagnosed with cancer for a second time. This time I was in trouble. I felt so much anger. I didn't give a flying f**k about anything else.
I wanted to smash the room up and storm out. This was the end of the world. The first time I'd been diagnosed I'd been shocked – this time I was scared. My first thought was my daughter: she was older now and would understand what was going on. What would I say to her? The first time around I hadn't changed much physically, but this time I would have to undergo a more intense form of chemotherapy, which meant I'd lose my hair.
She'd notice I wasn't well. I had fewer tumours than the first time but they didn't want to take any risks, so I was also told I'd undergo a stem cell transplant, which aims to give you a full new immune system. It meant that I'd have to spend time in an isolation unit to avoid any infection.
The treatment began with two five-day courses of chemotherapy on a ward with five other men. This time I was with the 25 and overs. It went quickly because we were laughing and talking about it. We all knew we were in a shit situation but we thought, 'Lets make the best of it.' We'd chat at night if we couldn't sleep and we weren't ashamed to be sick in front of each other.
Family and team-mates kept visiting to keep my spirits up, but there were constant reminders that death was a very real possibility. There was a guy in one corner who looked terrible. He wasn't eating and the treatment wasn't working. Doctors gave him the option of going home to die or staying put – I haven't seen him since and would be amazed if he's still alive.
I was then transferred into an isolation unit to undergo the stem cell transplant and told I could be in there for up to six weeks. I felt like a lab rat. In the first six days they give you the highest possible dose of chemo and you have to stay in until your immune system is strong enough to fight off illness again. Nobody could come in with any cough or cold, and children were banned so I couldn't see my little girl. All sorts of thoughts went through my head. I would look through Snapchat and see friends on holiday. Had I been on my last holiday? Would I live to celebrate another birthday? I was bordering on insanity spending all that time in my own head.
I can remember waking up one morning shuddering like Gollum in the corner of the room, with a nurse standing over me. I'd been having hallucinations during a bad dream. I was a shadow of my normal self.
6 weeks after recovering from my cancer battle Positive mindset and a Preseason starts Mon September 29, 2017
The lowest point
Those first couple of weeks were my darkest days – depression at its lowest point. I started to lose a lot of weight. I was having blood transfusions and injections to keep any potential illnesses away, and I couldn't shower because a change in the temperature made me violently sick.
But on day 14 I kept my first meal down. The doctors were still worried about my weight and wanted me to start having shakes, eggs and things like that, but I was adamant I was going to eat a vegetarian diet, which meant no meat, dairy or processed sugars. Something had caused the cancer to return and I wanted to do everything possible to ensure it didn't ever again.
Not long after the stem cell transplant had started, I spent my first wedding anniversary curled up with my wife in a single hospital bed watching Love Island, like a pair of teenagers. It wasn't quite how I'd imagined us celebrating it, but we were together at least.
I was still desperate to see my daughter. She'd only just got over chicken pox but I felt confident that if I caught anything I'd fight it off – I wasn't an 80-year-old bloke. I was in a wheelchair, but sneaked her in and mustered up the strength to be as positive as possible. She thought because I was in a hospital that everything would be OK and they'd make sure I got better again – I didn't have the heart to tell her that not everyone who goes into the hospital comes out alive.
My wife continued to bring my food in over the next few days and then suddenly my white blood cell count began to rocket up – the treatment had worked. Before I was put in isolation, I'd asked the doctor how quickly people normally recover after having stem cell treatment. He told me 21 days, which had given me a target to hit while I was in there. On day 18, I made it out. I could barely walk, but my immune system was strong enough for me to cope in the outside world and the cancer was gone. I was in remission again.
In the weeks that followed, I was still sick occasionally and had a couple of falls, but bit by bit I am starting to regain my strength. I've started very light training at Rochdale and my brain is working properly rather than mulling over various potential scenarios.
And I'm determined to play football again. The treatment has definitely changed me. From now on I will never be around negative people. I think if you walk around with a cloud over your head it'll rain, and I don't want to be around people like that.
SEE ALSO
I've been overwhelmed by the support of the football world. I've had messages from Bryan Robson and former team-mates Danny Welbeck and Tom Cleverley. Pep Guardiola even wished me all the best when I did a talk for the Manchester City academy a few weeks back – I couldn't believe he knew my name.
I have so much respect for the people around me. My wife and little girl are the real heroes in all of this, as I couldn't have got through it without them. It's been a long, painful journey but the future looks bright again. I can't wait to see what it holds.
This feature originally appeared in the October 2017 issue of FourFourTwo. Subscribe!
Thank you for reading 5 articles this month* Join now for unlimited access
Enjoy your first month for just £1 / $1 / €1
*Read 5 free articles per month without a subscription
Join now for unlimited access
Try first month for just £1 / $1 / €1