Kyle Naughton: Talentspotter
By Luke Nicoli
"I'm told Messi is good. I wouldn't know – I only watch Premier League and Championship football"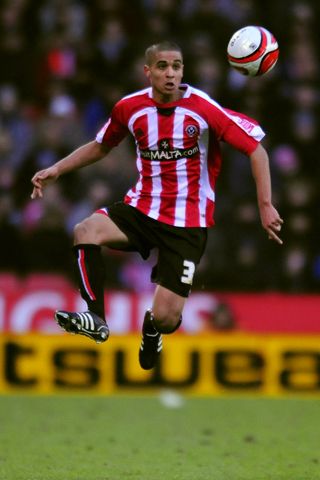 Nickname
Since I've been involved with the first-team, the lads have called me 'Kyla'.
Team supported
I've always been a Blades fan and having been with the club since the age of seven, I've always had free tickets for Saturday games. The best time was when they got to the FA Cup semi-final against Arsenal, when Neil Warnock was manager.
Strengths
I love getting my crosses in. I'd also say my versatility: I've played right-midfield this season and even as a striker in my FA Youth Cup days. I played upfront while I was on loan at Gretna last season, but right-back is my preferred position.
Weaknesses
I could do with improving my left foot and also getting back quicker if a move has broken down.
I play a bit like...
Some of the lads say I'm similar to Jose Bosingwa in the way that I bomb forward. I think the modern full-back has to get forward, so you've got to be really fit – especially if the winger in front of you hasn't tucked in to help out!
Highlight
Making my England Under-21 debut against the Czech Republic was special, particularly as the game was played at Bramall Lane. I had all my family and friends watching.
Lowlight
Losing to Sheffield Wednesday twice last season. The worst was losing 2-1 at home in February. It's never nice to lose a derby in front of your own fans.
Toughest opponent
I had quite a tough game against Hameur Bouazza when we played Birmingham City.
Best player played with
Gary Speed. Even when he is under pressure you can still give him the ball, knowing that he won't give it away. He is also a player us younger lads can go to for advice.
Biggest influence
My mum Patricia used to take me everywhere when I was a kid. She would always put me first.
Biggest joker at the club
Ian Bennett is always messing about. He also likes to stitch up his team-mates – for instance, I once parked in a disabled bay at the training ground and he went and grassed me up to the gaffer's assistant, Sam Ellis.
Wheels
I've got an Audi A5. I've been driving for about two-and-a-half years and although I passed first time, I failed my theory three times!
Flicks
I like the Friday and Next Friday films with Ice Cube. While it has a gangster feel, it's the comedy element that I really like, especially in the first film, which also stars Chris Tucker.
Chicks
I'll go along with everyone else and say Jessica Alba.
TV programmes
I can't get enough of Shameless and Gordon Ramsey's Kitchen Nightmares. I could just about make beans on toast, but now I've got my own pad I'm learning a fair bit after watching and listening to Gordon. I'm onto pasta now!
If I wasn't a footballer...
I would travel the world and probably spend a fair bit of time playing sport in America. I wouldn't mind giving American football a go, if only for the celebrations they do when they score touchdowns.
Tell us something we don't know about you
I've been know to spend five or six hours playing Call of Duty on the PlayStation, only stopping to eat or for the odd toilet break!
What did you buy with your first pay packet?
I think I went and filled my wardrobe up and no doubt bought a pair of trainers. I've got loads – probably 15 pairs.
If I could play alongside any player...
Ronaldo. Although I am told Lionel Messi is up there as well. I wouldn't know – I only watch Premier League and Championship football.
In five years I'll be...
Holding down a regular place in the Premier League – as a right-back, not a striker!
Interview: Luke Nicoli. From the August 2009 edition of FourFourTwo.
Quizzes, features and footballing fun
Get the best features, fun and footballing frolics straight to your inbox every week.
Thank you for signing up to Four Four Two. You will receive a verification email shortly.
There was a problem. Please refresh the page and try again.