Lennart Johansson: Q&A
By Nick Moore
"People say that Platini is the FIFA president's puppet, but I think Blatter may have made a rod for his own back..."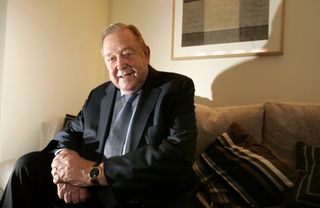 With that thinning grey hair and those droopy jowls, he may never qualify as the most glamorous, nor the most recognisable, face in football but for the last 17 years Lennart Johansson has certainly been one of the most influential. Elected as UEFA president in 1990, the 72-year-old Swede will go down in history as the man who, during his four terms, oversaw the expansion of the European Championships and created the Champions League.
It hasn't been all Swedeness and light for Johansson, however. During his long reign he's had to fend off rumours of corruption, dodge accusations of sexism and cope with being beaten by bitter rival Sepp Blatter in the 1998 FIFA presidency race. To add insult to injury, earlier this year he was invited to stand for re-election as UEFA president only to be subsequently ousted by one Michel Platini.
Just three weeks after being shorn of his UEFA title, FourFourTwo meets the burly bureaucrat in his simple Stockholm office beneath the stands of the Swedish national stadium. How might he react with the wound of defeat still raw? Will he be defensive, downcast or just downright bitter?
Inevitably, Johansson proves far too cool for temper tantrums. Yet for an avuncular figure known for his diplomacy, the former lino salesman is in a surprisingly uncompromising mood, his steely blue eyes never failing to meet our gaze as he answers each and every one of our questions. The result is a fascinating parting interview in which European football's long-time emperor expresses his doubts about the future of football, rails against G-14 and delivers an uncompromising broadside against his old nemesis Blatter.
What's the biggest change in European football since you took over as UEFA President in 1990?
One major change is the sheer shift in scale. In 1990, there were just 32 member nations. Now thanks to the break up of the Soviet Union and Yugoslavia among other things, there are 52 with another two about to join. With so many different religions and mentalities on board, it's become much harder to steer the ship. I tried to listen to all points of view – trying to act like a dictator has never been my style.
Probably the biggest change though, has been the amount of money in the game. When I became president, UEFA employed seven people and had an annual turnover of 15m Swiss francs, now it has a staff of 200 and a turnover of 2,000m. The main reason for this explosion has been the fact that television has become such an important part of the game. Sometimes I think that things have perhaps gone too far. Nowadays you can watch football pretty much every day of the week and I don't think that's always a good thing. It's hard to predict how long this level of interest in football will last or whether it's a bubble that's simply waiting to burst.
So, you think football could be heading for a fall?
The down side of all this money in the game is that it allows too many clubs to spend beyond their means in search of the big prizes. One area that has got out of control is players' salaries. I have no problem with players earning what they deserve, but there should be norms for how much they are paid. These days, the big clubs are so anxious to win their league and the Champions League that they buy players who are finished products rather than developing talented youngsters.
The fans wonder if these players' hearts beat for the club in the same way as a local lad who's come through the ranks. On top of which, there are all the other even less palatable things which occur as a result of the financial pressure. I'm thinking of bribes, illegal betting, match fixing, but also other problems such as racism and hooliganism. Plus there's the speculation in club ownership that we're seeing at the biggest clubs today. These people don't see clubs as sporting institutions, but as businesses.
I'm contemplating a career change, how does one go about becoming President of UEFA?
I was never brilliant at football and realised from a young age that I would never make it to the top. So when I was 15, I started working as an orders clerk, at a company that made linoleum. I worked my way up to sales manager, then managing director of the company for 12 years, before being made chairman of the board.
Lino, eh? What's that got to do with the beautiful game?
In my spare time I set up a football team in the district of Stockholm where I lived because there wasn't one locally. Then, to help out the brother of a girl who I was courting – and who later became my wife –I agreed to become the chairman of AIK Solna's bandy team which is an ancient Swedish game similar to ice hockey. The football club then asked me to chair their organisation, and as football was where my heart lay, I agreed. I became chairman of AIK football club, and later was elected chairman of the association of league clubs, then president of the Swedish Football Association.
What would you say has been your greatest success?
That has to be the Champions League. Not least, because at the beginning there were only the two of us, myself and the then Secretary General. It was our idea, and at first only we believed in it. We met a lot of opposition, even from other people within UEFA, who didn't like the idea of changing the format of the old European Cup.
Things started to go our way when the RTL channel in Germany saw the potential in our concept, and made the first bid for television rights. Now the Champions League is broadcast in 194 countries around the world, the final is the highlight of the football year and every player who has appeared in the final say it is the pinnacle of their career.
And your greatest failure?
As far as the EU is concerned, I have to admit that we were – I was – caught out. We didn't realise how large a part it would come to play, and we underestimated the weight it can put behind its decisions. We didn't think that the Bosman case would amount to very much, so we were caught cold, and have had plenty of occasions to rue our lack of foresight. We learned our lesson, we realised we had to talk to the European Commission.
UEFA now has two people permanently based in Brussels who are in daily contact with the EU. We also realised that the free movement of labour, money and services was a reality we had to accept, so we've looked for ways of coming to terms with the implications – such as our policy on home-produced players. It's a question of balance; we don't want to stop clubs buying in talented players from other countries, but we think they should have roughly as many home-produced players, so that they retain their identity.
Who or what has really got your goat?
G-14. Because it's not an elected body, just a group that has appointed itself with the sole intention of looking after itself. In all my time as UEFA president I never had a single meeting with them. I refused to recognise their existence. For me, the genuine organisations are the national associations, their member clubs, and their leagues. So if a club chairman wanted to come and see me my door was always open but if they wanted to come as members of G-14, I wouldn't let them in. Unfortunately, other people based in Switzerland haven't felt able to follow such a consistent line... but I've refused to budge on that point.
You must have got paid a fair old whack as president of UEFA. Does that mean you'll be retiring to some paradise island?
Actually, I only started getting paid by UEFA in 2000. Before that I never made any money from my involvement in football. Between 1990 and 2000 I lived on money I took out from my own private pension savings – money that was originally intended for use after 2000 – but then fortunately FIFA and UEFA decided to pay a salary and make pension contributions. Until 2000 I was a bit worried about my situation, but I couldn't award myself a salary when I knew how many people there are who do so much unpaid work for the game.
So when I was the chairman at AIK, and when I was President of the Football Association, and during my first ten years as UEFA President, my travel expenses were paid and so on, but I received no salary. Then, when I was paid a salary by UEFA, I was paid in Swiss Francs, and the money was paid into a bank in Switzerland. There have been journalists who have written about "Swiss bank accounts", but since finishing as president I have closed my account in Switzerland and put my money into my account here in Sweden, where I pay my 50 percent tax like everybody else.
You were defeated in the 1998 FIFA presidency election by Sepp Blatter and now almost 10 years later you've been pipped to the UEFA post by his protégé Michel Platini. Are you bitter?
After the events surrounding the 1998 election for the FIFA presidency I didn't make any public comments about how the campaign was conducted, and I am applying the same principle to this result. I know what I think of what has gone on, but I don't want to drag it out in public like a bad loser. I felt disappointed and angry for three days, then I put it all behind me, and decided that a man of my age should have the sense to step down and feel pleased at what he has achieved.
It's like when a footballer carries on playing one or two seasons too long, after he's past his best. I wanted to bow out while I was at the top, but I was misled into staying on, and that does rile me. "I prefer a footballer to an administrator"; that's what Sepp Blatter said. When I asked him what he meant, he said he thought I was too old to continue. Mr Blatter is 72 and has never played football...
In hindsight, do you think you should have approached the campaign differently?
I am naive; I tend to think well of other people. I didn't run a campaign at all; after 17 years of uninterrupted success, with no scandals, a unified Executive Committee, all four semi-finalists at the World Cup from our confederation, and an economy in much sounder shape than FIFA's, I thought my track record would talk for itself. I stayed on as UEFA president because the president of FIFA asked me to, officially – and then he used the time to support my opponent.
You're obviously upset about the way you were treated. Does that ill feeling extend to the new UEFA president?
I don't have a single bad word to say against Michel Platini. He's his own man, with a genuine love of the game. He conducted his candidature with complete decency, and he wrote me a very considerate letter after winning the election. My anger is directed towards someone else, who did not play fair. I know that people have said that Platini is the FIFA president's puppet, but I think Blatter may have made a rod for his own back.
So, what are your plans for the future?
I'm honorary president of UEFA, and just yesterday I received a letter from Blatter inviting me to become honorary vice-president of FIFA – which means I can travel around and watch the matches I want to, and attend the meetings and conferences I'm interested in. That's a privilege I intend to use with discernment. I'll take part in meetings and discussions where I feel I'm well-enough informed to make a useful contribution, and when I can't, well, I'll stay at home and go fishing instead. I'm going to have to learn to live at a different pace. It drives my wife up the wall if I'm around the house too much, getting under her feet in the kitchen so I'm thinking of writing a book. I feel a need to put certain things down in writing…
Lennart Johansson
Born
November 5, 1929, Bromma, Stockholm
1950
Appointed managing director of Swedish lino firm, Forbo Forshaga
1967
Chairman of AIK Solna
Appointed president of the Swedish League
1984
Appointed president of the Swedish Football Association
Appointed vice chairman of the European Football Championship Committee
1988
Becomes an executive member of the UEFA
1990
Appointed vice-president of FIFA
Appointed UEFA president
2005
Re-elected for further new two-year period UEFA president
2007
Ousted as UEFA president after losing election against Michel Platini
Appointed honorary president of UEFA and honorary vice-president of FIFA
Quizzes, features and footballing fun
Get the best features, fun and footballing frolics straight to your inbox every week.
Thank you for signing up to Four Four Two. You will receive a verification email shortly.
There was a problem. Please refresh the page and try again.