Lionesses star Keira Walsh won the Euros, broke the world transfer record and had a bus named after her – but would have quit the game if she hadn't seen a psychologist
Kiera Walsh grew up watching Pep Guardiola's Barça, so when the chance to make a world record move to Barcelona and challenge for the Champions League, she jumped at the chance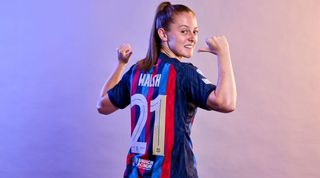 (Image credit: Getty Images)
You know you've had a decent year when someone decides to name a bus after you.
Keira Walsh's 2022 roll call is so all-encompassing, it borders on greedy. Euro 2022 winner. Player of the Match in the final, and selected in the Team of the Tournament. World-record transfer to footballing royalty, Barcelona. Yet for all of the team and individual prizes that the 25-year-old has amassed in the past 12 months, nothing represents the rapid growth in her profile like nominative transportation. 'Surreal' doesn't cut it.
The bus company, Rosso, run a service in the north west from Rossendale to Walsh's hometown of Rochdale. When the midfielder learned they had anointed one of their fleet in her honour, she thought it was a wind-up.
"My mum told me and I thought she was just messing around," she laughs, modestly.
"I said, 'Come off it, there hasn't been a bus named after me – who'd do that?' Things like that are so out of the blue and out of the ordinary. But it's nice. It's cool and it's funny – definitely a conversation starter."
Ever since she impressed as the Lionesses' midfield metronome in their historic triumph at Wembley last summer, Walsh's life has been such a whirlwind that she hasn't found time to take a trip on her own bus yet. Being the world's most expensive player and turning out each week for a dominant force in the women's game will have that effect.
However, her journey to the pinnacle of the women's sport hasn't been without its roadblocks. Though her cultured midfield promptings suggest a player destined for the stars, Walsh admits in an exclusive sitdown with FourFourTwo that her ascent could have ended prematurely with her crashing back down to Earth, were it not for the support of people around her. Without them and the intervention of a sports psychologist, Walsh would have quit the game she loves, three years before her life-changing career apex.
Walsh's annus horribilis arose from a post-2019 World Cup hangover. After England fell 2-1 to the USA in a hard-hitting semi-final, the constant barrage of criticism on social media – the majority of it from observers unfamiliar with the unfussy ball retention that defines her game – left Walsh, aged just 22 and playing for Manchester City, prone to self-doubt.
"I thought about not playing again," she reveals to FFT. "I had conversations with my managers at the time, and if it wasn't for [then-Manchester City boss] Nick Cushing, I think it would have been a lot more serious of a thought. He really understood me and got the best out of me.
"He said, 'Let's take it one training session at a time. There's no pressure – I only want you to enjoy your football'. Just having that conversation helped. I came off social media – I still don't read Twitter now – and spoke to a psychologist, which helped so much. If I hadn't taken those steps, I'm not sure any of this would have happened. It might not be for everyone, but it worked for me; that's the path I took and it's had a positive effect."
Walsh's new coping methods, backed up by regular sessions with psychologist Kate Green, ensure there's been no repeat. Sarina Wiegman's arrival as Lionesses manager in 2021 bolstered her renewed self-belief.
The true test of Walsh's outlook came last July, as England hosted Euro 2022 in their first major tournament since the 2019 World Cup. Having home advantage only added to the soaring levels of scrutiny that followed early wins. Far from wilting under pressure, Walsh grew in confidence as the competition went on, playing all but four minutes as the backbone of England's six perfect matches.
Her crowning moment came in the final. Picking up the ball midway inside her own half on the hour, Walsh threaded a delicious through ball for Ella Toone to chip into the net – a pass every bit as brilliant as Kaka's gold-standard assist to Hernan Crespo in the men's 2005 Champions League Final. One pass turned eight Germany defenders into mannequins; the vision, exquisite. England won 2-1 in extra time and Walsh's all-action display saw her named Player of the Match.
"I spoke to my psychologist about how, especially at the World Cup in 2019, I was so afraid to make a mistake that I wasn't the best version of myself and was holding back a bit," she explains of that sumptuous assist. "Playing under Sarina massively helped, too, because she gives me the confidence to try things, which is what I need.
"My psychologist says I'm at my best when I'm on my front foot, trying different passes and threading balls through on the edge of the box to dictate the play. It's about trying to find the best version of myself, in a zone where I'm almost not thinking and everything I do is very natural.
"That's how I felt in the Euros final against Germany. I wasn't really thinking too much about anything I was doing; I was almost playing on instinct. Speaking with her [Green] helped hugely, and I read books, listened to podcasts and did loads of preparation leading up to the final. It wasn't a case of just turning up on the day and winning Player of the Match – plenty went into it beforehand, from fitness to psychology work. That's what got me to a place where I was on the day."
Walsh's openness speaks volumes about her inner peace: she's at ease with herself and happy sharing the secrets to her success. Talking about one's mental health is now more accepted, thankfully, though cynicism remains about seeking assistance.
"There's still a lot of stigma around it," says Walsh. "I was the same when I was younger: I'd say, 'Oh, I don't need a psychologist – I'm confident, I'm fine, I'll play and just do what I always do.' It doesn't always work like that.
"I'm open about it now, as I was in such a bad place in terms of how I was playing and how I felt that I wouldn't want anyone else to go through that. It's not something I'm ashamed of.
"I speak honestly to the girls about going to see a psychologist – what help I need and what works for me – but that might not be the same for some players. They might have different ways of switching off or building confidence. For me, it was a massive first step to even talk to a psychologist, and then to carry on meeting her."
Walsh's approach is paying off with interest. Since 2019 she has gone from strength to strength, re-establishing herself as a vital cog in the Manchester City and England midfields, and earning rave reviews as she played a key part in her teams' quest for honours.
After her starring Euros role last summer, Walsh had a long list of suitors. It would take a special offer for her to seriously consider a move away from City – she joined the club as a 17-year-old back in 2014, and she and her dad both support them – but Barcelona struck a chord.
Desperate to retain the services of their influential midfielder, City dug in their heels, so Walsh found herself in the tricky position of having to "push a bit but not too hard", in order to avoid burning Manchester bridges. It eventually took a world-record transfer fee of £400,000 – gazumping the £300,000 that Chelsea paid Wolfsburg for Pernille Harder in 2020 – for Barça to persuade City to sell.
"My agent told me that the move to Barça was something they'd spoken about before the Euros began, but I wanted to concentrate on England," Walsh tells FFT.
"Once the Euros had finished, conversations could start, but I had a Champions League game for City so I tried to forget about [the transfer fee] and try to focus on playing well for City. I didn't want it to distract me as I'm a City supporter and I wanted to leave the club in a good place. I was really happy when the bid was accepted."
Walsh had come close to leaving Eastlands during her 2019 crisis of confidence, amid overtures from Lyon and Atletico Madrid, but her former boss, Cushing, talked her round. Three years on, the lure of the Catalan capital proved impossible to ignore.
Walsh's affinity with Barcelona began at an early age, thanks to her dad's insistence that she watch Pep Guardiola's all-conquering Blaugrana team to study the tiki-taka game that dominated La Liga and European rivals. As a midfielder herself, the youngster would soak up how players like Sergio Busquets and Xavi used the ball, surveying and sashaying as they went. Her Barcelona infatuation went beyond on-pitch imitation; it also created an allure off it. This was the right club for Walsh at the right time.
"I thought I was too young to move to Lyon and be challenging for a starting place there," recalls Walsh of 2019. "At that age, I needed to be playing week in week out and exposed to the top players, to push on. Competing and maybe sitting on the bench wasn't the best option – even though I'd have been playing alongside world-class players.
"My dad also believed that I should stay at Manchester City rather than join Atletico or Lyon, which was a big factor in my decision because I really respect his opinion. When Barcelona came calling, I spoke to him about it and he agreed that it seemed like the right time to take the next step in my career and come out of my comfort zone.
"After the Euros, I felt like I was in a great place mentally and had a good tournament, so I was confident when coming in here that I could make my mark. I'm still settling in and haven't performed at my best yet, but I'm in a positive place at the moment and hopefully that will come soon."
The transfer wranglings resulted in Walsh only completing her move shortly before the summer transfer window shut in September. She has been getting up to speed ever since. While that does come with its advantages, such as avoiding the new-signing initiation of singing in front of her team-mates, it also meant that she was immediately flung into action as Los Cules attempt to lift their fourth successive Liga F title and win the Women's Champions League for the second time in just three campaigns.
Throw in Spanish lessons, making a home for herself in Barcelona and socialising with her new team-mates, and it's no wonder Walsh hasn't had time to properly digest her new status as the most expensive female footballer on the planet. Getting to grips with a new style of play is quite enough. Does she see herself as a good fit for Spanish football?
"In terms of being a technical player and my understanding of the game, yes – but it's still very different here," responds Walsh. "The way I was coached at City was to stand still a little bit more, open up the passing lanes for other people and let the centre-backs step in. At Barça, they want me to be an option and constantly moving, still showing for the ball even if I'm marked.
"Trying to switch from that style of standing still to moving around all of the time is a bit different. Barça play loads of short passes, whereas I tend to play a lot of longer passes – especially with England – so those subtle tweaks have been really refreshing to learn something new. In terms of technical ability, I feel like I'm in the best place to improve.
"It's about understanding. We watch clips to understand how we can bring things into our game. Much of how the coaches want the midfield to play together is about having a relationship with each other and developing that understanding. It's about trying not to force it; this is just something they want to happen naturally."
Off the pitch, Walsh's integration into Barça life has been smoothed by having a couple of familiar faces nearby. England team-mate Lucy Bronze – and her six-year-old West Highland Terrier, Narla – joined the Catalans from Manchester City before the Euros got underway. Was Bronze's presence another big factor in Walsh's move to the Camp Nou?
"It definitely helps, but I would have come to Barcelona whether there was an English player here or not," she insists. "It certainly made the transition easier, though, because if I've needed help with anything, Lucy was there, and she'd been here since pre-season so she knew the ropes.
"The decision would have been to come here whether Lucy was at the club or not, but it did help a bit and it still does now, because she understands a lot more Spanish than I do at the moment."
One thing Walsh has had to adjust to is the higher profile that the women's game enjoys in Barcelona. While there has been a boom in popularity in England in recent seasons – especially after the Euros win – it has a very different status in Spain, as witnessed when more than 91,000 fans turned out for Barça's Champions League quarter-final against Real Madrid last March. That world-record crowd was no flash in the pan, either.
"People just appreciate and love watching good football over here," explains the 54-cap Lioness. "It doesn't matter if it's the men's team or the women's team out on the pitch – as long as they can see we're playing the Barcelona way and it's a nice game to watch, the supporters appreciate that.
"There are fans outside the training ground asking for pictures and signed shirts, which I'm not really used to. At Manchester City, we didn't have people waiting for us – it was only for the men – but it's different here.
"When I've been out for dinner with certain players, they're always getting recognised, and that's not something we get so much in England; after the Euros success, maybe, but it wasn't the case before that. The girls here are getting recognised purely on a club level, and it shows how much people appreciate the women's team."
It's a level of notoriety Walsh is quickly growing accustomed to, whether it's being asked for selfies on the streets of Barcelona or having a bus named after her in Rochdale. Compare it with those thoughts about giving up football a few years ago and it's been one hell of a ride to get here, but the latest leg of her journey is only just beginning.
Thank you for reading 5 articles this month* Join now for unlimited access
Enjoy your first month for just £1 / $1 / €1
*Read 5 free articles per month without a subscription
Join now for unlimited access
Try first month for just £1 / $1 / €1
Get FourFourTwo Newsletter
The best features, fun and footballing quizzes, straight to your inbox every week.