Marco Gabbiadini: What Happened Next?
"Running a hotel must be every woman's dream because there's always something that needs decorating."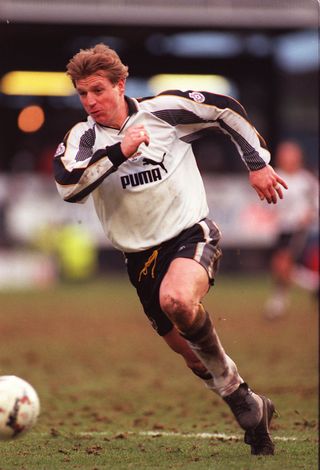 "I was lucky as a player in that I never spent any serious amount of time out of the game – the longest break I had was about five weeks with a cartilage injury – but when I came to the end of my career I was ready for a change.
The hotel was an idea that myself and my wife came up with together one night, which is handy because we can both blame each other if anything goes wrong. The Bishops Hotel was already in business when we took it over and we've now been running it for nearly four and a half years.
It's hard work – we've now expanded so we've got 13 rooms – and it's certainly not glamorous. I seem to spend a lot of time doing renovations and improvements, and there's often times when we'll both be working 18-hour days but it's very rewarding and the wife loves it. I think running a hotel must be every woman's dream because there's always something that needs decorating.
There's a mindset that just because you are, or were, a footballer, means you've got loads of cash, but in the lower leagues, where I finished my playing days, it's very cut-throat and not especially lucrative so there's very often a need for a plan B when you hang your boots up.
You give up everything to be a footballer and don't get a lot of sympathy when you start saying that you don't get much time to go on holiday, but it's true. You've got such a small window of opportunity every summer, you can never just nip off for the weekend during the season and you're at the beck and call of the manager throughout your career.
Now we've got the hotel and have staff living in there's a lot more chance to get away with the kids and do all the things we couldn't when I was still playing.
I started my career at York City as a 17-year-old so I've always had a soft spot for the place. It won an award for being the best tourism city in Europe last year and there's no doubt that tourism is the biggest business here, so there's a lot of competition. On a busy weekend there could as many as 36 staying here so it's all hands to the pump.
My son is now at the York centre of excellence so I spend quite a bit of time watching him play and when we've got a spare minute we'll head off to watch Sunderland or maybe Leeds. I don't get to watch live football every weekend, and I've never really been one for sitting down in front of the TV and watching football all Sunday. I love the Champions League though, it's really taken European football to another level.
As for me, when I called it a day I had probably had my fill of football, but after four years out of the game I'm starting to get itchy feet. Nothing beats the buzz you get when you score a goal and it has been a huge part of my life from such an early age. There have been a few offers of work within the game but nothing has really appealed to me yet. Who knows though, I wouldn't rule anything in or out..."
Interview: Richard Edwards. From the April 2008 issue of FourFourTwo.
Thank you for reading 5 articles this month* Join now for unlimited access
Enjoy your first month for just £1 / $1 / €1
*Read 5 free articles per month without a subscription
Join now for unlimited access
Try first month for just £1 / $1 / €1
Get FourFourTwo Newsletter
The best features, fun and footballing quizzes, straight to your inbox every week.