Mark Schwarzer: My Secret Vice
"It's a bit like Harry Potter, although we won't be killing anyone off!"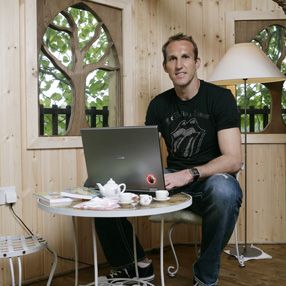 I was never a great reader as a child so being involved in kids' books couldn't have been further from my mind when I first arrived in England about 15 years ago.
The initial idea for the Megs Morrison books came from the guy I'm in partnership with, Neil Montagnana-Wallace. It all started about three years ago when we were having a discussion about how a children's book would be a great way of mirroring our own experiences of moving to a foreign country, and how important football was in making that transition easier.
I was born in Sydney after my parents moved from southern Germany, but I was always seen as a European first and an Australian second during my time at school. In Australia everything was geared towards rugby while football, known as 'wog ball', was seen as a European sport, which is something we're trying to reflect in the books.
My wife is half-Spanish, half-Filipina, Neil is half-English and half-Scottish and his wife is Italian, so we all had a good idea what it's like to be a young person from a different background. The books are fictional, but there's a lot of our experiences in there too.
We're now working on the third book in the Megs Morrison series Megs and the Crazy Legs. The first one – Megs and the Vootball Kids – came out in June 2007, and the second, Megs, Scarves and Sombreros, was published in Australia a year later. The books are aimed at kids between seven and 13, and we're working towards producing five books before the start of the 2010 World Cup. It's a bit like Harry Potter, although we won't be killing anyone off!

In the first book, Megs Morrison, a Liverpool fan, arrives in Australia from England but his school doesn't have a football coach. He doesn't have any friends, he doesn't have a football team to play for and life looks pretty bleak. Then the school caretaker, who used to play for Hungary with Ferenc Puskas, takes charge of the team and things take a turn for the better.

We ended up self-publishing the first book and since it has come out the response has been exceptional. A lot of parents have said, 'My son's in this position, and this is exactly what he's going through'. The kids themselves have responded too, which has made the project really rewarding and was exactly what we were looking to achieve. There's even been talk of adapting it for television, but it's still early so we'll see. Megs and the Vootball Kids has sold 15,000 copies in Australia since it first came out so it's obviously struck a chord.

As the series goes on we're looking to tackle more of the social issues affecting countries around the world. The third book, for example, introduces a child from Sudan, and we're hoping that he's a character that a lot of young Africans can relate to. We met with some leaders from the African community in and around Sydney before we started work on the book, and we've received some really positive feedback.

The whole experience has been fantastic and a great way of getting away from it all. I'm not a writer by any means – Neil sits down and churns out the words but I take masses of notes and we come up with the ideas together. The first book took about two years to complete, but the second book has been a lot quicker, and the third should hopefully be out by Christmas.

Personally, I only really started to pick up books about nine years ago – just before my son was born. My wife is from an academic background, but for me it was always something of a chore. My parents never really read a lot, so when I was a kid I wasn't someone who would go and pick up a book, either at home or at school.

That's all changed now I've become a dad, and my son, who's eight, and daughter, who's six, both love reading. Seeing my own kids grow up I get the impression that boys in general are not avid readers – maybe it's not seen as bring cool to pick up a book – so it's really important that stories that appeal to them are available. I'm a firm believer that kids need encouragement to read at home and the more they do, the more beneficial it will be to both them and to their parents.

I was playing for Middlesbrough when the first book came out and I gave away some copies to a few of my team-mates at the Riverside. The problem was I couldn't give out too many at Boro because most of the guys up there are so young. I haven't dished out any of the stories at Fulham yet, I thought I would be pushing my luck to start giving out copies when I had only just signed!
From the January 2009 issue ofFourFourTwo.
Thank you for reading 5 articles this month* Join now for unlimited access
Enjoy your first month for just £1 / $1 / €1
*Read 5 free articles per month without a subscription
Join now for unlimited access
Try first month for just £1 / $1 / €1
Get FourFourTwo Newsletter
The best features, fun and footballing quizzes, straight to your inbox every week.
Nick Moore is a freelance journalist based on the Isle of Skye, Scotland. He wrote his first FourFourTwo feature in 2001 about Gerard Houllier's cup-treble-winning Liverpool side, and has continued to ink his witty words for the mag ever since. Nick has produced FFT's 'Ask A Silly Question' interview for 16 years, once getting Peter Crouch to confess that he dreams about being a dwarf.