Medy Elito: Talentspotter
"I think that Rihanna is tops. I tell you, I wouldn't mind sharing her umbrella..."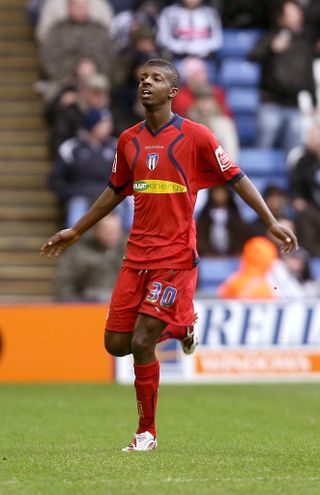 Born
DR Congo. 20/7/90
Club
Colchester United
Position
Midfielder
Nickname
Shiftos – I honestly couldn't tell you why.
Team supported
Growing up I was a big Arsenal fan. They were the top side in London and had so much exciting talent, with the likes of Thierry Henry, Dennis Bergkamp and Patrick Vieira. I loved watching them play – still do.
Strengths
I've got good pace and I love running at players. I like to think I do things that turn people's heads.
Weaknesses
If you ask the boss he'll probably tell you that I'm not great when it comes to tracking back – which is fair enough. I'm still young so I'm learning all the time and playing regularly in the Championship has given me a massive boost. Although the team has been struggling, it has been a great experience.
I play a bit like...
I aspire to play like Ronaldo and Messi. So much pace and skill. For any young player those fellas are the business.
Highlights
Reaching the World Cup finals with England under-17s was a fantastic achievement. I was on the bench when we beat Brazil 2-1, which was an amazing performance, but I came on against New Zealand in the group stages, and again against Germany when we got knocked out in the quarter-finals.
Lowlights
Not too many, luckily, although losing to the gaffer in two-touch is probably right up there. Toughest opponent I started against Cardiff at Layer Road back in March and their whole back four were difficult to play against. The right-back, Blake I think, made it a really hard 90 minutes.
Best player playedwith
Anthony 'Woody' Wordsworth at Colchester is top draw and Victor Moses with England under-17s. He was awesome at the under-17 World Cup and now he has started doing the business for Palace too. There was a lot of talent in England's under-17 side, and it's great to see so many of them getting a chance at club level. Victor's still so young but I reckon he's going to end up a really top player.
Biggest influence
Joe Dunn, the youth team manager at Colchester, has helped me an awful lot and been very supportive throughout my career, particularly now I'm getting an opportunity in the first team. As a player, though, I think you always draw a lot of inspiration from those at the top of the game and, for me, Zinedine Zidane has always been an iconic figure.
Biggest practical joker
Our goalkeeper Dean Gerken is always having a laugh and a joke – he keeps you on your toes.
Wheels
I haven't got any at the moment, but I'm eyeing up an Audi A6.
Flicks
It would have to be Gladiator. What a movie!
Chicks
I can choose anyone? Crikey. I think that Rihanna is tops. I tell you, I wouldn't mind sharing her umbrella.
Holidays
I'm a big fan of the Big Apple, so I'll punt for New York.

If I hadn't been a footballer...
Hopefully it's not something I'll ever have to consider but if I hadn't made it in football, I would probably have been an MC in the music business.
Tell us something we don't know about you
I was born in the Congo DR so I could play for them, although I've already played for England under-17s and under-18s.
If I could play alongside any player...
Given the choice I would love to play with Lionel Messi. I reckon we would cause havoc.
Most embarrassing moment
We went to Nike Town earlier this year and the lads thought it would be amusing to pull my trousers down in front of everyone in the shop. They thought it was hilarious, but I struggled to see the funny side.
In five years time...
I hope to be in the Premiership and playing for the full England team.
From the June 2008 issue of FourFourTwo.
Quizzes, features and footballing fun
Get the best features, fun and footballing frolics straight to your inbox every week.
Thank you for signing up to Four Four Two. You will receive a verification email shortly.
There was a problem. Please refresh the page and try again.