'A Millwall Bushwacker? What the **** does that even mean?'
Sam Rowe meets Millwall nut Scroobius Pip to discuss his everlasting love for the Lions...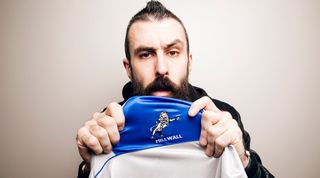 There's definitely a certain romance to supporting Millwall. We've not had many glory years, we've had a few FA Cup runs and Wembley visits in the last few years, but that's kind of it. I guess you begin to view supporting a club in a slightly different way. Unlike some clubs, you go there to back the team. You're there, that's that. There are no options... you're just there.
I've been going to watch Millwall since I was about five. I can't remember my first game, but then we were going to 20-odd games a season and I was very small. It was the Teddy Sheringham, Tony Cascarino, Terry Hurlock era. 
I went to school in Southend, so I was surrounded by West Ham and Southend fans, but all my family are from South London, and I had the advantage of actually going to all the games. Although I got stick, there was a level of respect as I was a true fan, rather than just supporting the team I had on my pencil case.
At about eight or nine, I came home and told my dad, 'I think I'm going to support Liverpool'. He was having none of it, obviously. This was at a time when Liverpool were Liverpool, and I didn't understand that you don't pick your team, you inherit your team – which I now stand by hugely. I remember going to see Millwall play Liverpool at Anfield, and saying: 'Whoever wins, I'll support'. It ended up a draw, but Millwall scored first. I'll never forget it, as my cousin gave my brother a black eye – he jumped up to celebrate and punched my brother in the face. So that cemented my next 25-odd years of pain.
Millwall has been hugely important in my relationship with my dad - a lot of our conversations end up coming back round to that one way or another. Recently, someone tried telling me that going to football on Boxing Day is against the Christmas spirit and family togetherness, but to me it's one of the most important parts of Christmas. When my parents split up that was kind of the deal – we saw my mum Christmas Day, and Boxing Day we would be with my dad at Millwall. It was really weird last season, we had Brighton away on Boxing Day and they postponed it because the transport wasn't good enough. We literally didn't know what to do. We kind of just sat around my dad's – it threw a spanner in the works as we were so used to it. 
I've always loved away days. There'd be me and my brother in my dad's car, my uncle and cousins in the other. We had a system that I now realise is really weird – you'd flash your lights once if you wanted to stop at the next services, and the other would respond with one flash to agree, or twice to say no. Admittedly it's odd why you'd have the option of no – but if they said no, you could flash twice to say 'No, I've really got to'. God knows why we had such a complex system, but that was life before the mobile phone, and I loved it.
We've had loads of traditions and superstitions over the years, not that they actually resulted in anything of course. I had a particular shirt from the 1989/90 season that I continued wearing as a grown up – I had it expanded by my mum, so there was some good luck there. Usually, whatever we do on the first game, even if we lose, tends to stick. So for a while it's been that we have a KFC in Greenwich (Fully Loaded Meal, towered up, no lettuce and mayo with gravy as the side) and then buy our half-time chocolates (but we can't eat them till half-time), then get in and park up. But then down Millwall it's always been about getting to the ground early, hearing the team sheet, watching the teams warm up – I've never been one to get in just before they kick off. We'd always be in at least half hour early, if not an hour, because that's what you do – get to your seat, get ready and be freezing cold before they even come out.
Our chant 'No one likes us' is great - it's our bonding mentality and it fires everyone up. And it's true! We've always had terrible press, in my opinion outrageously and completely unfairly. I remember the infamous article in The Sun of a black reporter's experience at Millwall. He was disgusted because he saw Millwall fans saluting and shouting 'Sieg heil'. But when they actually looked into the footage, the hand signal was just wrong and the chants of 'Sieg heil' were actually Brighton fans chanting 'Seagulls'. But there was this big story, a full two-page spread on 'The horror at Millwall, the worst things I've ever experienced at a football game', except he didn't actually experience anything bad.
I have seen people who think they are hooligans, but we don't get much violence anymore, so if you're a Millwall Bushwacker, what the f*** does that even mean? In the '70s and '80s, and when I was going as a kid, it did mean something – they did meet up to fight. But in a way it was also a protection thing, when you were a family going to away games. As horrible as that sounds, it's like when people say the Yakuza and the Mafia actually make an area safer. Because of the reputation that Millwall are Millwall – people would just back off. 
The last game at the Old Den was beautiful, I loved it. But one of the things I remember the most was the newspapers the next day. As it's Millwall, they reported 'Scenes of mayhem as fans storm the pitch'. No, the fans were invited on the pitch to take a souvenir because it was the last game. It was genuinely one of the most poetic moments of my life – being on that pitch and seeing grown hard men become really emotional. There was this one guy who used to come dressed as a lion – not the official mascot, his own lion suit. He was a proper South London bloke, and seeing him at the top of the South Stand, just sat there crying and taking it all in, was such a beautiful moment.
I was at the Millennium Stadium for the FA Cup final in 2004. It wasn't bittersweet at all, it was great seeing all the Millwall fans having a great day out, and the Man United fans not really enjoying themselves despite the fact they were winning the FA Cup. It was amazing watching Dennis Wise almost give Ronaldo a breakdown, because every time the ref looked away at a corner he literally hugged him. I liked Wise. I thought he fired up the crowd and players well. I always remember him taking a corner one time and the away fans started to throw coins at him. He paused, picked them up, put them in his pocket, said thanks and took the corner. I thought that was brilliant.
We were all stunned when Ian Holloway was appointed. I couldn't believe we got an actual manager, like a great, established manager who plays really good football. Obviously you never know how it'll turn out, but I'm completely on board with the dude, I think he's an amazing manager and a great character.
Naturally, the focus this season is staying up and that's all we can hope for at the moment. If he can keep us up this season I genuinely think he can get us promoted into the Premier League. I may be over-optimistic, but I've always felt we have a great squad with quality players. We have a small squad, which has always been our struggle – it's why I don't want us to have any more FA Cup runs, because although the times we've done it has been great, it's pulled apart our actual season.
I've never been more star-struck than when meeting footballers. As a kid I was all about music and Millwall, I'd go to tonnes of gigs and meet bands, and I'd never get star-struck. But I was working on the till in HMV once, looked up and Neil Harris was standing there. I couldn't speak. I didn't let him know I knew who he was, just served him and took payment. No one else there had a clue who he was, but I literally couldn't speak. 
Another truly poetic moment in my life was down to Harris. He was a great player for us, became our top scorer of all time, but then he got testicular cancer. It's why our sponsor this season is Prostate Cancer UK – we gave it to them for free instead of having a sponsor. It didn't get much press, but then it's Millwall, isn't it? 
So Harris got testicular cancer and was obviously out for a long while. But we kept him on, kept his contract and he eventually beat it. When he returned he was a little off pace, and though we were pleased to have him back, he wasn't quite the same player. But then there was a game, it must've been towards the end of the season, and he still hadn't scored since coming back. 
We were winning at home and we had the ball in the opponent's box. There were about three players who had a chance to tap it in, but they passed it around until Harris was in space, passed it to him and he scored. It was just amazing. The players picked him up and took him over to the supporters who were going absolutely mental. It was genuinely one of the most emotional things I've ever witnessed. Partly because of the build-up, for weeks everyone wanting him to score so badly, and to see the ball going round, round, round until he was in space. Absolutely beautiful.
Quizzes, features and footballing fun
Get the best features, fun and footballing frolics straight to your inbox every week.
Thank you for signing up to Four Four Two. You will receive a verification email shortly.
There was a problem. Please refresh the page and try again.