Park Ji-sung reveals disgusting detail about his conditioning regime
The Manchester United cult hero has revealed the stomach-turning secret behind his endless stamina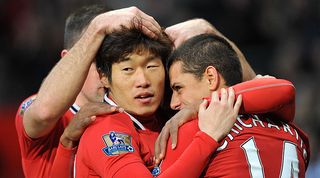 If you're about to have your lunch, bookmark this page and come back to it.
If you've eaten already, OK - here's the strangest story of the day.
Park Ji-sung: Duracell Bunny of Sir Alex Ferguson's third great Manchester United team; the jack-of-all-trades South Korean who would willingly run his blood to water for the cause.
Well, the former midfielder has volunteered the secret behind his stamina and, at a guess, FFT isn't sure it'll catch on.
"My father went to catch wild frogs. I was skinny and weak and my father heard their juice would give me size and strength," Park revealed.
"It tasted very, very bad but I had to drink it because I wanted to be a footballer and everyone said I needed to be bigger and stronger.
"They said it was good for my health to become stronger and I ate everything that would improve my health."
We'll never know if Park Snr. was right, but things certainly turned out OK for Jr. – as four Premier League titles, two in the Eredivisie and a Champions League winners' medal neatly demonstrate.
See also...
Fulham player booked for horrendous dive
Irish goalkeeper sent off during a penalty shootout
Quizzes, features and footballing fun
Get the best features, fun and footballing frolics straight to your inbox every week.
Thank you for signing up to Four Four Two. You will receive a verification email shortly.
There was a problem. Please refresh the page and try again.