Paul Parker: The black cloud hanging over Chelsea has finally been lifted
A (very) vocal critic of Jose Mourinho, former Blues and Manchester United defender Paul Parker explains why it was the right decision for Chelsea to finally part company with the Portuguese manager...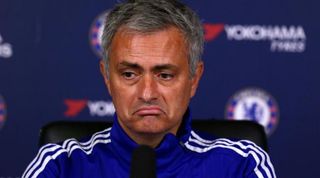 I have to be honest, and people tend to know my opinion on this subject, but I'm pleased Jose Mourinho has finally left Chelsea for a second time.
From the outset this season, there's been a real problem and it's just grown and escalated because of the poor results. The results haven't gone his way, they haven't gone the players' way, and it all just fell into a mixing pot.
Firstly I have to ask the question: has he done this all on purpose? I've mentioned it before but it's a fact – he can't work in one job more than three years. We saw that in his final year at Real Madrid.
Early in his third season at Madrid he signed a four-year extension with them, but before the year was out he went and poked Tito Vilanova – Barcelona's assistant coach at the time – in the eye, and was soon on his way again. He just can't deal with three years.
Virtually the same thing has happened again. It was only August this year when he signed a four-year extension, right on the eve of his third season. He talked about longevity and being Chelsea's Sir Alex Ferguson and spending another 10 years there. But I doubt he had any intention of doing that. He just doesn't have it in him.
Maybe the fact he never really played football at any great level has worked against him during this difficult period. Does he understand the word 'team'? All we heard from him were sentences beginning with 'I'. He loved saying "I won the league". No, he didn't win the league, Chelsea Football Club won the league. Lots of people helped win that league
But he seemed to act like he was the coach, the manager, the physio, the club doctor, the nutritionist; the only thing we know he definitely can't do is play football at any great level.
We saw from his problem with their former club doctor Eva Carneiro that he thinks he's a doctor as well. He could lay the kit out, so he could be the kit man too.
Unhappy campers
You can look at the players and say they were to blame for a lot of this, because they're clearly not performing on the park. But you also have to blame Mourinho because he couldn't keep a happy ship. He doesn't know how to play good cop, bad cop. He's got zero man-management skills.
That's his problem. When he's winning games of football and he can go and shout his mouth off, everything is great. But at a time like this when you're looking for someone to be a good man manager and sort it all out, he can't do that because it's all about him.
When he first arrived in the UK in 2004, everyone was saying he was a breath of fresh air. But I never liked him from the outset. There was something about him. It was all 'look at me'. His excuse was that he was taking the pressure off the players, but it wasn't about that. It was all about him.
He put himself out there with that line about being the 'Special One' in his very first press conference and everyone started laughing. There was a time back in the late '80s when Paul Ince arrived at Manchester United and he wanted to be called 'the Gov'nor'. Sir Alex never took kindly to that and I think that played against him a little bit.
With Mourinho, that comment probably should have been a red flag right from the start. Those people who were virtually licking his boots at the time, the press people, everybody, are probably realising now he isn't good for Chelsea. 
This is a football club that is trying to push itself out there worldwide and become a global brand, which they haven't been doing under him. At the moment there is an enormous black cloud around Chelsea and it's getting bigger and bigger, and darker and darker, and making the club more and more invisible. 
Blue sky?
Right now, no one really has a good thing to say about Chelsea, unless you're a fan. But it feels like that cloud may finally have been lifted.
The Premier League really doesn't need someone like him. He never handled defeat well, almost never gave credit to any team that beat him. Last season they lost to Bradford City in the fourth round of the FA Cup in that famous 4-2 result at Stamford Bridge and he gave them a pat on the back.
But he'd never given credit to any Premier League side that had beaten them. He wanted to give credit to Leicester and Claudio Ranieri the other day, and that's the first time.
Sometimes when you're going through some trouble in the Premier League, it's good to ring people up for advice and a bit of a chat. But I don't think he's got that many people he can ring because he's upset so many people with his manners.
Situations like what happened with Roy Keane and Paul Lambert at Aston Villa in September last year, who refused to shake his hand when Mourinho wanted to head down the tunnel when the match was still going on.
Chelsea need someone to take them out of the embarrassing position they currently find themselves in. At this moment they're having a terrible time. You probably have to go back to the '70s and '80s, when they twice got relegated to the old Second Division, to recall a time when things were this bad. They are in a very, very dangerous position.
There's an old saying that 'you're never too good to go down' and that might just come into play. This weekend they've got a relegation battle. Whatever way you look at it, it's a relegation battle. They're sitting fourth from bottom and they're playing Sunderland, who are also in a dogfight and they will go there to get something from that game.
Chelsea are a team in disarray. If you look at them individually, they should be competing every year in Champions League semi-finals, so there is clearly a problem. You have to look at the main people – look at Eden Hazard, Diego Costa, John Terry and Nemanja Matic. They are four major players for Chelsea, but I think every one of them had an issue with Mourinho.
Hop on the bus, Guus
Now that it's all finally happened, they needed to look for someone just to smooth things over and see them through this period, so they can sit down and work out what they need to do next. They needed a calming influence and Guus Hiddink is perfect for that. He's done it before and he's happy to do the job.
RECOMMENDED
But if they want to add a bit of flamboyancy, someone who is well liked and very well respected as a player and a manager, and is almost a La Liga version of Jurgen Klopp, I think they need to bring in Diego Simeone.
I think he needs a change too. He had a great season in 2013/14 with Atletico Madrid, when they won the league, but I think he needs a change. We saw that with Klopp, he needed a change and I think Simeone might be the same way.
He's a respectful man, he's respected, he's humble and I'm sure he'd like to add something else to his CV. He's proven himself at Atletico, he'll never be able to compete with the two big teams there, so maybe coming to Chelsea will be just what he needs.
It's fine for Chelsea people to talk about Mourinho and appreciate what he achieved. This man had been very good. But he's now destroyed all the good he had done for them, and they needed to move on. The club is going to be around much longer than he is.
More features every day on FFT.com • More Chelsea reaction
Quizzes, features and footballing fun
Get the best features, fun and footballing frolics straight to your inbox every week.
Thank you for signing up to Four Four Two. You will receive a verification email shortly.
There was a problem. Please refresh the page and try again.