Pepe experiment pays off for Mourinho, but 'new Desailly' Zouma's better off at the back
Chelsea's young defender performed admirably in an unfamiliar role in the League Cup final, but Thore Haugstad doesn't expect to see him in midfield too often...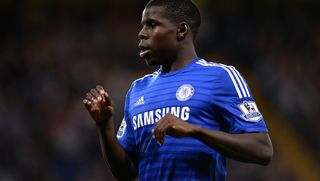 Kurt Zouma's Chelsea career may be too nascent to be judged just yet, but when your boss starts comparing you with the legendary Marcel Desailly, you know you're doing something right.
The 20-year-old centre-back has only made 17 appearances for the Blues. But after his latest showing, a steady display as a makeshift midfield anchor in the League Cup final, few doubt that Chelsea have unearthed a gem.
On Sunday, the notable element of Zouma's performance was the composure with which he played. The Lyon-born £12.5 million signing, who joined Chelsea from Saint-Étienne on the last day of the 2014 January transfer window, learned about his new position two days before the match.
"When I signed for Chelsea, I knew that we had to play big games, finals," the France under-21 international said, "but I never dreamt that I would be playing in the middle of midfield in one of them."
Tonight, against West Ham, another such shift could await. With Nemanja Matic still suspended, Mourinho might have dropped the post-match parallel to boost Zouma's self-perceived versatility.
The flattering reference centred on when Desailly went to AC Milan in the 1993/94 season and was turned into a ball-winner by Fabio Capello.
That time, Desailly's commanding presence bolstered the Rossoneri midfield. They proceeded to secure the Champions League title with a 4-0 win over Johan Cruyff's Barcelona in the final, as well as Serie A, a trophy won by gathering 50 points and scoring 36 goals in 34 matches. Many still remember that classic season, though Zouma is not among them. By the time the Italians were celebrating, he was not yet born.
Pace, power, Pepe
While the calibre of Zouma's talent is evidently high, his suitability as a midfielder is open to debate. For his part, Mourinho is no stranger to moving defenders forward.
At Real Madrid, Pepe was occasionally dispatched as an energetic bruiser against Xavi and Andrés Iniesta; at Internazionale, the versatile Javier Zanetti excelled in defensive midfield; last season, David Luiz boosted Chelsea's engine room. However, with Zouma, the move seems unlikely to be repeated too often.
Few doubts linger over his defensive qualities. In the time Zouma has worn the blue shirt, across 17 matches, Chelsea have conceded 10 goals. He has not been booked.
Particularly in the games against Manchester City and Burnley at Stamford Bridge, his composure and athleticism drew plaudits, with Gary Cahill occasionally benched as a result.
Should Zouma be compared with any of Mourinho's past experiments, it might be Pepe. Both have that coveted combination of pace and power so few central defenders possess.
Zouma showcased his raw physique in the 1-1 home draw against City, in which he alternated between heading away long balls in central areas and sprinting out wide to frustrate forwards. One recovering challenge on Sergio Agüero was particularly impressive.
Keeping it simple
Furthermore, from a defender's point of view, Zouma can be considered a proper stopper. In Chelsea's last league game, against Burnley, he spent the afternoon intercepting, clearing and heading balls away. He was everywhere. With Sean Dyche's team predisposed to a somewhat direct style, Zouma used his magnificent leap to win 8 out of 8 aerial challenges.
On that day, the headers made up almost half of his 18 clearances. This is a high number, and is interlinked with his aversion to take risks in possession.
While his defensive partner, John Terry, has long developed an ability to chest down and control long passes and then play the ball on the floor, Zouma is more inclined to hoof it away first time.
The preference is understandable for such a young player. When Zouma does pick a pass, his concentration and diligence are reflected in his body language; there is no hint of complacency, no nonchalance nor casualness. (As opposed to a player such as, say, Sergio Ramos.)
Conversely, there is a reason why Zouma is careful. His technical level is decent but basic. He is unlikely to become a new Franz Beckenbauer. While his short passing is sound, his more ambitious deliveries can often have a modest success rate.
Better at the back
Such limitations make the Frenchman an inadvisable midfield option in games against weaker sides, where the intensity of Chelsea's attacks depends on efficient ball distribution in deeper positions. Both Matic and John Obi Mikel will do a better job here. However, as an emergency call in big games, for which Mourinho often prefers to be cautious anyway, his combative presence can be a valuable asset.
The 2-0 win over Tottenham should stand him in good stead. "I did not have this experience at this level of the game at his age, so the potential is there, no doubt," Desailly told Chelsea's official website. He added: "I just want the media to allow him to be at peace and to work hard on his agility and technique, and he can be far better than me, because I was not like this at his age."
When Desailly was 20, he was playing for Nantes, and would do so for several seasons until he moved to Marseille in 1992. The positional comparisons may be fulsome, as little indicates that Zouma will be anything but a centre-back throughout his career. But he looks likely to become a rather good one.
West Ham vs Chelsea LIVE ANALYSIS with Stats Zone DOWNLOAD NOW iOS • Android
Quizzes, features and footballing fun
Get the best features, fun and footballing frolics straight to your inbox every week.
Thank you for signing up to Four Four Two. You will receive a verification email shortly.
There was a problem. Please refresh the page and try again.