Philosophical football: Gary Rowett and the rise of the lower league tacticians
Mike Holden wheeled out the white board with the then Burton Albion boss earlier this season before his move to Birmingham...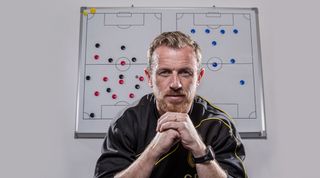 It's the 42nd minute at the One Call Stadium, better known to most as Field Mill.
LEAGUE CAREER
91-94 Cambridge 63 (9 goals)
94-95 Everton 4
95 Blackpool 17
95-98 Derby 105 (3)
98-00 Birmingham 86 (6)
00-02 Leicester 49 (2)
02-04 Charlton 13 (1)
05-07 Burton 43 (1)
The first 41 have been 
a throwback to an old fourth-tier stereotype – blood and thunder, route one, the pitch resembling a pinball machine. Mansfield Town, the home side, are notoriously regarded as the most direct team in the division.
They've been having most of the play, launching a continuous barrage of long, straight balls up to their two targetmen, Matt Rhead and Ollie Palmer, hoping that something will 
drop for Sam Clucas in the hole. So far, nothing has. Visitors Burton Albion 
are standing up to the challenge.
Then it happens: the moment Burton have been waiting for. The moment they have prepared for. Mansfield wing-back Lee Beevers gets caught upfield when Burton midfielder Callum McFadzean recovers possession just outside the 18-yard box and spots forward Alex MacDonald free, with acres of space to run into down the left flank. A quick transition is everything Burton have talked about and McFadzean doesn't hang around. Two seconds later, he's across the halfway line.
MacDonald is still fully 40 yards from goal when he receives the pass but the crowd sense that something potentially decisive is unfolding. Beevers is out of the game and now MacDonald is bearing down on Mansfield centre-back Ritchie Sutton, with two strikers for support. It's three on three.
The Mansfield fans around FFT in the top tier of the Ian Greaves Stand groan like only seasoned pessimists can. They don't like the look of this. The 508 Burton fans up the other end roar with encouragement.
Having spent time with Burton manager Gary Rowett over the past few days, FFT is looking at this game through a different pair of eyes. We realise that for the new breed of progressive tacticians in League Two, the buzz of these moments must 
be huge; random occurrences in games that through meticulous planning can be heavily influenced, if not controlled. It's like 
being able to predict one in every 36 spins on a roulette wheel, even if the other 35 remain entirely random. The edge is only slight but sometimes that's all you need.
The day before, Rowett spent time drilling his full-backs and widemen about how to work together to expose the Mansfield wing-backs.
It was probably his biggest focus ahead of the game, reinforcing many things he had told them previously about facing a 3-5-2: when to track the man, when to pass him over, and how to create overloads. MacDonald's advantageous starting position when the Mansfield 
move broke down was no coincidence.
As it transpired, the opportunity nearly peters out. As Rowett would tell MacDonald back in the dressing room a few minutes later, he hadn't initially capitalised on the situation because he didn't drive beyond Sutton with his run, allowing Mansfield's three-man rearguard to momentarily regain their shape.
But MacDonald made amends by cutting inside and firing a shot from 20 yards that took two deflections on its way into the net. It was a lucky goal, 
but the fact remains it only came about because the Mansfield defenders were backtracking inside their own 18-yard box.
The goal was significant because it was the first of the game and, in League Two, this is becoming ever more important. Last season, 166 matches didn't even produce a second goal, making this division tighter than any in Europe's major leagues, with an average of 2.34 goals per game, 0.38 goals fewer than Serie A. The margins between success and failure have never been finer.
It's a phenomenon that a growing 
lower-league analytics community has been keen to explain. The main theory seems to be that the general standard of coaching has improved markedly at this level, in relation to the average standard 
of player.
The number of quality British managers is on the rise, yet the number of jobs available to them in 
the Premier League, and now increasingly the Championship, is diminishing, with more foreign owners picking up the phone to more foreign managers.
As a result, the likes of Phil Parkinson, Phil Brown, Nigel Worthington and Michael Appleton – managers accustomed to plying their trade in the top two divisions – are being forced to take employment in the basement and 
bringing their high standards with them.

After an enlightening morning watching Rowett prepare his men in the heavenly surroundings of St George's Park, to which Burton are granted access by virtue of proximity, we spend an hour chewing the fat with the Brewers boss in his office back at the Pirelli Stadium. FFT asks him for his thoughts on this low-scoring phenomenon and the forces that might be driving it.
He acknowledges an all-round increase in tactical awareness but thinks the players also deserve their share 
of the credit.
"It's two-fold, really," 
he explains. "Better players are now coming down to League Two level because of smaller Premier League squads, as a result of Financial Fair Play. That's not to say the level wasn't good before; I just think there are more better players and different types of players now.
"And I think you could argue it's the same with the managers as well. Also, 
I think people are just more aware now of how bigger teams play.
"When you look at the likes of Mourinho's Inter Milan when they beat Barcelona and Bayern Munich to win the Champions League, they literally gave the ball away 
on purpose so they could maintain their defensive shape when they were 1-0 up, and I think a lot of teams at this level are looking at those types of aspects and seeing that as a feature of defensive play."
Burton were singled out as our preferred choice for this feature because they best represent the trends being set across the league. Not only is Rowett the manager with the most continuous experience 
at this level (if you include his time as assistant to Paul Peschisolido) but matches involving the Brewers produced the fewest goals last season, with just 1.93 per game.
"I think, generally, the league moves in cycles," says Rowett. "The season before last, most teams would have played 4-4-2, most teams had a targetman, 
a lot of teams were fairly direct – 
and there's nothing wrong with that. Last season, nearly every team we played against started 4-3-3. Most teams had a defensive midfielder who just held the shape in front of the back four. Nowadays, I think all teams are more aware of how they can make life difficult for their opponents.
"We found that, on the back of us having 
the best home record in the division the previous year, teams were just blocking the game up and making it very difficult for us to create space. So we were a perfect example of the trends. We were free-scoring the season before, but last season we had to be more pragmatic in the way we had to win, and we ended up winning a lot of games 1-0."
Rowett's cycle theory has some mileage because the early evidence suggests the mood is turning once again. By the end of August, no fewer than 13 teams in the division had adopted a 3-5-2 (or 5-3-2) system at some point, with varying degrees of success. Last season, it was 
a formation only associated with the two promoted clubs, Mansfield and Newport.
So what's the reason behind this latest shift? Are some League Two managers becoming more proactive in their pursuit 
of results, looking for ways to open teams up in reaction to last season's famine? 
Or is there some other variable at play?
"Our first thought was that it had something to do with the World Cup," reveals Rowett.
"We've got strong managers in this division so I'm not suggesting people have been impressionable, watched games and decided to change their whole philosophy around it. But if you look at the World Cup, a lot of teams played that way.
"I spoke to my assistant Kevin Summerfield over the summer – he's far more experienced than 
I am – and we both said the same thing: 'You watch this season: a lot more teams will play five.' Because they'll have seen it, they will like it and they'll think 'let's have a go'. And that's how football works, isn't it? People experiment and try new things. 
I think this season could be 
a real tactical minefield with some teams playing 4-4-2, some playing 5-3-2 and some playing 4-2-3-1."
With that, the conversation turns to scouting and preparation between matches. This week has been unusual insomuch that Burton have just beaten Premier League QPR in the Capital One Cup on Wednesday night, leaving them with 
a two-day turnaround before the trip to Field Mill.
Usually, League Two clubs play their midweek matches on Tuesdays, 
with the remainder of the week following 
a fairly natural course, but in this instance, Rowett has only had his squad back for one day after giving them Thursday off to rest and recuperate. Harry Redknapp probably won't want to know this, but it turns out Burton spent most of Tuesday focusing on Mansfield rather than QPR.
"At the moment, the players know how we want to play," Rowett explains. "So we can turn up against QPR and know what we have to do because we've worked hard on implementing that style and philosophy since the start of July. A lot of the tactical work now comes down to, 'OK, if we 
need to change against Mansfield after 
50 minutes, what can we do?' And a lot of our work this week has been based around that. Because if we play 4-4-2, which is how we start the game, and we can play different ways within 4-4-2, it's about what we can do to change if things don't work."
Over the course of the campaign, League Two clubs must squeeze in seven Tuesday night matches, plus the quick turnarounds over Christmas and Easter, and any cup ties that also fall in midweek. Burton's League Cup exploits mean that the Mansfield game will be their seventh outing in 21 days, so sports science is obviously crucial to the recovery process.
Budgets dictate that clubs at this 
level don't necessarily have the same 
cutting-edge technology used in the Prem but creative marketing departments ensure they aren't found lagging too far behind. Burton have relationships with various protein, recovery and garment companies to use their products and services, while the heart rate data of players is monitored and downloaded 
on a daily basis – although Rowett has 
a yearning for GPS data which, at this stage, the club can't afford.
But the conversation soon turns back to tactics, making it fairly clear that this particular aspect of the job is Rowett's favourite. His eyes light up when he mentions Wyscout, the Italian software system that all League Two clubs subscribe to as their primary resource for video analysis when studying upcoming opposition.
"It's a fantastic system. Everyone uses it and downloads their games. It's still early in the season, but we can already get three or four of Mansfield's games, which gives us a good idea of how they're going to play. And I think Paul [Cox, the Mansfield manager] will have done the same with us.
"You know certain personnel might come in to change things and obviously you might try to pre-empt things based on what you know about a team or manager's philosophy, or their situation in terms of recent results, 
but ultimately you've always got a good 
idea of how a team is going to play."
So now the bigger picture is becoming clear – the improving standard of managers, the greater tactical awareness of players, the Mourinho effect of understanding that possession is sometimes a hindrance to shape, and now the revelation that every League 
Two club is using the same video analysis system. Talk about a competitive, level 
playing field. No wonder the margins are tight.
But if you think that's all there is to it, that matches are somehow decided in the editing suite, think again. Because Rowett has a word of warning and his voice suddenly takes on 
a firmer tone, a tone we suspect his players are familiar with whenever he makes the same point: "There's one thing we shouldn't get confused about, though. You can work all week on how an opposing team is going to play, but unless your players execute that game plan well, you're going to lose."
Later, this emphasis on work ethic surfaces again when we ask Rowett about his role models. "I love Dortmund's ethos and the ethos of Jurgen Klopp," he responds. "Klopp says it himself: 'If we run more than the opposition, we will win' – 
and he's quite unashamed about 
that. It's all about effort and desire."
It brings us back to video analysis, with Rowett telling us how he googles 'Borussia Dortmund training sessions' (among many other clubs) to find snippets that align to his own philosophy. Nowadays, the internet enables League Two managers to learn from the very best without needing permission and without leaving the confines of their home or office. And there's that word again: philosophy. During the course of the interview, Rowett uses it 11 times but it never once sounds clichéd.
As a young defender in the early 1990s, Rowett started out at Cambridge United under the infamous John Beck, a man whose name will echo through eternity in any debate about long-ball football. "That was the first time 
I saw how an effective, solid, organised team could achieve things," says Rowett. "It was quite an eye-opener, really, seeing how a team can go from [what is now] League Two to the top of the Championship in the space of three seasons. It was absolutely phenomenal.
"I know that how it was achieved wasn't everybody's cup of tea, but it's only now when you look back that you realise how effective some of the methods were. It might not be your philosophy, but you can respect the 
methods because they worked."
As Rowett alluded to earlier, the tactical side of his philosophy is something he works on exhaustively in pre-season until the players automatically understand what's required in any given situation – 1-0 up, 1-0 down, 1-1, at home, away from home, whatever. The players shouldn't need to be told how to react in those situations because it's already ingrained from that block of work in the summer.
"This is probably the first season where we've got closest to where we want," he says. "We've got a lot more mobility in the forward line. It allows us to go and press teams, and it allows us to counter-attack. We've also got more [tactical] flexibility in forward areas, which allows us to start a game 4-4-2 but means we can go 4-3-3 or 4-4-1-1 without me making an early substitution, which is vitally important."
In case you're wondering what happened in the remaining 48 minutes at Field Mill, the answer is quite a lot.
Match reports the following day dedicate their intros to a chaotic 
finale that prevents referee Darren Drysdale from blowing his final whistle 
until after 5pm, as tempers flare in two separate incidents late into the game.
Burton extend their lead after 71 
minutes with three of their forward players demonstrating the extra mobility Rowett was on about, interchanging passes in a swift counter-attacking move, started and finished by McFadzean. Then Mansfield pull a goal 
back four minutes later when Rhead, much to Rowett's disappointment, gets his head on the end of a free-kick and finds the top corner.
Then, with three minutes to go, Burton midfielder Robbie Weir is red-carded for 
a perceived headbutt on self-confessed wind-up merchant Jamie McGuire following an alleged stamp, after which it's all hands to the pump for the Brewers. The second flare-up occurs inside their six-yard box when Mansfield defender Martin Riley barges into goalkeeper Jon McLaughlin midway through the seven minutes of stoppage time.
It's all very dramatic and rather entertaining but, from a tactical perspective, largely irrelevant. This League Two game was effectively won and lost in those few seconds when Beevers was caught 
upfield and MacDonald cut loose to score.
Rowett's right. A quick transition 
is everything.
This feature was originally published in the November 2014 issue of FourFourTwo magazine. Subscribe!
Thank you for reading 5 articles this month* Join now for unlimited access
Enjoy your first month for just £1 / $1 / €1
*Read 5 free articles per month without a subscription
Join now for unlimited access
Try first month for just £1 / $1 / €1
Get FourFourTwo Newsletter
The best features, fun and footballing quizzes, straight to your inbox every week.