The Player: What summer is REALLY like for footballers – and how to strike a balance
Our insider explains why the close-season can be the best – or worst – time of year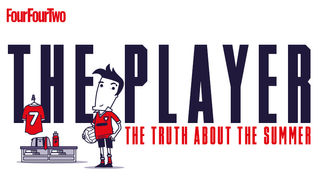 The Player has spent 15 years across all four divisions. He's played in the Premier League and for his country. Illustration by Spencer Wilson. 
Each week we'll bring you a column from our mole. Enjoy... 
A day or two after the final game of the season, players report to the training ground to collect their belongings for the summer and be weighed by the fitness staff. A fitness coach will give you a 25-page booklet which is your training regime for the summer – and 90% of players will throw it straight into the boot of their car and never look at it.
Once you've been weighed, the tradition is to go straight to the pub - you're free for the summer and the inviting prospect of really letting yourself go beckons. At several clubs I've been at, that final day coincides with the supporters' end-of-season function which the players attend. An afternoon spent in the pub before spending the night signing autographs is not a good mix, and I've seen it all go wrong a few times.
Once four players drank themselves stupid and then went off to the fans' do. The manager could see they'd had a few and got his assistant to keep an eye on them. Not even he could stop the players loudly booing the gaffer when he got up to speak.
The manager was furious and fined them all a week's wages. The club received letters saying the drunk players summed up everything that was wrong with the club, and that it would never have happened back in the day when everything was perfect and nobody did anything wrong. I've heard worse, like stories of one or two who've done recreational drugs all summer knowing they won't be tested for a few months.
Most wonderful time of the year
The first few weeks after the season has ended are carefree bliss for a player. You can eat what you want and do what you want after nine months of your life being regimented. Most players binge on the junk food which is usually barred. They'll worry about the consequences later.
America has become a popular holiday destination with players, especially Las Vegas. Players feel like they can do what they want there without being judged or seen as flash. There's a flipside. Every time I've been I've come home a stone overweight after eating huge portions of rubbish.
One former colleague was a little too desperate to get to Vegas. Several team-mates were going, but his girlfriend had booked a holiday for the two of them the following week so he couldn't go on the lads' holiday. The close season is the one time of the year when you can give your wife or girlfriend proper attention – or spoil them a bit to shut them up in dressing room parlance.
The boys arrived in Vegas and texted him non-stop about how good it was, and how he was missing out. He decided to join them and sneaked out of the house in the night. He left his girlfriend a note saying that he had to go away and didn't want to disturb her, then stupidly updated his Facebook status to 'Viva Las Vegas'. He then drove to the airport and paid a fortune for a flight. What's a few grand to someone who earns five figures a week?
Twelve hours later he was by the pool high-fiving his team-mates when he got a call from a close friend back home who told him he'd better come home. His girlfriend had smashed the house up. He came back to a wreck. They split soon after.
Avoiding injury
There are hazards for the players who manage to stay a little longer on holiday. One player, a Premier League captain, was drunk on a stag do in Portugal when he stood on some glass as he tried to throw the stag into the sea. He missed the first six weeks of the season. He told his manager that he'd tripped on some stairs.
I've had a few mishaps on holiday myself. I knackered my back on a water slide in Spain two weeks before I was due back in training. Nobody wants to have to go to the training ground every day in the summer, except a couple of busybodies who are the manager's pets and despised by the other players.
I told people at the club that I'd hurt my back doing weights at home and had to spend the first week training apart from the main group as I recuperated. I wasn't the only one away from the main group - anyone who comes back seriously overweight has to train alone.
It's the ultimate humiliation on several levels and I've only seen it happen three times. You train alone because a player a stone overweight would be more likely to pick up an injury if he tried to train at full pelt. He'll be sent on fat-burning runs and told that he can't be considered in the manager's plans until he's fit.
He went a little easier the following summer – but only a little.
This column originally appeared in FourFourTwo magazine. Subscribe! 
Quizzes, features and footballing fun
Get the best features, fun and footballing frolics straight to your inbox every week.
Thank you for signing up to Four Four Two. You will receive a verification email shortly.
There was a problem. Please refresh the page and try again.