Raheem Sterling exclusive: People didn't want me in the England team no matter how I played – but I proved them wrong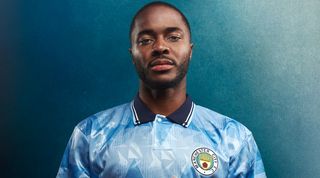 Media criticism of Raheem Sterling led him to believe that people didn't want him in the England team regardless of his footballing ability, the Manchester City forward has told FourFourTwo.
Get FourFourTwo delivered to your door for just £4.99 to read the full interview with Raheem Sterling
Sterling says that he has "people looking at [him] in a certain way" and judging him "before I even went onto the football field".
Last year, the 24-year-old accused sections of the press of helping "fuel racism" over their coverage of black footballers.
He has been criticised in newspapers on numerous occasions during his career, with trivial issues of his life widely covered online. 
Sterling claims that the negative publicity impacted his England performances – contributing to a goal drought for the national side, during which he went three years without scoring.
Speaking to FourFourTwo for our Autumn issue, out October 22, Sterling says that people now understand him better – despite the previous media onslaught. 
"It [the goal drought] all came on the back of having bad press; it all came because I had a stigma," reveals Sterling. "I had people looking at me in a certain way, and people were judging me before I even went onto the football field for England."
In a frank and wide-ranging interview, Sterling – who scored twice in England's 6-0 win over Bulgaria on Monday night, during which he was subjected to racist abuse from the crowd – tackles emotional areas, such as how his depiction in the public eye affected him.
COMMENT Wake up, UEFA – it's time to finally start hitting the racists where it hurts
"They didn't want me in the national team," he said. "Even if I was doing well for my club, they didn't want me in the national team. That was the feeling I had at the time, and it puts you down. It puts you in a low place. You want to be the best you can be for your national team, but if you don't have that love, which I didn't think I was getting, it makes you..."
However, he says that he was also spurred on to prove the critics wrong. "If people were having me or not, I had to show them I wanted to be there, and I really wanted to make up for lost time after a few disappointing seasons with the national team."
Sterling believes that people can now see what he is really like, including how much he wants to succeed in an England shirt. "I believe people understand me now – they can see the truth and ignore what they have heard about me previously. They see that I'm a person who only wants to do the best for the national team."
Maturing is what helped him gain the confidence to speak up about social issues, and defend his own reputation, no matter what people thought. "When you're young, you don't really want to upset anyone," he admits. "You don't want any more noise than you're already getting, so you bite your tongue and leave it. But if you have something you feel strongly about, then no matter what position you're in, there's no reason why you shouldn't have that right to speak."
The mood around him has now changed, and he says that since speaking out on social media – a platform he likes due to his ability to control his own message – he has had more people approach him in the street.
"You get a lot of compliments and a lot of love for standing up for yourself, and not just yourself, but a whole society," he says. "I feel a lot of love whenever I'm out and about – not just from City fans, but from the majority."
Read the full interview with Raheem Sterling in the Autumn 2019 issue of FourFourTwo magazine, out in shops and available digitally from October 22. We also head to the Arctic Circle, meet Lazio's ultras, discover how to make Real Madrid and Barcelona great again, speak to John Barnes and much, much more. You don't want to miss it.
Subscribe today! £9.50 every quarter
Quizzes, features and footballing fun
Get the best features, fun and footballing frolics straight to your inbox every week.
Thank you for signing up to Four Four Two. You will receive a verification email shortly.
There was a problem. Please refresh the page and try again.