Raul: Perfect XI
By Sid Lowe
"I'm not going to put myself in this team, certainly not upfront. Maybe I can go in at left-back"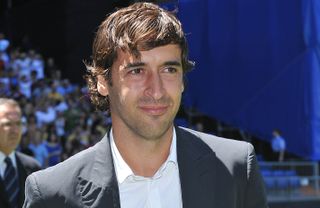 Schalke striker and Real Madrid legend Raul shares his Perfect XI, and opts for an, uh, interesting formation...
Goalkeeper
Francesco Toldo
Toldo's a keeper I like a lot. Big, imposing, although I have scored against him before. Well, I think I have, I'm not sure. Maybe just the once!
Right-back
No one
Now, who can I put in at right-back? Let's see... right-back, right-back... [10 minutes pass] Tell you what, I don't think I'll bother with a right-back. That way I can go for an extra midfielder…
Centre-back
Fernando Hierro
I would have put Baresi in at centre-back, but I've never played against him. Fernando has helped me a lot at the club, especially when I first got into the side here. Not that putting him in is anything to do with him being a friend or team-mate; I just think he's one of the best centre-backs there's ever been.
Centre-back
Fabio Cannavaro
One of those centre-backs that I've always really liked. The only trouble is I'm not sure how to spell his name! Whenever I've played against him, he has marked me so well. It's always very, very tough against him. When I've seen him in matches on the television he has looked excellent, too.
Left-back
Roberto Carlos
I'm not going to put myself in this team, certainly not upfront. Maybe I can go in at left-back. But that wouldn't leave any space for Roberto Carlos and he has to be in the team. The choice at left-back is obvious – the first name on this sheet. He's a phenomenon.
Right midfield
Luis Figo
Another Madrid player – this is starting to look a bit familiar. Luis is a special footballer. Mind you, seeing as I'm not bothering with a full-back on the right side, he's going to have to play as a wing-back!
Centre midfield
Fernando Redondo
Redondo was phenomenal in Paris when we won the second European Cup. A wonderful player for us. It's such a shame that injury has
stopped him playing since he went to Milan.
Centre midfield
Roberto Baggio
My extra midfielder. Having Roberto Baggio in the side has got to be better than going for a right-back, hasn't it? He scored a couple of goals against Spain at the World Cup in the USA in 1994 – the goals that knocked the national team out in the quarters. But, still, he's a player I've always admired so much.
Left midfield
Ryan Giggs
I've played against him lots of times over the years and he's always so impressive. He's so quick, so skilful. He was brilliant in La Coruna against Deportivo last year, too. People might talk more about Beckham, but I think Giggs is fantastic.
Support striker
Zinedine Zidane
Sorry, yet another Madrid player. But Zizou really has to go in. He's got such a wonderful touch and vision. Like Figo, he has improved me as a player.
Forward
Rivaldo
Rivaldo is a great footballer, one of the most decisive in the world – he can turn a game around on his own. I just love the way he plays the game. It would have been nice to have had him here at Madrid, but no such luck yet.
Forward
Romario
Also upfront is Romario to go with Zizou, Figo, Rivaldo and Giggs... not a bad team this, is it?
Interview: Sid Lowe. From the March 2003 issue of FourFourTwo. Subscribe!