Rotation, Rotation, Rotation: Why Mourinho might have caused Chelsea's Champions League failure
The Portuguese tactician may have done well to take a leaf from a Chelsea predecessor's book (to a certain extent), writes Declan Warrington...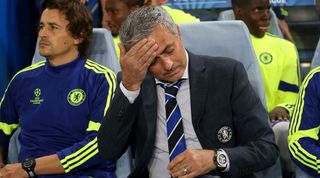 Chelsea's Champions League defeat by Paris Saint-Germain may have prompted headlines about the decline of Premier League teams in Europe, but it's possible their failure was entirely Jose Mourinho's fault. Clearly, the Portuguese's team has the quality to progress beyond the last 16 – possibly even to be the eventual winners – but it was clear in the second leg at Stamford Bridge that they were struggling.
PSG's Zlatan Ibrahimovic was sent off in the 31st minute, but even with a numerical advantage for another 90 minutes against a side shorn of its talisman, the Blues were too sluggish to capitalise.
Given Mourinho's reputation as a masterful conditioner, tactician and man-manager, it seems clear that Chelsea's fatigue came from his refusal to rotate – a requirement in the modern game if a team is to compete on several fronts. Arguably their best player this season, Eden Hazard, has started 41 of a possible 46 fixtures this season, plus five of Belgium's six matches since the campaign's kick-off.
Squad players Filipe Luis, Loic Remy, Ramires, Andre Schurrle and Mohamed Salah have all been used sparingly this season, with the latter pair leaving in January. Collectively, could they have kept Chelsea's strongest XI fresher? Instead, the Blues have only the Premier League left to concentrate on.
Easy does it
There is a fine balance to strike when rotation can cost success, however, particularly when a team loses momentum and consistency. Eleven years ago, multiple changes cost Claudio Ranieri's (well he wasn't known as The Tinkerman for no reason now, was he?) Chelsea in a semi-final defeat by Monaco.
Liverpool may have won the 2008/09 Premier League had Rafa Benitez been able to shuffle without sacrificing quality. Harry Redknapp's Tottenham Hotspur might just have reached the Champions League in 2011/12 if only he'd avoided letting the rust develop mid-season.
Truly, the era of relying on thin squads – as Aston Villa did when winning the 1980/81 title with only 14 players across 42 league games – is firmly in the past.
The success of Gerard Houllier, when he led Liverpool to a cup treble in 2000/01, owed much to his rotation policy. Winning the UEFA, FA and League Cups, and qualifying for the Champions League when the race usually lasted until the final game of the season, meant balancing the Reds' resources over 63 fixtures.
That team's greatest strength, despite the individual abilities of Michael Owen, Steven Gerrard and Robbie Fowler, was its defence. Because of that, and because of the combinations that made them so resilient, Houllier made the fewest changes there. Sami Hyypia played 58 of those fixtures, Stephane Henchoz 53, Markus Babbel 60 (though he had retired from international duty) and Jamie Carragher 58. That also reflected the fact that resting them for Igor Biscan or Djimi Traore meant sacrificing quality.
That was less of an issue up front, where Owen, Fowler, Emile Heskey and Jari Litmanen vied for selection. Owen made 46 appearances, but was used sparingly in the League Cup and missed out on the final against Birmingham City in February. Thus, he was sufficiently fresh to inspire a dramatic victory in the FA Cup final against Arsenal in May.
"There was a lot of games, and they were very tiring," former team-mate Heskey, who started each of the cup finals, tells FFT. "So you've got to rotate your squad as best as you possibly can.
"You probably do need a bit more stability in defence, but I would say that you're probably not doing as much high-intensity running back there [as in attack]. So you can get away with [not rotating] more."
As with most successful rotation policies, Liverpool relied on a core of players. They maintained momentum in the second half of the season when personnel were tweaked, not overhauled, as Ranieri often did at Stamford Bridge by changing four, five, or even more Chelsea players at a time.
"It's how your manager handles it," says Heskey. "How he puts it across to you says a lot, and you'll take a lot from that. It's keeping you informed on everything, at all times. It's about talking to the players, sitting them down, explaining why you're leaving them out and not having any surprises."
Fergie's fiddling
Sir Alex Ferguson approached rotation similarly at Manchester United both before and after Houllier in 2001, but what makes Liverpool's case more relevant is that their squad was arguably inferior to United's when Ferguson succeeded in 1998/99 over the course of 63 fixtures, and in 2008/09.
Perhaps the defining match of their treble-winning season – despite the Champions League final win over Bayern Munich, in which two late goals won them the trophy – was the FA Cup semi-final replay victory over Arsenal. Against their biggest rivals, Ferguson rested Andy Cole and named Dwight Yorke as a substitute despite the duo's famed strike partnership, knowing their replacements, Teddy Sheringham and Ole Gunnar Solskjaer, were capable of filling in for them adequately at Villa Park.
"When you get a successful rotation policy, where everybody knows their role, it can elongate a high level of performance across a season," says mental performance coach Sean Ryder, of Deliver Your Ability.
"If you don't have it understood by the players, all you're going to create is cliques, disharmony and a lack of cohesion. It's that balancing role managers have to juggle today.
"If they perceive not being played to be for their and a team's good, players are less likely to be disruptive than if they perceive it selfishly and negatively. It's also an experience thing. Someone like Steven Gerrard will hate every second of not playing for Liverpool, but will start to understand it.
"[Rotation] didn't work well with the Galacticos at Real Madrid [in 2003/04]. The rest rotated around these stars. It became imbalanced within one team, between the Galacticos and the non-Galacticos, and then you don't get the cohesion that's required to win championships."
Same old different
In 2008/09, excluding the Super Cup and Community Shield, Manchester United played 64 competitive fixtures. That they didn't win the Champions League and FA Cup – lifting the Premier League, League Cup and Club World Cup – had nothing to do with fatigue; they lost the Champions League final to a Barcelona team widely considered the greatest of all time, and an FA Cup semi-final to Everton on penalties.
Those competitions came during a run of 165 consecutive games, ending in March 2011 with defeat at Chelsea, in which United never once named an unchanged line-up.
As one of the finest man-managers, Ferguson also kept a deep squad happy – Carlos Tevez excluded – and out of the oft-quoted 'red zone'. Had Mourinho done the same at Real Madrid, Nuri Sahin may remain there today. Similarly, Thiago Alcantara left Barcelona at the end of 2012/13 when Tito Vilanova underplayed both him and Cesc Fabregas as a tired team were humiliated in the Champions League by Bayern Munich.
Finding the equilibrium is the crucial thing, of course, but playing Tinkerman has proved successful when the big prizes are at stake. Perhaps Jose should take note next time.
Quizzes, features and footballing fun
Get the best features, fun and footballing frolics straight to your inbox every week.
Thank you for signing up to Four Four Two. You will receive a verification email shortly.
There was a problem. Please refresh the page and try again.