Roy Hodgson tells new Palace players that one of them is a murderer
Eagles' trenchcoat-wearing gumshoe is taking a close look at his new players' alibis, Back of the Net can reveal.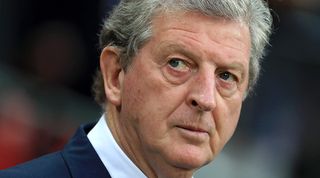 New Crystal Palace coach Roy Hodgson has assembled his players to inform them that they are all considered suspects in his murder investigation.
The grim-faced Hodgson was brought in from the cold by Eagles chairman Steve Parish because of his streetwise attitude and no-nonsense approach to prima donnas – and the man from the mean streets of Croydon has wasted no time in identifying a list of players who each had the means, motive and opportunity to commit murder in the first degree.
"The new gaffer's spent some time getting to know the lads," said Palace wideman Patrick van Aanholt. "He offered me a glass of scotch and asked me about my hobbies and interests, and then suddenly his demeanour changed and he wanted to know where I'd been on the afternoon of August 26.
"I said I'd been playing for Crystal Palace against Swansea and he asked if anyone had seen me, and I said probably not. He wrote that down in a notebook and got up to leave, saying he had to go and see a man about a dog.
"Then he paused in the doorway and asked me why my Google search history was all about untraceable poisons. Before I could answer he told me he'd see me at training tomorrow."
Fellow Palace star Joel Ward said: "Roy asked me to join him in his office. He knocked back six or seven tiny coffees, and asked me what I knew about ceremonial Japanese weaponry. I said I had no idea what he was talking about, and he confronted me with a wakizashi registered in my name that he said had been found at the scene of a robbery in Sutton last week.
"I said I'd never seen it before, but he told me he'd be keeping an eye on me, and that I'd be starting against Southampton unless I had a recurrence of my gam strain. He got Ray Lewington to frisk me before he let me leave."
Run-down espresso bars
Hodgson has taken lodgings in the rough part of town, where he spends his days in rundown espresso bars and his nights watching CCTV tapes of Palace's next opponents.
He has also been spotted down at Churchfields Road Recycling Centre asking security guards if they had seen a suspicious-looking man in a Crystal Palace tracksuit dropping off some bin bags after dark, and is also believed to be making enquiries about getting Jack Wilshere on loan.
A Selhurst Park source said: "If those players think they can get away with putting in less than 100% effort, or with killing a fellow professional and hiding his body where no one will ever find it, then they're in for a rude awakening.
"Roy is tough, like boots that have been out in the rain too long. And he's smart, street smart, like an old tomcat that knows when the kitchen window's left unlocked.
"He may not always play by the rules, especially when it comes to stopping counter-attacks with well-timed tactical fouls, but dammit, he gets results. Especially in the cups."
At press time, Jason Puncheon had reportedly confessed that every single person at Palace had wanted to kill Steve Mandanda, but they agreed to let him go back to Marseille if he promised never to return.
Please note: This is a satirical story. Like, obviously.
Now read...
REJECTED FOOTBALL SCRIPTS #2: "Game of Thrones – War is Coming"
LONGFORM Why do so many footballers end up broke? FourFourTwo investigates...
Quizzes, features and footballing fun
Get the best features, fun and footballing frolics straight to your inbox every week.
Thank you for signing up to Four Four Two. You will receive a verification email shortly.
There was a problem. Please refresh the page and try again.