Rejected Football Scripts, #2: "Game of Thrones – War is Coming"
Continuing a new series on FourFourTwo.com, it's all kicking off in Westeros as the Great War looms. But who will fight for whom?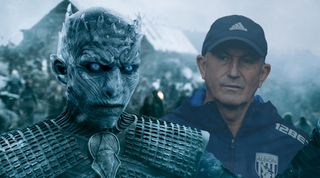 FADE IN:
INT: THRONE ROOM, Dragonstone, Westeros
We see a dimly lit room with several parties stood in front of QUEEN DAENERYS TARGARYEN who is seated on a THRONE looking down upon them and SMOULDERING. The room is full, and several men are gathered before her. Some are holding BANNERS, some are holding SHIELDS and JON SNOW is holding a "MY BELOVED AUNT" sign.
TYRION LANNISTER, the most famous dwarf in Westeros, steps forward. In the crowd we see JORDAN HENDERSON turn to JURGEN KLOPP.
JORDAN HENDERSON
Blimey! How far away is he?
JURGEN KLOPP
(takes off his glasses and rubs his eyes wearily)
Jordan, please tell me you've seen Phoenix Nights and that's an unusually clever joke.
JORDAN HENDERSON
Who's Phoenix Nights?
JURGEN KLOPP
Yeah, I thought not.
Tyrion addresses the room.
TYRION LANNISTER
Welcome to Dragonstone, my Lords. You are in the court of Daenerys Stormborn of the House Targaryen, First of her Name, the Unburnt, Queen of the Andals and the First Men, Khaleesi of the Great Grass Sea, Breaker of Chains and Mother of Dragons.
In the corner we now see that RICHARD SCUDAMORE is hunched over a laptop.
RICHARD SCUDAMORE
Er, Khaleesi, Nikki called in sick today and now I've got to take my own notes and I'm a two fingered typist. So I've got as far as…
(reads his screen)
"...Dragonstone…"
DAENERYS TARGARYEN
Silence, Richard. Sort it yourself. I've read your emails and if you pull any of that sexist crap with me I'll flambé you like a Burger King whopper.
RICHARD SCUDAMORE
Yes, Khaleesi. Sorry Khaleesi.
Only now do we see that behind him, ANDY GRAY and RICHARD KEYS are hanging from a wall. Gray has a neck collar, apparently to prevent him from taking a bow. Keys at first looks like he is wearing THIGH HIGH FUR boots, but it turns out he is just in a pair of shorts.
Tyrion coughs, drinks an entire goblet of WINE and carries on.
TYRION LANNISTER
My Lords, please excuse Ser Richard and Ser Andy. They didn't think any of the women of the court knew how to operate our chains, but it turns out they do. Now, perhaps you would each do us the honour of introducing yourselves and your houses.
ARSENE WENGER shuffles forward. His banner is held by ALEXIS SANCHEZ who is mouthing words to PEP GUARDIOLA. Their sigil is three supporters talking gibberish into a microphone while a cameraman looks on wearily. The banner carries the motto "BLUD and FAM"
ARSENE WENGER
I am Arsene of House Wenger. I am the longest serving Lord in Thepremierleague and I have many who will answer my call. This is my bannerman, Ser Alexis who is my best and bravest warrior.
Behind him, Sanchez is changing into a sky blue robe, trying to catch Pep Guardiola's attention.
TYRION LANNISTER
I wonder, Lord Wenger, if it is customary for your bannermen to wear the colours of another house?
ARSENE WENGER
That is absolutely not a problem and if anything, I encourage it.
TYRION LANNISTER
That seems... weird.
ARSENE WENGER
Just wait until you see my Europa League lineups.
Next comes ANTONIO CONTE with his bannerman DIEGO COSTA. Their sigil is a TANK firing £50 notes at Highbury. The motto is "A ROMAN NEVER WORRIES ABOUT HIS DEBTS".
ANTONIO CONTE
I am Antonio of House Conte and I'm not above killing a man if necessary today.(He glares at Jose Mourinho) TYRION LANNISTER
OK, you'll do. Next!
To their left is MAURICIO POCHETTINO with DELE ALLI. Their sigil is a brand new CASTLE with some mysterious fires raging behind it. The motto is "WATCH US RISE". This is a real motto. It's actually something they use in reality. Really.
MAURICIO POCHETTINO
I am Mauricio of House Pochettino and this is Ser Dele Alli. Heed his counsel for he may be young but is wise beyond his years.
Behind him, Dele is grinning and extending his middle finger at everyone, 'hidden' behind the palm of his other hand. Pochettino swivels to catch him in the act.
MAURICIO POCHETTINO
Ignore him. He's an idiot.
Klopp now steps forward with Henderson in tow. Their banner shows a LIVER BIRD - walking alone, naturally. The motto is "A TITLE IS COMING. SHUT UP. IT IS."
JURGEN KLOPP
I am Jurgen of House Klopp, and this is Ser Jordan Henderson. He is the captain of England.
TYRION LANNISTER
What? Really?
JURGEN KLOPP
Don't even get me started. Next year they'll be asking me if they can win the World Cup and I'll be all "Sure you can, lads", but inside I'll be all "More chance of Liverpool defending a corner competently".
Next is PEP GUARDIOLA and his bannerman VINCENT KOMPANY, who is limping heavily. Their banner is a large oil rig with the motto "HOW MUCH IS THAT? NO MATTER, WE'LL TAKE IT"
PEP GUARDIOLA
I am Pep, of House Guardiola. I have won many battles. Many wars. If you just give me the best warriors and lots of money, I am unstoppable.
TYRION LANNISTER
Ah, so you are King of Thepremierleague?
PEP GUARDIOLA
I am the style king. Does that count?
TYRION LANNISTER
I'm not sure plimsolls will be much help where we're going.
Last of all, JOSE MOURINHO moves forward with JESSE LINGARD behind him. Their sigil is a PRAWN SANDWICH on a pile of MONEY. Along the edges of the banner are various company logos. Their motto is "BRAND SYNERGIES AND PRODUCT PLACEMENT ARE VALUABLE TOOLS IN CONSUMER SEDUCTION"
JOSE MOURINHO
Jose. House Mourinho. We are smallest house by far, but we have the biggest heart. We won the Europa League against Ajax last year despite the fact that everything was stacked against us.
(stares at Klopp, briefly)
I even played Chris Smalling and we still won.
TYRION LANNISTER
I thought you had more money and men than anyone else? Especially Ajax.
JOSE MOURINHO
Money is not important.
Behind him Scudamore begins to simper at this statement.
JOSE MOURINHO
What is important is that my men now know my culture. Before, when they were injured they would leave the field of battle. Now they know – they must stay on until they die or are undeservedly sent off.
TYRION LANNISTER
(appalled)
Don't you have physicians? What do they say?
JOSE MOURINHO
Doctors are naïve. Mine were running into battle and treating my men when we were attacking. I don't care if you need a new leg, you wait until you lose the ball, and then you scream about it until the ref has to stop play. Anyway, the most important thing to say is that we are very much the underdogs, and have very little money. Write that down.
ED WOODWARD suddenly arrives brandishing a CONTRACT.
ED WOODWARD
Jose, can I please get you to sign here. We've just done a four year sigil sponsorship deal with the Iron Bank. Three million a year. That's big money. Almost one tenth of a Luke Shaw.
Mourinho turns to give Woodward a DEATH STARE. As he appears to be on the verge of killing him, Lingard steps forward.
JESSE LINGARD
Wassssuup!!!
TYRION LANNISTER
Ah. I knew a chap like this once, called Hodor. Terrible shame. Can he say anything at all that we would understand?
JOSE MOURINHO
No.
JESSE LINGARD
Wait, wut? Squuuaaad!
Daenerys raises her hand for silence. She faces the assembled crowd, sitting regally with her blonde HAIR piled on top of her head, wearing a "My nephew went to the wall and all I got was this lousy White Walker" t-shirt.
DAENERYS TARGARYEN
My Lords, thank you for journeying to be here today. Lord Tyrion tells me that your home land – Thepremierleague – is a long way from here, but also that you spend money like Robert Baratheon in a Harvester. Bit of a niche reference there, but still, I need your help.
She STANDS and moves to the top of the stairs.
DAENERYS TARGARYEN
I have an enemy in the north. He has many men, fearsome beings who we are thus far unable able to stop. They come south as we speak, destroying everything that is beautiful as they go. Their leader has no soul. He cares not for the lives of men, only the dead, and they wish to destroy us all.
We see MAURICIO POCHETTINO raising his hand.
MAURICIO POCHETTINO
Is it West Brom?
DAENERYS TARGARYEN
No.
ARSENE WENGER is nodding beside him.
ARSENE WENGER
Are you sure? Does their leader wear a baseball cap?
DAENERYS TARGARYEN
No, it's not West Brom. It's the White Walkers and the Night King.
JURGEN KLOPP
Leeds, then.
DAENERYS TARGARYEN
My Lords, I have been beyond the Wall and seen them! It is the White Walkers and their army of the dead. We'd stop them, but to be honest everyone here awful except for Jon Snow and his dreamy eyes. So, I ask – which of you will join my armies and fight the Night King and the Lannisters?
The Lords look at each other. Silence reigns.
SMASH CUT TO:
INT: THE RED KEEP, King's Landing, Westeros
CERSEI LANNISTER is sitting on the IRON THRONE. SER JAIME LANNISTER is next to her, SER GREGOR CLEGANE and a number of Premier League managers are in front of her.
CERSEI LANNISTER
How comes she gets all the good ones?
PAUL CLEMENT
We can hear you, you know.
ROY HODGSON
I can't. What did she say?
SLAVEN BILIC
I'd just like to say that, even though I understand you kill anyone who fails you, Queen Cersei, this is still a more supportive working atmosphere than I'm used to.
RONALD KOEMAN
Queen Cersei, I'll offer you £40m for Clegane. We need a big man up top.
Cersei looks at Jaime.
JAIME LANNISTER
My Lords, are any of you willing to join us in our fight against the Targaryens and the Starks?
RAFA BENITEZ steps forward.
RAFA BENITEZ
House Benitez will answer the call, your Grace. I pledge all the men and resources of Newcastle.
CERSEI LANNISTER
I get the feeling we might be somehow worse off if I accept that offer. Why should I ally with Newcastle?
RAFA BENITEZ
For a start, if you fancy walking about with your kit off again, then absolutely nobody will bat an eyelid down at Bigg Market.
Cersei looks to the back of the Great Hall. HARRY REDKNAPP has arrived and is waving at her through a car door he carries on his arm like a shield. She SIGHS.
SMASH CUT TO:
INT: THRONE ROOM, Dragonstone, Westeros
Daenerys is standing in front of the assembled Lords.
DAENERYS TARGARYEN
So, will none of you fight?
ARSENE WENGER
What tactics are you going to use?
DAENERYS TARGARYEN
I have three dragons. Well, I have three in spirit but only two can help me.
PEP GUARDIOLA
That's like when I play three at the back and one of them is Otamendi.
ARSENE WENGER
You don't need dragons. All anyone needs is Rob Holding and Per Mertesacker. Trust me on this.
DAENERYS TARGARYEN
Are they great warriors from your land?
ARSENE WENGER
Sure. OK.
Richard Scudamore is waving his hand around at the side of the room, trying to catch somebody's attention.
DAENERYS TARGARYEN
What is it Richard? And just remember what happened last time you called me "sugarlips". Grey Worm went all Ryan Shawcross on you, if I recall.
RICHARD SCUDAMORE
Well buttercup, I just wondered if you'd ever considered letting us advertise on the side of the dragons? Duncan Bannatyne is quite keen. Also, maybe we could play some pre-battle friendlies at Winterfell? Those people would no doubt love to watch Burnley vs Swansea before their inevitable death?
The camera pans out as Daenerys stares hard at Scudamore. We are left with the distinct impression that he might be going the same way as GAME 39.
SMASH CUT TO:
INT: THE RED KEEP, King's Landing, Westeros
Cersei is still in her throne room. A man is stood before, holding court.
JAMIE VARDY
I am Ser Jamie. Not that one. Although...
(flashes thumbs up to Jaime Lannister and points to Cersei)
Anyway, I'm a bit psychic. I'm seeing lots of crazy men marching, with fire and red flames and a relentless psychopathic leader.
CERSEI LANNISTER
Do your psychic powers allow you to see anything useful? Like maybe cameras in casinos?
JAMIE VARDY
That's it, love. Chat shit, get banged.
GREGOR CLEGANE moves towards Vardy menacingly. Vardy responds by PUNCHING him in the head.
CRAIG SHEAKESPEARE
For crying out loud, he's wearing a helmet.
Vardy is on one knee clutching his broken WRIST. He will now wear his wrist in a cast for AGES. Clegane brushes his foot against Vardy, preparing to land the killer blow. Vardy falls to the floor and rolls about.
JAIME LANNISTER
This is a bit embarrassing.
SMASH CUT TO:
INT: DRAGONSTONE ANTE CHAMBER ROOM, Westeros
GEOFF SHREEVES is interviewing JON SNOW.
GEOFF SHREEVES
(excitedly)
Sensational stuff there Jon.
JON SNOW
(moodily)
If you say so.
GEOFF SHREEVES
(excitedly)
Incredible. How do you see the second half progressing?
JON SNOW
(moodily)
I just want to kill the Night King, return to somewhere cold and inhospitable and spend some quality time with my aunt.
GEOFF SHREEVES
(excitedly)
Who wouldn't! Back to you upstairs… Wait, what?
SMASH CUT TO:
INT: THRONE ROOM, Dragonstone, Westeros
Daenerys is still talking to the managers.
JURGEN KLOPP
Have you considered getting your men to just run about everywhere? Constantly?
DAENERYS TARGARYEN
Constantly?
MAURICIO POCHETTINO
Constantly. Never stop, even to defend.
DAENERYS TARGARYEN
How on earth are your men able to keep running all day long? How is that possible?
Klopp and Pochettino suddenly shove their hands in their pockets and start whistling. Each finding the floor and the ceiling INCREDIBLY INTERESTING.
LORD VARYS emerges from the shadows, walking towards Daenerys. Before anyone can move, SADIO MANE charges out of the shadows and SCISSOR KICKS him in the face.
JURGEN KLOPP
Nothing wrong with that.
SMASH CUT TO:
EXT: MAIN CITY GATES, Kings Landing, Westeros
Cersei is addressing the large crowds gathered at the gates to King's Landing. The Lannister army is about to ride out to battle.
CERSEI LANNISTER
Loyal subjects of the Crown. We have found a man brave and knowledgeable enough to lead our armies into battle. He rides at the head of our forces for Dragonstone, where he will defeat the Dragon Queen. He is the great strategist of our time.
The column of horses emerges and snakes through the town and out of the gate. At the head of the column is a man in a GILET.
TIM SHERWOOD
This is it. My redemption.
(beat)
If you like.
SMASH CUT TO:
INT: THRONE ROOM, Dragonstone, Westeros
Daenerys sits, weary on her throne. The managers below her are arguing furiously.
ANTONIO CONTE
I am the champion of the King's Road.
TYRION LANNISTER
Yes, but I'm trying to explain to you that this is different to the Kingsroad. Do you get wolves on yours?
ANTONIO CONTE
We got Mark Hammill once, I think.
Behind them is a figure, shrouded in shadow, his face hidden behind a dark hooded robe.
DAENERYS TARGARYEN
My Lords, there is one among your number who has yet to speak. Come forward, Ser.
The figure comes forward, and from behind we see him take down his hood. We can see a BEARD. The stranger is ROY KEANE.
ROY KEANE
Stick it up yer bollocks. You lot are a joke. Get out there. Fight!
He sees Diego Costa secretly trying to tread on Vincent Kompany's foot without anyone seeing.
ROY KEANE
And you! You massive balloon.
Jesse Lingard runs forward.
JESSE LINGARD
Roy! Wassssssup!
Keane punches Lingard into OBLIVION
DAENERYS TARGARYEN
I do not know you, Ser, nor anyone who would use the description "balloon". But still, you seem incredibly angry. Will you join us in battle?
ROY KEANE
Not with any of these wasters. You think we never had to deal with White Walkers or dragons at Manchester United? I roomed with Mark Bosnich once in Prague and saw things you people couldn't imagine. I'll take my own lads and we'll go up there and get a result.
DAENERYS TARGARYEN
You have your own army?
Keane points out of the window where we can see TWENTY THOUSAND Cologne fans drunkenly marching along and singing a repetitive chant. Some have launched flares, some are taking selfies with a DRAGON, and all are generally drunk and rowdy and behaving EXACTLY LIKE ENGLISH FANS have for 30 years.
ROY KEANE
These boys flew on Ryanair when they didn't even have tickets for the game. They'll do for me. We'll get you a result.
He leaves, yelling at Varys as he goes.
With that, the camera pans up and away and we see the three armies marching toward each other.
Sherwood is leading the Lannister host, with the formation already breaking apart behind him and their fearless leader oblivious.
Keane heads up the massed ranks of Cologne fans at the head of the Unsullied and Dothraki, all of whom are already PETRIFIED of him.
And last the NIGHT KING, now wearing a baseball cap, with TONY PULIS at his side persuading him to stop every now and again to work on set-pieces.
JON SNOW (V.O)
And so it came to pass that the three armies marched to meet each other and the Great War was upon us. It was the only battle that mattered... the time for every one of us to do our duty. And also hook up with our aunts.
THE END
Quizzes, features and footballing fun
Get the best features, fun and footballing frolics straight to your inbox every week.
Thank you for signing up to Four Four Two. You will receive a verification email shortly.
There was a problem. Please refresh the page and try again.