Rubin Kazan: The former Barça slayers who could get a pummelling from Liverpool
The Russian side have been European competitors for six seasons now, but they're a shadow of their former selves, writes Michael Yokhin...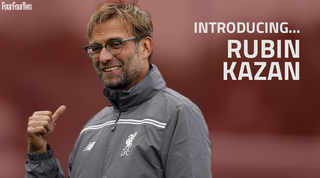 Who are they?
Rubin Kazan used to be very hard to beat in previous years, but the club is going through tough times. In fact, they shouldn't have been playing in Europe at all, and only qualified because Dynamo Moscow were suspended by UEFA for breaking Financial Fair Play rules. Finishing fifth last season was conisidered significant overachievement for Rubin, but this term the team is underachieving, with just three wins in the first 12 games of the Russian Premier League.
The club is in major turmoil, after the president was fired last month. They decided to replace Valeri Sorokin with Kazan mayor Ilsur Metshin, and this should tell you a lot about Rubin. The club is financed by the city of Kazan, and the major decisions are taken at the highest possible political level. They are the pride of the Republic of Tatarstan, yet achieved all their success thanks to a coach from Turkmenistan.
Kurban Berdyev is the man who built Rubin from scratch. Kazan were absolutely irrelevant in the Soviet era as far as football is concerned, and continued playing in the lower divisions until 2002, when Berdyev managed to get them promoted to the top flight for the first time in history, in his maiden full season at the club. Many expected them to go straight down, but Rubin sensationally finished third in 2003, proved to be a fixture in the top half of the table, and then gradually transformed into title candidates, winning it in 2008 and 2009.
At times it looked like Berdyev, who served as vice president as well as a coach, would stay at the club for life, but complicated inside politics meant he was unexpectedly fired in December 2013, and the club has never been the same since. They might have played some positive football under Rinat Bilyaletdinov last term, but were forced to release numerous players, and the coach rather unfairly paid the price when results didn't go his way this season.
The club indended to sign a high-profile replacement, and even dreamed of luring Berdyev back, but eventually named inexperienced Ukrainian interim coach Valeriy Chaly as a permanent solution. Things don't look promising in the slightest, and Rubin could be considered relegation candidates because of a very thin squad.
Bilyaletdinov blamed fatigue from the Europa League qualifiers for Rubin's poor domestic form, and he might have been right. Now, with just one point from the first two group stage fixtures, the European campaign might be seen as an unwelcome distraction, and Liverpool should be clear favourites to take six points from the Tatars – but only if Jurgen Klopp fields their best line-up himself.
Strengths
That said, Rubin still have a few good players in their first-choice line-up. Vastly experienced goalkeeper Sergei Ryzhikov might be error-prone at times, but brings great leadership skills and superb reflexes.
34-year-old right-back Oleg Kuzmin became the oldest-ever debutant for Russia last month, and even scored an important goal in the game against Montenegro that meant the team qualified for Euro 2016. On the other flank, much is expected of 20-year-old Elmir Nabiullin, an ethnic Tatar who could develop into a star in time for the 2018 World Cup on home soil. Good play on the wings is definitely one of Rubin's strong points, even though it has proven to be a bit less effective this season.
Lanky striker Igor Portnyagin, who overcame heart problems to become a professional footballer, is a talented scorer who netted 11 times last season, while the versatile Maksim Kanunnikov was part of Russia's squad for the 2014 World Cup. They complement each other well when on song, but that is not the case this term.
Weaknesses
Poor form of the most important players has been Rubin's major weakness so far. Defensive midfielder Magomed Ozdoyev flourished under Bilyaletdinov last season, but he is a shade of himself in recent months. Portnyagin and Kanunnikov have been disappointing, and so has Diniyar Bilyaletdinov. The former Everton and Russia midfielder signed for the club at the request of his father, and has to sort things out alone now that Rinat was fired. Aged 30, the chances are that he will never be the same player again.
Rubin's defence had been based on the leadership of Cesar Navas for six long years, but the club failed to keep the veteran Spaniard, who joined Berdyev at Rostov. Without him, young Georgian Solomon Kvirkvelia makes a lot of mistakes, usually partnered by the mediocre Ruslan Kambolov.
Brazilian playmaker Carlos Eduardo was once considered a bright star in the Bundesliga – Rubin bought him from Hoffenhein for €20 million – but his career has been ruined by injuries, and his form is disappointing in the extreme this season.
The gameplan
Rubin have been known for efficient defensive football in the era of Kurban Berdyev, but that attitude changed. Kazan tried to play more adventurous football under Bilyaletdinov, and such tendencies can be seen under Chaly as well. The problem is that the team became vulnerable at the back, but are rather toothless up front this term anyway. The new coach is still trying to find the right balance, and the players seem to be disjointed at times.
Key player
35-year-old Gokdeniz Karadeniz, at the club since 2008, is most certainly crucial to Rubin. His experience and energy in midfield are invaluable, and Kazan are lucky that he decided against leaving for his homeland in the summer. The problem is that the veteran has only just come back from a thigh injury.
Famous for…
Rubin will always be remembered for the sensational win at the Camp Nou six years ago. The 2-1 triumph over Barcelona in the Champions League was achieved thanks to the tremendous long-range effort by Aleksandr Ryazantsev, which is considered the greatest goal in Rubin history. Sadly, poor management meant that the midfielder left for Zenit on a free transfer in 2014, and the anniversary of the win was celebrated without him on October 20. Such memories could make Rubin more motivated this week, though, especially if you take into account that key man Karadeniz was the other scorer on that historic night.
Club legend
Kurban Berdyev will always remain the greatest legend of Rubin. His legacy is immense, and fans keep dreaming that the 63-year-old could come back one day. Given his close ties with the new management, that is not improbable, but the Liverpool faithful know only too well what can happen to a legend like Kenny Dalglish if he fails upon returning home.
Quizzes, features and footballing fun
Get the best features, fun and footballing frolics straight to your inbox every week.
Thank you for signing up to Four Four Two. You will receive a verification email shortly.
There was a problem. Please refresh the page and try again.