Success has created its biggest victim in Mauricio Pochettino – and yet still he defies expectations
Few managers are fighting an uphill struggle like Tottenham's transformative boss, who is somehow still thriving amid ever-more dangerous challenges. Daniel Storey toots the Argentine's trumpet...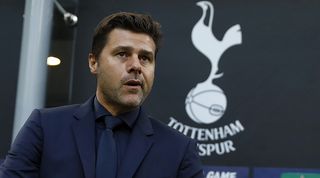 If you were awarding a prize for the worst possible start to a Premier League season, Mauricio Pochettino might nominate Tottenham's 2018/19 for the shortlist. No team in Europe had more representatives in the World Cup semi-finals, played barely a month before the start of the season. No team in Europe signed fewer players in the summer; you can't get much lower than nought.
To make matters worse, no team in the Premier League has had more injuries since the beginning of August. Victor Wanyama, Erik Lamela, Jan Vertonghen, Toby Alderweireld, Hugo Lloris, Eric Dier, Danny Rose, Kieran Trippier, Dele Alli, Moussa Dembele, Serge Aurier, Christian Eriksen and Michel Vorm: it would be easier to list the Tottenham players who haven't missed a game through injury or a lack of fitness.
Greater expectations
The fault for much of that lies with Tottenham themselves, if not Pochettino. Soft tissue injuries sustained by overworked players is hardly a shocking headline. If Daniel Levy could reasonably plead that no players who would improve Spurs' first team were available this summer, there were surely options who might have allowed others to have a break.
And then there's the stadium mess. Pochettino was originally told to prepare his players to move into the club's new home for the start of the season. If his squad are not seriously demotivated by the lack of clarification, the club's supporters are.
A defining factor in this Tottenham rise has been all stakeholders pulling in the same direction. The accusation – and it holds resonance – is that Pochettino is being asked to repeatedly bottle lightning in increasingly difficult circumstances.
Were Spurs in Manchester United's situation, 10th in the Premier League and struggling to service an excellent striker who is noticeably low on energy, Pochettino would have the perfect excuse. More so than Jose Mourinho, who in January signed the country's highest-paid player and then a £50m central midfielder to improve the form of his star player. The Portuguese griped about missing out on a central defender and has valid grievances with his bosses; Pochettino got nobody.
Reality check
But Tottenham aren't 20th in the league. They are only two points from the summit and are collecting them at a rate of 2.33 per game. Last season, that would have been enough to finish second. Crisis? What crisis?
Spurs have now won four consecutive Premier League games by a combined margin of five goals. Pessimistic supporters might assess that run and conclude that the team is missing a spark; a virtually ever-present niggle over the last three years. In a way, they're right: Harry Kane is still below his best, Dele Alli is injured and Christian Eriksen has only just returned from an abdominal strain.
But if Spurs are squeezing past the Premier League rest rather than brushing them aside, only Manchester City, Chelsea, Arsenal and Liverpool have a better goal difference and only three clubs have scored more goals. To repeat: this is a club that failed to spend a single pound on new players this summer. City, Chelsea and Liverpool? Just under £300m. And that was considered to be a quiet summer.
Success is an addictive drug. In a league founded upon the principles of capitalism and consumerism, supporters and pundits are hardwired to demand constant improvement. Finish third last year? We need to challenge for the title. Champions League last 16? We must do better. The impossibility of every club improving their position is lost on some.
But success also too easily becomes normalised, and so too does overachievement. Because Tottenham are the only club to finish in the top three over the last three seasons, that becomes expectation. It is too easily forgotten that only three current Premier League clubs have a lower net spend than Tottenham since June 2014.
Improve your own
If the retort to Tottenham's parsimony is that Pochettino inherited Kane, Lloris, Vertonghen, Eriksen and Dembele, that overlooks the role he has played in the development of those – and other – players.
Every Spurs player is only too happy to wax lyrical about the role of Pochettino in their development. One of the reasons the manager is happy for wantaways to leave is because he backs himself to develop and nurture their eventual replacements.
NOW READ...
RANKED! The 10 best Premier League goalkeepers of all time (opens in new tab)
PSEUDONEWS Pardew hanging around Craven Cottage 'just in case anyone needs some management done' (opens in new tab)
Success creates many victims, and none more so than Pochettino. Having finished third, second and third in their last three seasons, ending fourth in 2018/19 might initially strike as regression. Given the spending of those around them, the farcical stadium uncertainty and the fatigue that 2019 will bring, it would represent an astonishing achievement.
Every time he is doubted, Pochettino responds. Every time Tottenham take a backwards step, their manager hauls them forward.
The consistency of the Argentine's success must not become normalised. Instead, shout it from the rooftops. With less investment than his peers, Tottenham's manager is outperforming most of them. The only hope is that Levy doesn't take such excellence for granted. There will be no shortage of high-profile suitors.
Thank you for reading 5 articles this month* Join now for unlimited access
Enjoy your first month for just £1 / $1 / €1
*Read 5 free articles per month without a subscription
Join now for unlimited access
Try first month for just £1 / $1 / €1
Quizzes, features and footballing fun
Get daily World Cup 2022 news, updates and other football frolics to your inbox
Quizzes, features and footballing fun
Get daily World Cup 2022 news, updates and other football frolics to your inbox
Thank you for signing up to Four Four Two. You will receive a verification email shortly.
There was a problem. Please refresh the page and try again.