Pardew hanging around Craven Cottage 'just in case anyone needs some management done'
The journeyman boss is camped out on Stevenage Road, Back of the Net reports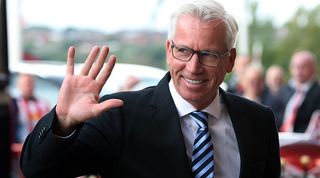 Passers-by have reported that former Newcastle and Crystal Palace boss Alan Pardew has been camped outside Fulham's home ground since the final whistle went at Cardiff on Saturday afternoon.
Carrying a bindle of his sparse possessions and a crumpled paper CV that oddly makes no mention of his spell at West Brom, the 57-year-old appears to be set for the long haul and has been standing in a spot where he believes he will be visible to Fulham's top brass.
Witnesses have reported that Pardew seems to be practising some kind of job interview scenario aloud, breaking occasionally to slurp noisily from a Pot Noodle, which appears to be his only source of sustenance.
"When I first walked past him, I believed him to be a down-on-his-luck drifter, but then I realised that he was in fact [former Newcastle manager] Alan Pardew," an onlooker told FourFourTwo.
"I suppose that's not a massive distinction to make in fairness, but I was surprised by how destitute he looked.
"He was mumbling what appeared to be a five-year plan for reasserting Fulham as Europa League qualifiers, and then he would adopt a different voice that was more or less the same as his normal speaking voice but slightly deeper, and stress how inspired that plan was.
"I was pretty much out of earshot when I heard one of his voices offer the other a three-year deal."
Alan's available
Some pedestrians who have encountered Pardew have reported more troubling run-ins which involved the ex-West Brom forcefully attempting to solicit his managerial services.
"This guy [former Newcastle manager Alan Pardew] started to bark at me that he could do 'a bit of management' for me if I wanted," a witness told FourFourTwo.
"He said that he usually charges £1.5 million per year but for me he would do it for the price of a cup of tea and a Double Decker. I pointed out to him that I didn't have a team to manage, he was coming off a little desperate and nobody really sells Double Deckers any more.
"He looked quite downbeat after that and asked if [David] Moyes had got to me first."
Reports suggest that, having raised some money from passers-by who believed him to be begging, Pardew has now invested in a Fulham tracksuit personalised with his initials which he believes will further his case for the job.
Please note: This story is satirical. Astonishingly, we have to say this.
More Back of the Net • New features you'd love on FourFourTwo.com
Quizzes, features and footballing fun
Get the best features, fun and footballing frolics straight to your inbox every week.
Thank you for signing up to Four Four Two. You will receive a verification email shortly.
There was a problem. Please refresh the page and try again.